Vincenzo Montella insists Milan will not underestimate Shkëndija as he expects a different match and is also ready to use a different system, presumably 3-5-2.
Milan won the first leg 6-0 at San Siro and so Montella left many of his starters in Italy and didn't take them with him to Macedonia for the return leg against KF Shkëndija tomorrow (20:45 CET kickoff).
There are reports that Montella is going to use a 3-5-2 system and field a very young team, as Alessio Romagnoli (22), Davide Calabria (20), Jose Mauri (21), Manuel Locatelli (19), Niccolò Zanellato (19), Patrick Cutrone (19) and André Silva (21) are all tipped to start.
"We care about both Serie A and the Europa League equally," Montella said to reporters as he sat in "Ballroom 2" at Hotel Marriott in Skopje next to veteran goalkeeper Marco Storari. "Tomorrow is the Europa League, so all our energy is focused on the next game, we have to get to the group stage.
"The line-up? It will be a different line-up compared to the first leg for many reasons, first of all I have a very big squad and after the Cagliari match many will go out on international duty. When they return, we'll be playing every three days until December, so squad rotation will be normal.
The boys are in high spirits as we fly to Macedonia! ⚫#ShkendijaMilan #weareateam pic.twitter.com/8sfwfjui0w

— AC Milan (@acmilan) August 23, 2017
"The differences beyond the result? It's not in my thoughts. We must grow in our mentality. There are games in which we cannot afford to slow down and we must set ourselves targets, realize there are no easy games, and this will be another test to prove our continual and hopefully quick improvement.
"I think we should expect a very different type of game tomorrow. Shkëndija play better at home, they were perhaps intimidated by the atmosphere at San Siro [there were more than 40k fans] and we were very fired up for that night. I expect a different match and I'm sure it will be a difficult one. I expect tactical changes too and Shkëndija will no doubt be more confident on home turf.
"Tomorrow should be the right opportunity to test out playing in a different style [Zapata, Bonucci and Romagnoli could start], we need to improve our mentality and I'd like to evaluate some players. I see a lot of motivation and we do not underestimate the match. Europe is Milan's home and we have to respect our home. I'd like to win, to win without conceding and to put in a strong performance.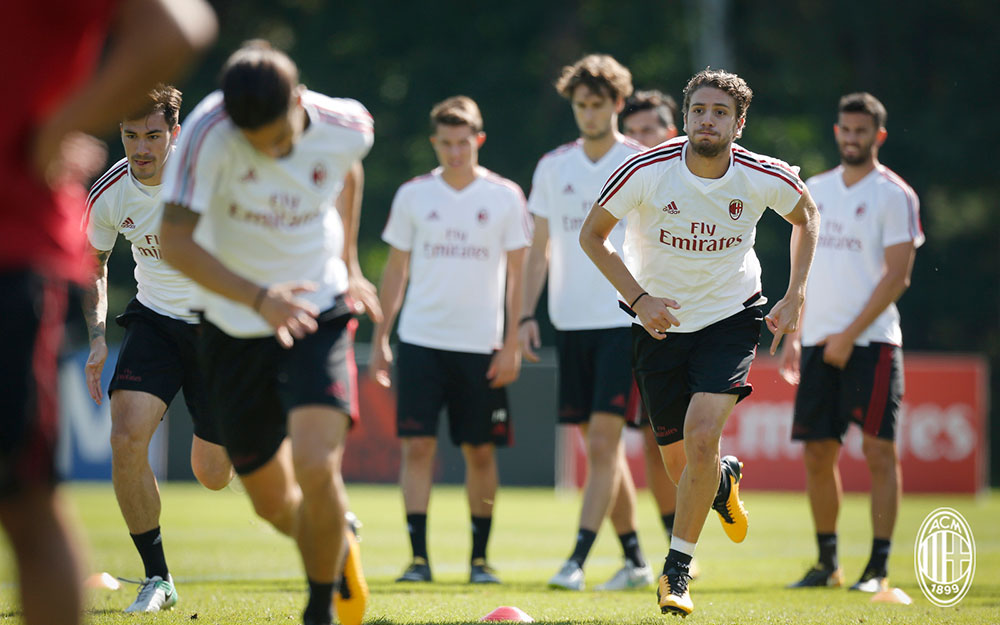 "We are among the favorites for the Scudetto? Thank you for the vote of confidence! The Italian league is very difficult and there are teams in Serie A that are further ahead and more well-drilled, but we are a strong side and time will tell what our real dimension is. We can play for top positions.
"We do not feel that we are in a race with Juventus. We are challenging above all ourselves and time will tell what level of team we are or what we could become. It's been only 60 days since we started training and the team is still under construction, as another player just arrived, so we'll give our best to grow and improve. We can't say what our real objectives are, other than feeding the enthusiasm.
"I am really proud to see that despite the first leg result, many players told me they wanted to be here and that shows a good mentality. Going all the way in the Europa League? I still have to get to know the real value of the team. There are important players who haven't even trained a week together. We have maximum ambitions, the first is to become a team. We do not set limits.
"Storari is starting tomorrow? It's probable but not safe to say. The young Milan that could be fielded tomorrow? Zanellato has been with us for a year now, he's evolving as a player, he needs to be formed, but he has quality. Tomorrow he could have his chance. Along with him there are also Matteo Gabbia, Emanuele Torrasi and Guarnone, who are young players who we want to experience it. Cutrone last year walked in this way, he had some difficulties but then we saw how he grew up.
"Romagnoli? Alessio is considered absolutely not for sale, both for the old and new owners, even for very important offers, as we believe he can grow a great deal. He's proved that he can do really well both in three and four-man defense. He has a wide margin for improvement. We'll see if we play with three at the back or four, we might alternate, but I don't see a lot of difference.
"Niang [the player has submitted a medical certificate that exempts him from training for 10 days]? I'm sorry about M'Baye, we had a great rapport and playing for a club like Milan ought to be a joy, not the cause of stress. I expected something more from him. I hope he gets well soon and meanwhile I'm happy to have players here who aren't stressed and are instead happy to be here.
"Cutrone and André Silva? I don't think a side can get fossilized into a specific system, especially when we're all still getting to know each other. Despite the arrival of Nikola Kalinić, I still think we're a little short in attack. There will be room for everyone this season, no matter how we play.
"After the international break, in which one will go play with Portugal and the other with the U21 squad, there will be a great cycle in which we will need everyone."