Stefano Pioli was happy to get back to winning ways but knows 'it is not like we fixed everything' after the Diavolo beat Torino at Stadio San Siro.

4 defeats in a row, no clean sheet in 9 games: this is the record Milan came with to San Siro last night as they took on the Torino side of Ivan Jurić.
The Rossoneri were far from impressive, especially in the first time, but managed to do something they hadn't managed in a very long time: collect three points and without conceding a goal.
Pioli used a 3-4-2-1 formation with Rafael Leão and Brahim Díaz behind Olivier Giroud, and the Frenchman scored the only goal of the game (62′), with the assist coming from Theo Hernández. In defense the coach gave Malick Thiaw a start and the young German was impressive.
"It has been a difficult month, for us and the whole Club," Pioli told MilanTV. "The performances were not positive, the results disappointing. It's an important win but it was just the first step. We can do a lot better and right away. We have to raise our level of play because the Champions League is more demanding and Tottenham are a strong side. But it's clear that… we are satisfied. The team put in a proper shift tonight and that's the most important thing."
Was it more important to have scored or keep the clean sheet?
"It's obvious that keeping a clean sheet boosts your chances of winning games. Playing with 3 or 4 at the back… it's all about how the team works. We have to press the players in possession of the ball. But we have to be more careful when they press us as they had a man over. We know these things but lately we forgot and lost our way, paying a hefty price for it. Let's build on this very difficult win. Torino make it difficult for teams to play as they don't give you breathing space. We worked hard and I liked our spirit, willpower and the players' heads. Despite the difficulties, we stayed compact and believed, hence, in the end, we reaped the rewards. The positions on the pitch don't really matter but we have to defend high up the pitch. Lately, we've had our struggles with it and we have to work even better as tonight we conceded something."
How did you experience this month without victories?
"During the last month, I stayed behind at home or at Milanello. That's football… and we shouldn't think that one win erases everything. We have to get our mojo back, but it's clear that we are far away from our best level, not least in psychological terms. That's been our aim, for the guys it's been a tough period. Tomorrow morning I'll find a squad with more confidence, spirit and enthusiasm."
Today we saw team spirit again…
"I agree on the spirt front, but from a technical viewpoint it's always tough to face Torino. Regardless of our mental and technical shapes, these have always been dirty games. I am satisfied because we worked really hard even if we passed the ball too often to Tata instead of playing it forward. But they produced a ferocious pressing in the first period. It helped when their pressing levels decreased. We were then more precise and efficient."
Do Spurs arrive at the right time?
"Tottenham will be a tough task; I know Conte well. I watched their last game against Manchester City which they won deservedly. It will be tough but it comes at the right time for us, tonight's win will empty our minds and boost our spirit. We'll be ready to play to our strengths and with both great energy and zest. I want to praise our fans because they were fantastic. Even for them it was a tough time to be on the receiving end of those results and performances. The fact they kept supporting us so passionately has helped us big time. I am convinced that on Tuesday night, the atmosphere will be electric. We will try to live up to the crowd and competition."
Does your league campaign start tomorrow?
"I don't know if I am a great communicator, I had told the team exactly what I told you yesterday. And that was the right thing to do. It wasn't easy to admit that we can't retain the title, but we have to be realistic knowing that the season is long. We can still achieve some nice things and show to everybody that Milan can be competitive again. Even though we won't win the Serie A title this time. The mental aspect makes the difference, approaching games with the 'make or break' mentality was harmful. We still have 16 games to go and the guys believe in qualifying for the Champions League. Our direct rivals are strong but so are we."
Speaking to DAZN, Pioli said: "We absolutely must see this as a rebirth. We knew it would be difficult, that Torino don't allow you to build moves cleanly with their high press, but we worked really hard both offensively and defensively. The goal removed a mental block too, we played better than at the start of the game. It was a small step that we needed."
On the celebration after the goal: "When I expected I was feeling pain [laughs]. We work every day to achieve results, we haven't been able to achieve that in recent weeks, which caused us both mental and physical pain. We need to keep going, playing the Champions League next season would be a good result but there are many games to go. It's an important victory, but we need to be more consistent."
On the formation: "I believe a coach must analyses and evaluate the performances of a whole team and find out what to build on. We had conceded an average of four goals per game recently, so clearly something had stopped working in our defensive strategy., In all honesty, playing three or four doesn't make the difference, we just need to find more confidence and positivity. We had to build on a more solid defense and can return to four in future when the defenders are in better shape. The important thing is to have this spirit. This was just the first step that must be consistent to our growth."
On Leão: "Rafa is a strange player. I always thought that by putting him wide, it would be an ideal position for him. We tried a 3-4-2-1 and wanted him to be more central and closer to the striker, he told me that's my favorite position! He was very happy to play there. Obviously, we struggled to build moves in the first half or provide service, he needs to cut more towards the outside against a three-man defense, but we'll see with each game how things go."
On Giroud: "Oli is such an important player, with his technique, positioning and leadership qualities."
On the formation ahead of Spurs: "We'll see, I need to have a look at Tomori and Bennacer's conditions. We are facing some teams that are really very similar, as Torino, Tottenham, Monza and Atalanta are all more or less 3-4-2-1 formations. The team has evolved tactically now, so we can do different things, the important element is to do it with the right spirit."
On the results: "You feel the negative results, you experience the day and the week with tension and concern, with less serenity, but I'm coaching such a responsible group. We can't forget the support of the fans. The team is trying to get back to playing at certain levels."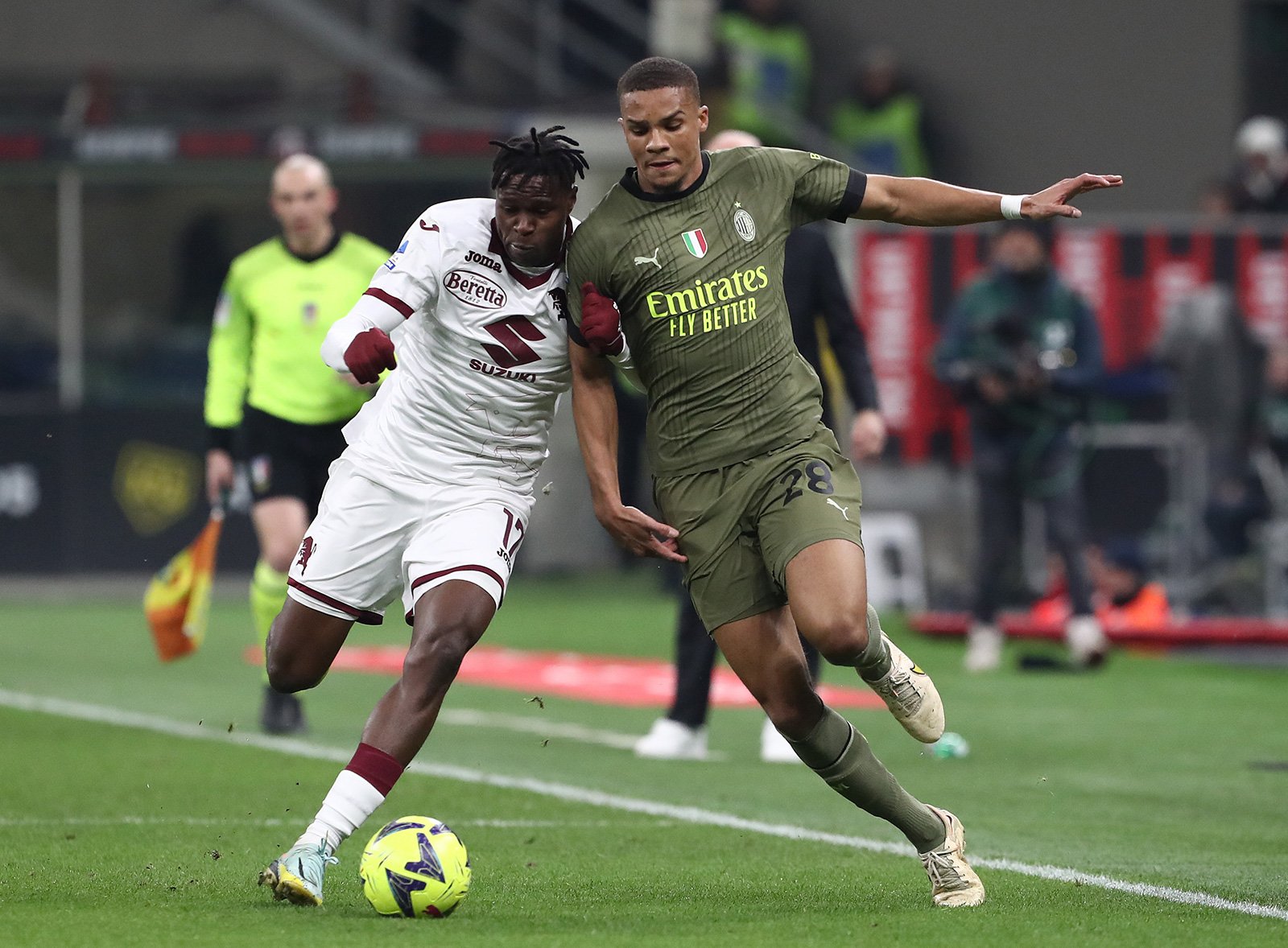 The Milan coach also held a post-match press conference:
Is this victory like oxygen?
"Oxygen, soup, I don't know… we can use any adjective. We are trying to get out of a delicate moment. We worked so hard as a team and I like this work: we won deservedly."
Milan had issues with physical condition in the first half…
"Milan have never had physical problems, but in terms of play. It was first tactical and then mental. The negative results took away our confidence and today's goal unblocked us. Today is not the end and it's not like we fixed everything, but we have a great opportunity: we focus on the Champions League, because the level is rising and we have to raise it too."
Today you made substitutions late…
"We all deserve this victory because it's the group that works. At the end of the first half I'd imagined a couple of substitutions, then I saw things that made me wait."
What kind of game did Thiaw have?
"He did very well. At Schalke he played a lot in a three-man defense, while in the national team he played a four-man defense."
Theo also lit up after the goal?
"We were all difficult in the post-game. Players live on emotions. Theo lost the final of the World Cup and this leaves an aftermath. I wanted to rest him more, but now he is recovering and he is back to being the overflowing player we know."