Stefano Pioli saw the glass as 'full' after Milan just barely beat Hellas Verona last night at the Bentegodi.
After the disappointing 2-0 defeat to Chelsea in the Champions League, Milan returned to Serie A to take on Salvatore Bocchetti's Hellas Verona at Stadio Marcantonio Bentegodi on Sunday.
Pioli made some changes to his usual line-up, starting Yacine Adli for the first time this season, and playing Rade Krunić in place of Ismaël Bennacer.
It started very well for Milan, as in the 10th minute, Rafael Leão's excellent run and cross hit Miguel Veloso who scored to his own net. Less than a minute later, Olivier Giroud was 1v1 against the goalkeeper, but missed a huge chance to make it 2-0. The Rossoneri paid for it as this miss woke Verona up and in the 19′ minute, Koray Günter's shot deflected off Matteo Gabbia and beat Ciprian Tătăruşanu to make it 1-1.
For the rest of the first half, and for large spells of the second, Milan looked confused, never seemed in control and were extremely vulnerable at the back with Verona hitting the post and getting to some excellent goal-scoring chances. Pioli brought on Divock Origi and Ante Rebić on half time, and then Bennacer and Tommaso Pobega 15 minutes later. The substitutions helped Milan get the lead back as in the 81′ minute, a well-worked goal ended with Rebić assisting Sandro Tonali for his first goal of the season and his 3rd at the Bentegodi in 2022 following his brace there in May.
Pioli moved to 5 at the back for the final minutes, bringing on Malick Thiaw for his debut. The German, who arrived in the summer, produced two match-winning saves and Milan got the three points after a very difficult game away from home. They now sit in 3rd with 23 points out of 30.
"Tonali said this win weighs almost as much as the one here last year? It is true, I like what my players are saying," Pioli told DAZN. "We need to be competitive for the top spots and that means winning many games and amassing many points in every arena if we want to think about winning the Scudetto again. It was a good start, we almost went 2-0 up and had the game under control, but then there was that unfortunate equalizer and we lost our shape, making too many mistakes, the team split into two and left big spaces for Verona. However, we got back on track and have individual talents who can create chances out of nowhere, for instance Rebić's pass to Sandro."
On Theo Hernández playing a hybrid position between left-back and midfielder: "We expected Faraoni to cut inside and follow Theo, so creating that space, we have a winger in Leão who can become devastating when taking men on. I think every time Leão got to the by-line, he managed to create serious problems for Verona, but obviously it does leave us a little unbalanced on the counter-attack too. We found Theo little because Faraoni was marking him well. We suffered in counter-attacks because we were bringing so many men forward, I agree."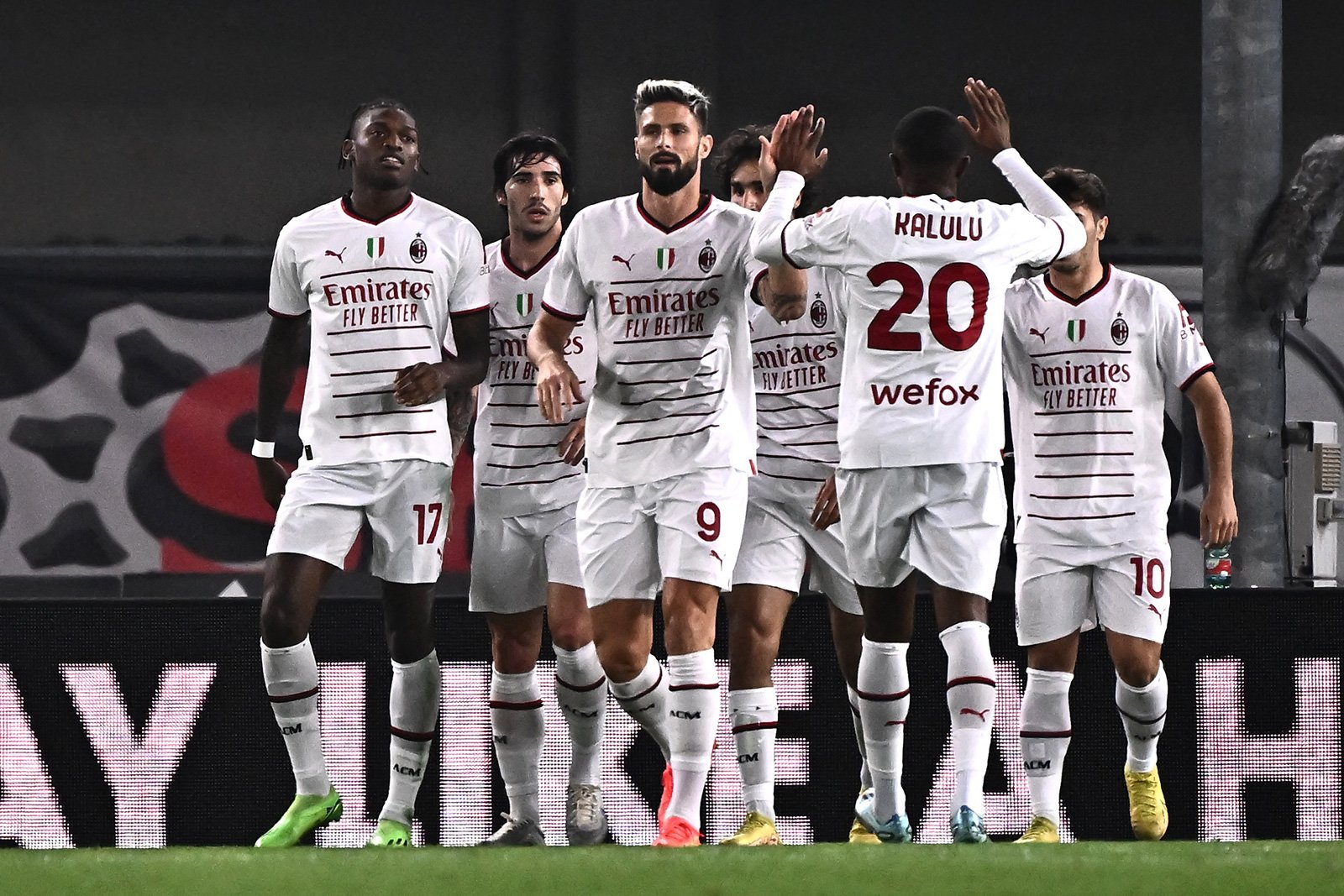 On the upcoming week: "There was a lot of motivation for the game especially we were hungry for a third consecutive Serie A victory, which we hadn't succeeded yet, and to keep improving our away record, as I don't think anyone in Europe is unbeaten on their travels in 2022. The other motivation was to go into this week feeling confident, as for the first time really we'll have almost the full week just to work in training on tactics. Playing so often, training becomes largely about recovery or studying the next opponent. We will have a little more time to work on ourselves, but then it is seven games in 21 days between Serie A and the Champions League, so we need to get our energy back. Surely it was the right victory at the right time, to help us prepare for the next tour de force."
On the summer signings' integration: "It was not an easy game for Adli, because there weren't any spaces, Verona man-mark almost all over the pitch. It was also his first start, so a few difficulties are to be expected. As for Thiaw, Dest and Vranckx, let's not forget they are young guys who only arrived a couple of months ago to a totally new league. They have great potential and great desire to work. I am sure they will be ready soon, as they needed a little time to settle. As for Origi, he is finally well. I liked him, he has finally got over the injury he suffered at the end of last season, as ever since then he felt hesitant and scared, but he seems to have shaken that off now. He finally made a shot with his left foot and that's an important sign for him. We have 2 center forwards who can alternate. Rebić is fully recovered now too, I will have to give minutes to Messias as well. I hope to have Maignan, Kjær and De Ketelaere back too over the next week because playing so much, it's often hard to recover mental energy and I need a lot of players."
Speaking to MilanTV, Pioli said: "We knew Verona would play, like they did last season. They have a new coach but didn't change their principles of football. It was a strange game as we started well and could've killed it off. Instead, we made life tough for ourselves with some mistakes that we don't usually make. The gaps were too big, and we let Verona counter a few too many times. But, as usual, we overcame difficulties and stayed in the game. We then had the quality to win it with a good team goal."
On having a week of work before Monza: "That's what we needed. We hadn't won 3 straight league games so this is a big win because it shows consistency. We keep improving on our good away form. We'll take this week to recover and work because we have a big week after that with Monza and the two Champions League games. We play 7 games in less than a month so we need to recover and work hard because our next few games are very important given how Serie A and the Champions League are going, where we're still well in the hunt, but we want to make some big moves before we break in November."
On being the only team in Europe Big 5 to be undefeated away from home in 2022: "I have to say that I told the team that just before entering the field and I bit my tongue a little because we were there with Manchester City and Barcelona. It occurred to me that 'there is no 2 without 3', so I tried to motivate the team by telling the guys that we had a chance to improve. We played with great stubbornness, with the right clarity – especially in the difficult moments of the match."
The Coach also held a post-match press conference: "We started well. Could we have closed it early with Giroud's chance? No, but the game would have taken a more favorable direction. Then we were no longer a compact team, but as usual we gritted our teeth and the many qualities of the players we have then came out."
Is the glass half full?
"The glass is full, or rather full. This is the first time we've won 3 games in a row in this league campaign and we've improved our 2022 away record. Maybe I could have changed a little more at the start but the glass is full. A victory after the defeat in the Champions League can only do us good."
Is this a further sign of growth?
"We knew very well what Bocchetti would do, he wants to continue a path that Verona knows well, so the positions were those, even if I didn't think Depaoli would play. Some of our mistakes they induced with their pressure, some mistakes we did on our own. But winning these difficult games means that we are growing mentally and in terms of awareness, and that we never give up. This is a quality that my team has inside and they know how to bring it out in the important moments."
How do you comment on Adli and Thiaw's performance?
"For Yacine it was not an easy game but I expected it; we were hoping to find him a little more between the lines, he moved well on the field. Malick came in well, we put in 5 at the back and he has important qualities."
Another Milan youngster is Chaka Traorè, who scored a hat-trick for the Primavera on Saturday…
"We know Chaka, I didn't see the goals; he is doing important things as well as all the Primavera and we follow him with interest."
How convinced are you by this Milan team? Could the energy spent against Chelsea have affected the team?
"I know we can play better, but the guys know that too. Growth in character is important and allows us to overcome difficult obstacles like these. Hopefully we can recover some energies and also get back some players: we have an important period ahead of us, matches that – I am not saying will be decisive for the whole season, but close to it."