Stefano Pioli held his first press conference of the pre-season, as the Champions of Italy began training today in chase of the second star.
A little over a month ago, the Rossoneri paraded the streets of Milano to celebrate their first Scudetto in 11 years.
Without Zlatan Ibrahimović, Rafael Leão, Theo Hernández, Sandro Tonali, Ismaël Bennacer, Mike Maignan among others who will arrive by July 15th, and without Olivier Giroud and Divock Origi, who will arrive tomorrow, but with hundreds of fans at Milanello cheering on the Campioni d'Italia, Stefano Pioli guided the squad for the first training session of the new campaign.
After training, coach Pioli held a press conference at Milanello, where he answered the various questions of the journalists and even questions from Twitch and YouTube:
"Well, we are not alone, we have got 2 shirts to introduce: especially this one over here [pointing at the home jersey]. I think it's very beautiful, especially with the symbol stamped on its chest [the Scudetto badge]," Pioli said as he sat on the familiar chair.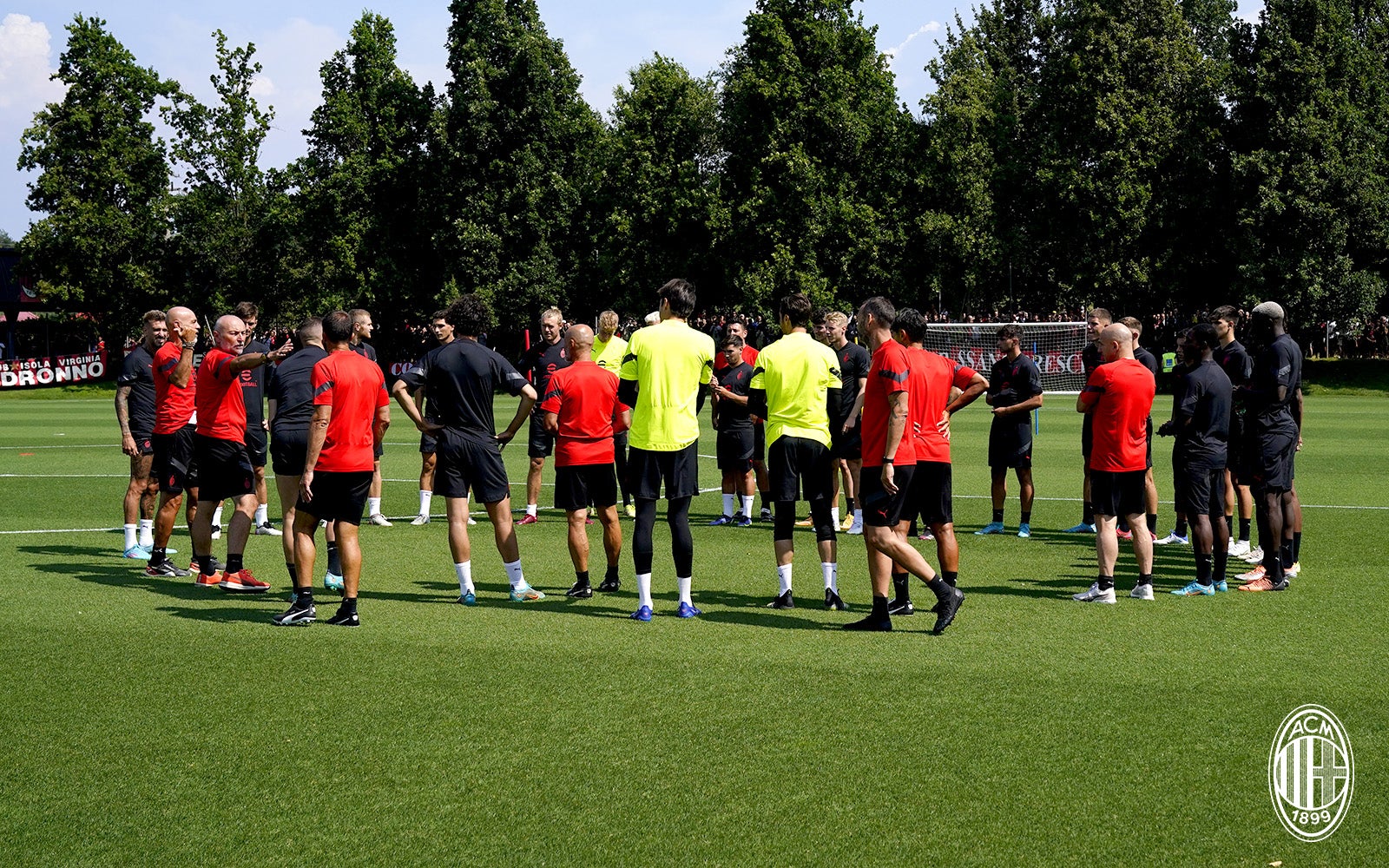 Good afternoon to the Coach. Not on the eve of the game, but the eve of a whole season: this morning I saw everything involved and engaged, including players like Castillejo who weren't really used last year. How do you manage it?
"Well, it's one of our secrets. Mine, the technical area's, the club's. The whole work group. Our secret is to continue to believe in our players. To believe in our quality and in our way of playing. And in the characteristics that are necessary to become a team: great dedication, great enthusiasm, great willingness to work. These are things that we need to hold on to and possibly improve on. To continue growing and to continue improving, we need to put ourselves under question each and every day in training. But we need to be aware, I'm convinced, that none of my players have reached their maximum potential so we can and we must improve a lot and we must work very hard to make sure that we do improve."
On the 22nd of May, you said it was the best day of your sporting career. Has this been the summer summer of your sporting career?
"It has been an excellent summer, I relaxed and I had fun with friends and family and I met so many fans; the fans who brought us joy and enthusiasm. It really has been a thrilling summer."
Last year, ahead of the first game against Sampdoria you were asked if this was the strongest Milan team you trained. But compared to the past, what kind of players should Milan be looking for in the mercato? Because winning is difficult, but defending the title is even more difficult…
"Well, we have to bring in players who are functional to our way of playing. We need to be creators of possibilities, finding the right solutions in the right place, starting from what I said earlier. I am completely convinced that this team has massive margins for improvement. Everything we did last season allowed us to become more aware of our potential, our abilities, but we'll need to continue improving and continue raising our level if we want to continue winning."
What do you think the team needs most? What positions needs covering?
"We have ideas, we know we can work in a certain way. But now that the season is just starting, we need to make the most out of our situation. Pobega has returned, he had a fantastic season, he's a strong player and he'll add some physicality which we lacked in some games. Adli has also come in, he's a very interesting young player. We'll see what solutions are available, we'll see what the mercato has to offer. But the directors have a very, very capable and attentive Club at their back."
Two quick questions: first a personal one – have you digested the fact that you won the Scudetto? And secondly – is Ibrahimović still a part of the sporting project?
"Yes, I did digest it. I might have struggled individually but the fans certainly helped it. It was an incredible sensation. But now a new season begins. We have to be fully aware of why we managed to do what we did; what we put into it, how much we believed in it, how confident we were… today, I only had part of the group but they were highly-motivated and I'm sure that when other players come back they'll also be very motivated. I know that I work with players who are real people and players; I know that the recipe is to continue working day by day, focus on improving and getting as high as possible. The level has increased, expectations have increased, pressure has increased but all that is normal because we won and we want to continue winning. And our rivals will do our best to make life hard for us. As for Zlatan, you know what I think of Ibra; I heard from him this morning, he is doing well, he is recovering from a serious injury. I hope I'll be able to work with him again because he is a Champion in everything."
You said that you're convinced your players have ample margins for improvement. So a specific question on Leão: this is a crucial moment in his career, there are talks about his contract… what do you expect from him in particular following the great season he had? What more can he do?
"I think he can do a lot more and it's normal, because we are talking about a 23-year-old player with good experience at his back but not quite complete yet. This year he reached double-figures but I still think that he can and will be decisive in our offensive play. He can open-up any match and needs to do that consistently."
A question about Europe: what level do you think the team is at compared to the first and second tier of European teams? And a question about Dybala and De Ketelaere who have played on different levels: is there a profile you would prefer? Experience? Youth?
"Talking about the Champions League, I think last season's experience taught us a lot. I don't think we are that far of from being competitive. I don't think it's possible at the moment to think of a Milan that can win the Champions League. I don't like talking about budget or money but there are teams like Liverpool and Manchester City who can spend more on a single player than we do on all our transfer market. I think it's very difficult to compete with English teams, PSG, Real Madrid, Bayern Munich… but I also believe that my team grew through the difficult experience in the Champions League. Our objective is to be competitive in Europe as well. So we'll wait for the draw of the 25th of August to see who we'll be up against but I'm sure we'll have the motivation and the stimulation to do well in Europe as well. As for the players you mentioned, we are talking about 2 very different players: but I know that I have directors who are very, very capable and they will make the decision that best suits the team."

How have you experienced the month of June with the renewal of Maldini and Massara arriving only on the last day? How did you experience the wait?
"I was completely serene. We continued to work daily together, they were always very positive and proactive so I was never worried. I think the reason we achieved such a result was the concreteness and solidity we showed as a group."
Two quick questions: first off – last season you talked about picking up more points than the season before and you managed it with 17 points more and the Scudetto. Can the objective this year also be measured by points or might it be something else? And secondly – Dida is absent in the staff: will he return or not?
"Well it's difficult – last year's objective was definitely to improve on our points. At the moment I'm not focused so much on the objective but on the path we must take to reach our objectives. We must show courage, tenacity and determination to win every game. What the final score will be is too easy to judge now and too easy to get wrong now so we must focus on our preparation because we are facing a very particular season. It's the first time that 21 games will be played in just 3 months and then there will be a large break for the World Cup. So we're just going to focus on our work, on our job, on our preparation: today we started, it's our first day back, so that we can pick up as many points as possible in the first half of the season. As for Dida, unfortunately Nélson told us a few days ago that he had to go back to Brazil. He gave a lot to the team so I thank him for that; especially for how he helped Maignan."
Last season you outlined the mindset that Tonali and Leão returned to the team with. Could Pobega be the surprise this year?
"I hope so. Today's training session wasn't the most testing so it'll be hard to take any judgement from it but I think he's a player that can do very well with us."
Could you tell us about Adli and where he would fit into your schemes and formations? And is he perhaps too attacking for your ways?
"Adli is very interesting, very capable technically. He is very good at getting unmarked and playing forward, playing direct-football, looking for players who make the move and make the run deep. I think we still need to understand what position would suit him best. He is a very intelligent guy, very well-prepared so I'm sure this period of preparation will help him understand and help me understand where to position him on the field. Even though we aren't tied to any specific formation or any specific positions. He's a dynamic and intelligent player, which is something that we need in our midfield. All good players who are willing to play for the team are useful to Milan."
Today Kessié officially passed to Barcelona. A thought on two players who were very important to the team: Kessié and Romagnoli. And what profile do you expect to come in from the mercato?
"More than a greeting, I give a warm hug to both players. They are both great professionals, two great players. Two guys who I shared an important process with and I wish them the best for the rest of their career. As for the mercato, first of all we need to evaluate what we have; then, we'll look to sort things out if there's any sorting out needed."
Two questions: Inter are a lot further ahead in terms of the transfer market with 80-90% done. Juventus is completing its mercato. But Milan are only starting. Maldini said when his renewal was announced that 'we will make up'. Do you think there is a lot to make up for or little?
"I say that I'm certain that on the 13th of August we'll be ready. As the coach of Milan, if you were to tell me that tomorrow we would be completely complete then I'd be very happy buy it's impossible. Because the more preparation you do, the more aware you are of what you need, what you might need and what you have. And different situations in the mercato could change things completely from your original plans. We are starting from a very solid base and as Paolo said today – from the 15th of July I will have a very strong team and for the 15th or 16th of July I could already start the league with a very strong squad."
Following a long break you always change something: could you switch to a three-man defense in certain situations?
"Well, first of all we have to point out a very important thing and that is the return of Kjær. We were missing a very important players to us for 7 months, for his technical abilities, his presence on the field and the dressing room. It will take him a little while to return to full fitness, because 7 months is a lot, but he will return. As for our characteristics, a three-man defense I think is a possibility, but we'll always look for the best solution to be competitive."
Talking about the defense – you mentioned Kjær, however Romagnoli is leaving and he was the only left-footed player. Now Botman has signed for Newcastle. What would the coach want from the mercato – a fast player like Kalulu or Tomori, or perhaps a more physically-solid defender, a taller defender? And second question going back to Ibra – when do you hope to see him back at Milanello?
"As for the defender, Tomori is a right-footed player but he plays better on the left. I myself was right-footed but preferred playing on the left, so I don't think it's anything decisive. We'll evaluate what we have, our positions, our players, and then we'll have time to intervene in the mercato with the objective of always improving. If there are chances to improve, the Club is ready to do it. As for Zlatan, I hope to see him as soon as possible: he is talking with the Club and the directors to negotiate a new deal. If all goes well, I hope to see him as soon as possible. Obviously he'll need time to get back to fitness."
Which clubs do you expect to improve next season or do you expect a two-horse race with Inter again? And as for the mercato, do you see anyone leaving?
"The rivals will be the same as last season: in the end it came down to a duel between Inter and us, but there are at least 5-6 teams that can challenge for the title because they are strong: Inter, Juventus, Napoli, Roma, Lazio… at the starting grid we are all the same. Then, as the season progresses, it will be the work, the quality of players and the spirit of the team that will make the difference. We managed to create a bit of alchemy and magic between us which allowed us to win the Scudetto and on the 15th of July hopefully we'll rediscover this alchemy. What matters most is keeping the spirit, this desire to work, this desire to grow and to be together. Always placing the team as the point of reference – never the individual."
You talked about a particular season this year with an intense period followed by a long break and then a second half of the season. So what do you think about Milan's fixtures?
"Last season showed that the level in Italy is so high now that there are no easy games. I did look at our fixture list to try to understand the days we'll be playing, the sequence of games, but not so much the single opponent. Every opponent needs to be faced, we are very well-aware that we are an objective for everyone, everyone will want to beat Milan and we'll have to prepare even better than last season for each game. Every team prepares from Tuesday to Saturday to win their game, but it's the team that prepares best that will win."
First of all, how on fire is Pioli on for this first half of the season as the Campione d'Italia? And secondly, a more technical question – how do you prepare for a season like the upcoming one?
"On fire… if we are talking about enthusiasm and passion then I'm certainly maxed-out; can't wait to begin with great passion, great enthusiasm from the very first day to continue our process. I don't think we'll be changing much in our preparation compared to last year, we had a very positive preparation last season so our workloads will reflect that. Obviously the first 10 days will change and the friendlies will too. We'll need to divide the friendly games out a bit based on player conditions but we have a table we set out to make sure we're ready, fully match-fit for the first game of the season and to continue until the 13th of November. Obviously we'll need to change some strategies because we'll be playing more times a week on many occasions. The playing time and fatigue will have to be planned ahead of time."
Last year there was talk about a #7 playing as a #10 and a #10 playing as a #7… but could Ziyech be an interesting profile?
"I don't know… I know Messias had a good season, he has good characteristics. I know he can do better but these are considerations that I will make over the coming days. And decisions are made by the directors."

What about a player that Milan have already signed, even though he hasn't been announced yet: Origi. What do you expect from him? He'll obviously be competing with Giroud and the pecking order will be defined over the summer, but what do you think of the new striker?
"I think the most important point of your question is the pecking order. There will be pecking orders but they will be made game-by-game. It's always been my way of coaching, it's always been a strength of ours. I don't have a starting XI in my head. This year I have 22 starters because of the number of games we have. There are far too many to think that Theo Hernández, who is a force of nature, can play all games from the 13th of August to the 13th of November. Therefore, it's not so important if Olivier or Divock are ahead in the starting pecking order in the summer; what is important is having strong players with different characteristics. And I think that last bit is the most important part of all. Having different characteristics to change during the game or from game to game in such a tactical and sometimes blocked football, is very important. Origi is an intelligent player, he has a lot of experience and I expect a lot from him."
In the papers – Milan, the Champions – are not the favorites for the title this season. What do you think of that?
"I'm happy. Because last season we were 4th-5th in terms of being favorites, so that's perfectly fine. Predictions are more on paper but in the end it's the field that decides the final position. We must focus on the field. Our squad is a bit too big, we have 28-29 players, that's too many. Everyone needs to be engaged, everyone needs to be involved. Having options is obviously a good thing but too many players can hamper our work."
I wanted to thank you on a personal level because in October I asked you to change my screensaver because it had lasted 11 years… Which player would you gamble on surprising everyone this season?
"If there's a player I think can do a lot and who can become a very top player, I'd say Bennacer. I expect a lot from him because I know he can give a lot."
There were a lot of summer hits, but this summer one of the summer hits seems to be 'Pioli is on fire'. How does that feel?
"It's strange but it's nice… the fact that Milan fans dedicated this chant to me is thrilling, it pushes me to do even better, to be more motivated, to continue our process and to continue bringing our fans satisfaction. Because these are unique fans, they are special."
On a personal level, is there something you would do again from last season and something you want to try that is new?
"It's difficult… I won't say that I am not thinking of last season because certainly we have to take some things from last season. We created an important base but everything went so well. I might have made mistakes but the quality and spirit of this team brought us a great result. So even my mistakes were covered by our team."
Is it easier to win the first time or defend the title?
"Well, that's something I'll have to try. I can assure you it was not easy to win, but we need to raise our level. We have the quality to do so and we must focus on doing that."

Not asking names, but characteristics that the mercato might bring to the team…
"Quality. Because in certain games when the defenses were more blocked and solid and waiting for us, we struggled a bit more than we should have. In those games, an individual play, an extra dribble, a better shot on goal, could be very useful."