Stefano Pioli was happy with the 2-0 win over Salernitana, even though Milan were wasteful in front of goal.
Milan returned to San Siro on Saturday afternoon, taking on Salernitana in front of 44k fans, and it was a walk in the park for the Rossoneri, who controlled the game for the whole 90 minutes.
Already after 5 minutes, Rafael Leão burst through the left flank to find Franck Kessié inside the box and the Ivorian scored past Vid Belec. Milan got some bad news a few minutes later as Pietro Pellegri left the pitch with an injury.
That didn't stop Milan, however, and in the 18′ minute, Brahim Díaz passed the ball to Alexis Saelemaekers and the Belgian curled it to the back of the net to make it 2-0 and then went on to celebrate by lifting the shirt of Simon Kjær, who yesterday had ACL injury, in front of the crowd.
Salernitana barely made a threat on Mike Maignan throughout the game; Belec, however, had a lot of work, but the Diavolo missed plenty of easy chances in front of goal and so it ended 2-0.
"I come out of the game with satisfaction for a good victory and a good performance," Pioli told DAZN. "Because some assumed this could be taken for granted but in football nothing can be taken for granted. It would've been better if we had scored more goals, especially considering how many chances we created, but the team showed maturity, consistency and growth. I liked the way we controlled the game and continued to create chances, despite running very few risks."
On managing the game: "I'd hoped to unlock it quickly and then try to manage it. We had to close it out with a third goal. I was sorry to take Bakayoko off as he was doing well but he was on a yellow and I didn't want to risk it. We managed the game well, we didn't take any risks, so it was a positive performance.
On the half-time substitution of Leão: "He took a knock, his muscle hardened, so we preferred not the risk it.it. He is very much at ease on the left wing, difficult to mark in one-on-one situations, but he needs to push even more and use his pace. Krunić did well with Brahim, he is a very intelligent and useful player."
On Brahim Díaz and Pellegri: "He has to increase the quality of his plays, improve his vertical plays and score more goals. But he's working a lot for that. We are a very young team, I told the guys that we have to play with enthusiasm and speed. I'm sorry for Pellegri's injury, he started well and I was sure he would have played a good game."
On Tuesday's game against Liverpool: "Having already faced them this season gives us a bit more information and we know what we're going into. Tomorrow we will study them with the guys. In the Champions League you cannot do without quality or intensity, so those must be main characteristics of our performance on Tuesday. Liverpool have many advantages, they have this way of immediately putting in a vertical pass and changing the pace with three forwards. They are a stronger team, amongst the best in Europe and one of the teams that can aim to win the Champions League this season. We wanted to be in this position, we have this chance after a great match in Madrid and now we can only try to give our best. Now we need to recover our energies. We know Liverpool will inevitably cause us some issues, but the spaces can open up too, because they are certainly not unbeatable or impenetrable in defense."
On the Scudetto race: "I had predicted a very balanced league in the top spots. To be honest, I expected more teams to be crammed up there, such as Juventus, Roma and Lazio being closer to the top four. Details make the difference in Serie A, perhaps injuries and European commitments will have a crucial effect on the Scudetto race too. It's the second year running that we have started very strong in the season, but we need to be more consistent. We have to keep the level high for the whole season. We don't need to look at the standings, we reacted well after two defeats in a row. We have to stay focused and try to have a nice Christmas."
Speaking to MilanTV, Pioli was asked about the gestures Milan made for Kjær before and during the game: "Our affection and respect for Kjær are clear, it was a really nice gesture we left like making. We are all close to Simon and very happy the surgery was a success. We can't have him back, we want him at our side, he won't be able to help on the field but he is important for us off the field as well. For my players and I, to have him with us at Milanello will be important and it will happen soon. We're all with him and wish him the best, knowing he'll come back stronger than ever."
On Pellegri: "Pellegri had an issue with his thigh, he'd started the game well and I believe he would have scored given how we played and how we were structured; given all the scoring chances we created. It's a shame. He felt like this was his chance and we hope he won't be out for long."
On Krunić playing as a False 9: "It is essential to have intelligent players, after that they need to know how to make the most of the available space: how to read it, to attack it and create it. In that moment, Leão was doing too well on the wing to move into a position he finds more challenging. I like playing without a pure striker, it gives fewer points of reference especially against a well set up defense. Krunić and Díaz moved very well, they alternated through balls and deep passes. Most importantly, they gave a lot defensively by pressing very hard and stopping Salernitana from playing up the field. It was a positive performance, although I would have preferred to kill the game earlier, because we had the chances to score a third. That is something we must improve on. Overall, it was the performance we wanted: we controlled the match with order, creating a lot and conceding very little. Aside from Pellegri's injury and Bakayoko's booking, which forced me to sub him because it's hard to play while booked, everything went well."
On having more points than last year: "Ours is a process of growth in which we try to improve with each game, so it would be great to pick up more points than last year. Whether we have more or fewer at the midpoint is less important, what matters is the end of the season. Four teams are very close at the top at the moment, I had expected the league to be more balanced with more competition for the top. There are only four at the moment, but the season is still long and we have to stay focused; this is an important period, there's not long left until the next break, Christmas, so we'll need a lot of concentration and attention in our coming games, but first we'll give everything in the Champions League, because we've earned this great chance and we want to do all we can."
Pioli also held a post-match press conference: "Today's performance was positive and important from a mental point of view. We prepared and interpreted it well. We could have scored the third goal and that's another growth that we must make, despite the fact that the team played with intensity and command throughout the game.
What is the situation of the injured players ahead of Liverpool?
"I'm sorry for Pellegri, it was his chance and his game. Leão took a blow, his muscle was hardening a bit and there was no need to risk it. I think we'll quickly get excited as we prepare for the next game and Liverpool is the most prestigious opponent we could face; we wanted this chance. Tuesday night's performance depends on us, regardless of the qualities of the opponents."
Did you expect this type of match from Salernitana?
"They played the game they usually play. Our individual plays broke the deadlock right away and everything became more difficult for them. They can have the chance to play for salvation in the league until the end."
You need to convert better…
"Definitely. When you create so much you must convert the chances better. This gives us energy and enthusiasm. We need to convert better, to score goals you need quality and nastiness. We can have both."
Will you need a striker or a defender in January?
"This is not the time to think about the mercato. We need to stay focused on the next matches. I know I have very careful and prepared directors behind me: if there is a chance to improve the squad then the club will do it."
What was the determining factor today?
"The most important situation is the depth of the team. We made the game simple with our rhythm and our qualities: it means that we are also growing in terms of mentality in the preparation of certain matches before very important games. Individual plays always make the different and I'm lucky to have such players: in today's match there were more merits of ours than demerits of Salernitana."
When you coached in Salerno you promised to uncork champagne in case of making it to the repechage. Will you do it on Tuesday as well?
"I have a wonderful memory of Salerno: great atmosphere, great passion and great participation. I still hear from many of my former players. I always have champagne in the fridge: I'm ready to uncork it…"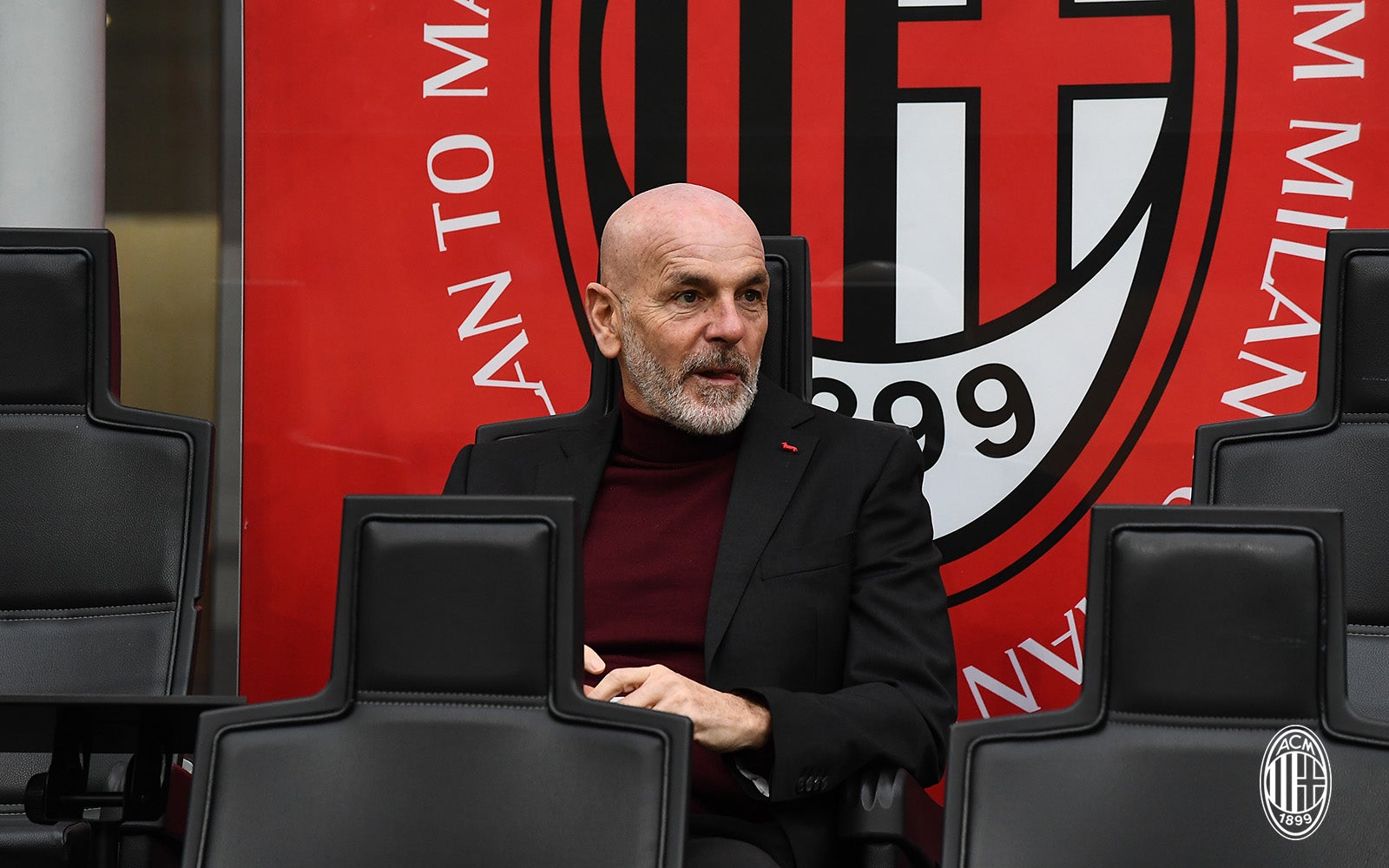 Krunić as a False 9?
"It was prepared and thought out during the match. Leão can also play as a center forward but he was doing well on the left. I was undecided between Krunić and Messias; Rade made 4-5 runs into the box without the ball which were not served. The important thing for the players is to find the useful spaces. Even with Ibra we play without a center forward, but I like it this way: it's better to empty the box and then fill it with many players."
Will Salernitana be able to play for salvation until the end?
"I expect a lot of balance also in the lower part of the standings. Salernitana, especially at Stadio Arechi, play with intensity and a good presence. The level of the strong teams is high, but Colantuono is doing a good job. I've never had any doubts about the Salernitani fans: I'll be happy to return to the Arechi."