Daniel Maldini was overjoyed after scoring on his debut start in Serie A, which helped Milan beat Spezia.
Milan visited Stadio Alberto Picco today for a match against Spezia and it proved to be a very challenging and tough game.
Stefano Pioli rested Brahim Díaz and played Daniel Maldini – son of Paolo and grandson of Cesare – in the role of the trequartista from the first minute.
Daniel found it hard to make an impact in the first half, as Spezia closed the spaces well. However, in the second half the big moment of Maldini arrived: Pierre Kalulu crossed the ball in the 48′ minute and he found the head of Daniel, who managed to strike it past the Spezia goalkeeper.
The entire team congratulated Maldini, while Paolo was in the stands smiling and hugging Frederic Massara. Maldini completed 60 minutes and watched from the bench as Milan conceded an equalizer Daniele Verde (80′), but then also scored the winner through Brahim (86′).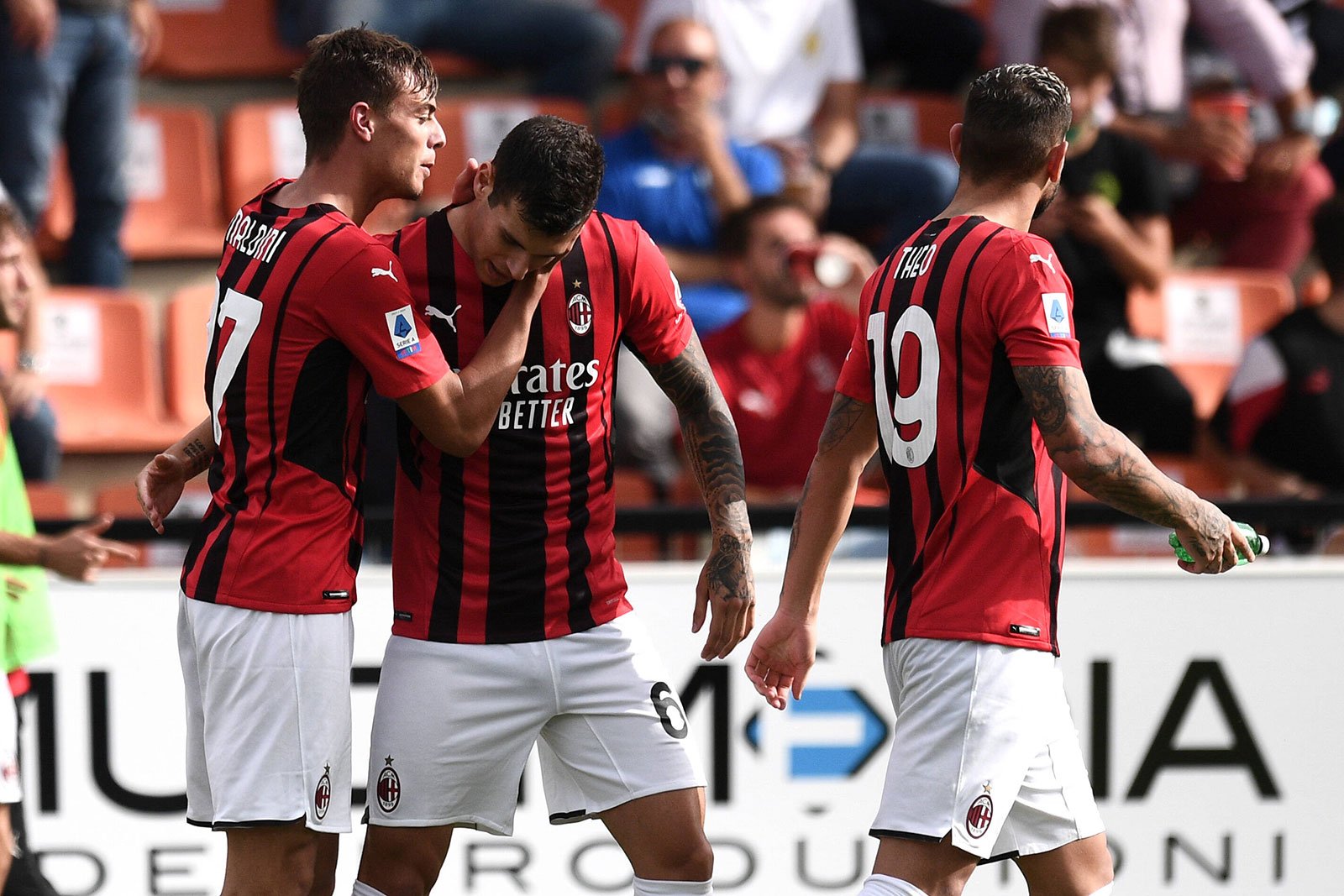 Maldini spoke to MilanTV at the end of the match:
Daniel, first of all, I want to ask you – what was it like? Because this is your first full Serie A debut and you scored. I imagine it's an incredible feeling for you…
"It's indescribable, I still have to let it sink in. Fortunately, we won the game and took home three points in what was a tough match.
Did you dream of your first goal happening like this?
"Well, I tried to imagine how it would arrive, but not the actual play itself [smiles]. Fortunately, it ended up this way."
This is also an unusual goal for you given you are more of a technical player, you prefer to have the ball between your feet…
"It's true, it felt weird to score with a header but the outcome was great."
Next objective? A goal at San Siro?
"Let's hope so."
What does dad Paolo often repeat to you?
"He gives me advice, he tells me to be tranquil. He spurs me."
When did Pioli tell you you'd start?
"He told me the day before, he told me to stay calm, do what I can and give it my all."
The 19-year-old also had an interview with DAZN: "I'm very happy, it was very emotional. The good thing is we brought home the three points. I'm yet to fully realize it and put my thoughts in order. I was excited, even though I was calm. My teammates help me a lot and so does the coach. I was serene. We brought home the three points and this is important."
On Pioli: "He stimulates me a lot and gives me a lot of advice. He helps me a lot."
On father Paolo: "My dad is very demanding, he gives me advice and helps me. He's rightly a dad."
On when he learned he'd start: "The coach told me the day before that I was going to be a starter by showing me the dead-balls. In the first half, moving around and finding chances was not easy, while in the second half I had a bit more space."
On what he needs to improve on: "I still have to understand well the moments of the game. However, having physicality helps, fortunately."