Zlatan Ibrahimović spoke with Friday's edition of La Gazzetta dello Sport, discussing a variety of topics.
Ibrahimović finished as the Top Scorer of Milan in the last campaign, but he only played half of the games, dealing with injuries and COVID-19. It may seem as though the body is rebelling Zlatan: "I don't think it's sick of my head", Ibra told La Gazzetta dello Sport; "We will find a balance between my muscles and my will."
For now it seems clear that the will is winning: Zlatan trains every day to be ready for next year, when he'll celebrate his 40th birthday. The player, who is often seen from the outside as exaggerated, sometimes even extreme, spoke to Alessandra Bocci of La Gazzetta at length:
Zlatan, do you like the way the media portrays you?
"Everyone does their job and expresses their opinions. I know what I am and what I can do. I have confidence in myself, always, this is the mentality that has brought me this far and I cannot and do not want to change it."
Are you disappointed for the injury that deprives you of the EUROs?
"I'm more disappointed for Milan, because I've missed so many games. I would have liked to help more, I'm someone who normally plays 50 games a year. Maybe I should be more realistic, ask less from my body, but I can't do it. Then, of course, I'm also disappointed for the EUROs, but coming back into a competition when I'm not at 100% would not be like me. I prefer to stay out and cheer for Sweden."
Are you worried about the turn that the story of your participation in a betting company has taken?
"No, because things are working out. I have done nothing against the system, on the contrary – as soon as I returned to Europe, I immediately tried to put things right."
Speaking of FIFA, UEFA, punishments, what do you think of the Super League affair?
"I'm not very well-informed, but I can imagine the reasons that pushed those clubs to take action: they are suffering economically and have tried to find a way to recover. Rather, it's strange that in certain countries like England it has become an affair between the fans and clubs, and no one has asked for anything from the players who put on the show. We are the ones who would play more or less."
Do you think you play too much?
"I don't think so. When a player doesn't play he gets angry, if you play too much – you say it's too much. When the sun is out it is hot, when there is no sun then the sun is missing… we need to find a balance."
At 39, would you like to play less?
"On the contrary, but maybe now I should learn to be more realistic and follow my body's messages. Instead, I don't succeed and I always go for the maximum."
Speaking of maximums, you were talking about the economic difficulties of clubs. Do players earn too much?
"What is earning too much? Each player has a player, it depends on how much you need that player. The value does the mercato, it's like on the stock market."
What made you suffer the most in the season that ended?
"The injuries, but still it has been, since I came back, 18 fantastic months. Milan is in the Champions League, the fans deserved it. I wanted to win the Scudetto and we were there, in the lead… in those months the mentality of the team grew, the collective grew and so did the individuals."
You pass for an individualistic player, even a bit selfish. You are an 'étoile' [star dancer in ballet] but you often talk about the 'corpo di ballo' [dance troupe]…
"I like the selfish… many are kings but there is only one God and it's me. But without my teammates I'm not going anywhere and I know it."
How many times have you been angry this season?
"Every day. I feel alive this way, in my opinion it's not negative to get angry. It's also a way to let people know how much you care about what you're doing and about the people around you. If you always say that everything is fine then what kind of life is it?
Your new teammate, Maignan, said that when he was a kid at PSG, he answered back to you and you appreciated it [while in training Ibra told Mike he was a shit goalkeeper and Maignan told him back that he is a shit striker]…
"(Zlatan smirks). Sometimes I fire people up like that. Sometimes you have to be tough, sometimes light. Sometimes I joke and sometimes I send a message. This time we made it to the Champions League, that was our objective, but I want to win. It's a challenge that continues and I'm enjoying it. Now I have more responsibility, I feel more like a leader. The relationship with the club is clear, the players have to work harder every day to bring Milan back to where it used to be."
Speaking of leaders, are you sorry for Gigio Donnarumma?
"Very much so. You asked me before if players earn too much, now I ask a question: what value does Donnarumma have? He grew up at Milan, he could have been the goalkeeper of the team for 20 years… maybe not 20 because he's not Ibra [laughs]. But he is the strongest in the world. He could have become Mister Milan, like Paolo Maldini. What value could be given to Maldini? There is no measure. Whether Gigio leaves or not, I don't know. It takes two to tango. I would tell him to stay at Milan until the end."
Someone goes, someone will come. What are your thoughts on Giroud?
"The more great players we can bring in the better. Giroud has great experience and we don't have many players who have won trophies. If he comes he is welcome. Also because this is a very willing group, who wants to learn and improve, a well-guided group of work."
And then there's you who is ready to be Pioli's deputy…
"[Another laugh]. I've already done it for a year and a half. Now let's look for other things to do."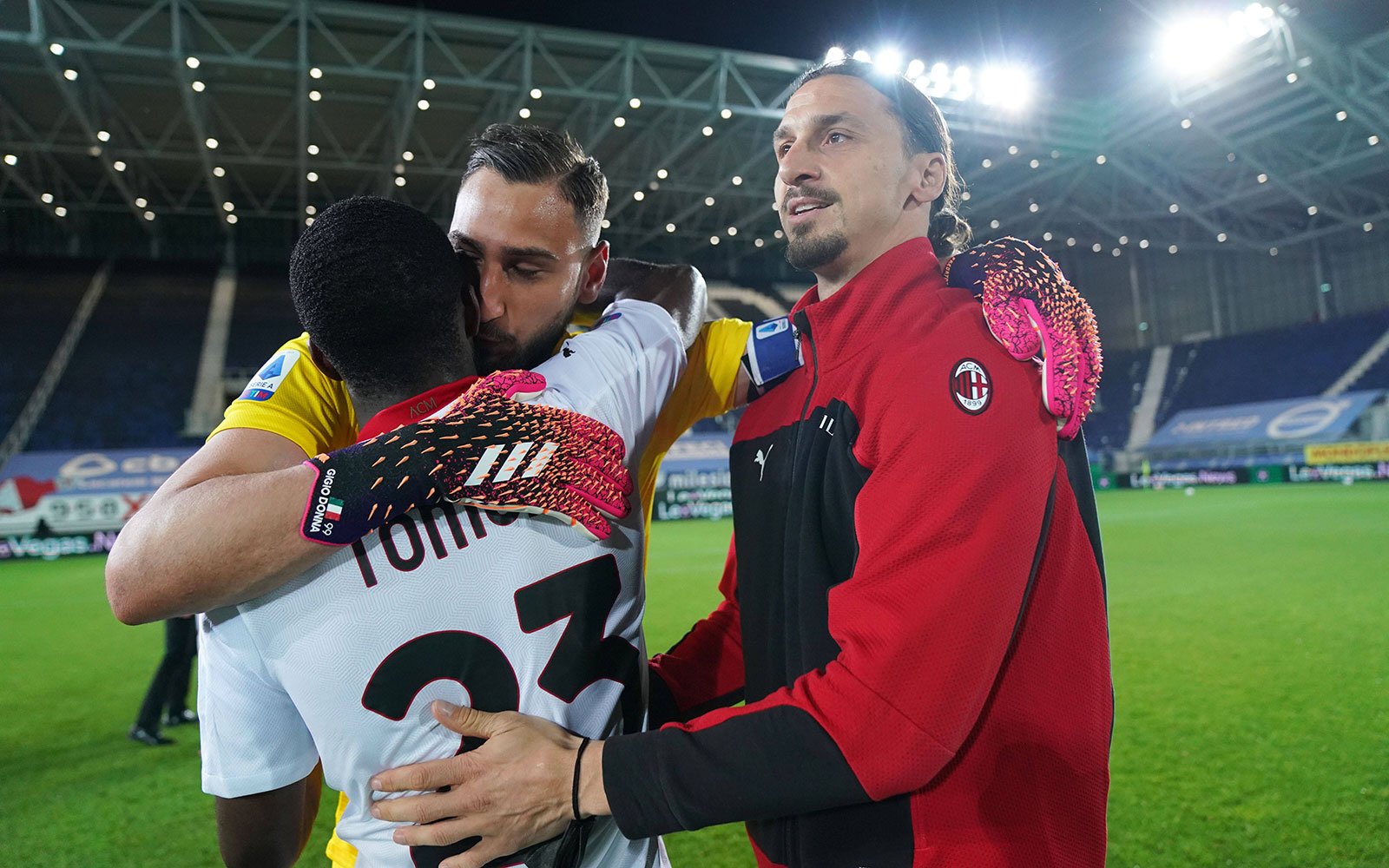 Your friend Mourinho returns to Italy…
"It's a nice challenge: like what happened to me, he arrives in a club that is not the favorite and he is not used to it. But for this very reason it'll be nice. And then Mourinho is a character, everything he says goes around the world. For Serie A he's a good acquisition from all points of view."
Allegri, your former coach, has returned to Juve…
"I'm happy, when I had him as coach he was just starting out, he then became a winner. Perhaps it would have been better to have an experience abroad to complete himself, but not everyone is like Zlatan who takes his suitcase and goes to the garden of others. Each one is made in his own way."
Let's say Ancelotti is similar to you in his desire to travel…
"In Madrid another great challenge is also ready for him."
At Sanremo you were very successful, those who don't follow Calcio and didn't know you, found you likeable…
"It's always like that, but people who are close to me know how I am. Many times I asked Amadeus to tell me what I should do at the Festival. He asked me to be myself and I did that."
Are you always yourself or do you put on a mask?
"Every now and then a little self-defense is needed, I don't share my private life with others. It makes me smile whoever thinks they are always perfect in a world where you have eyes on you all the time. There is no such thing as perfect and when those think they are perfect understand it…"
How do you see next season?
"There are teams that after the pandemic are suffering economically and can no longer move like they did in the past. Atalanta and Milan seem to me the most solid clubs from this point of view. Then we'll see what happens on the field. It will be like another chapter for Milan. A difficult league, we'll have to fight against Atalanta, Inter, Juve, and Napoli… a beautiful balance. I'll try to win again and my teammates with me."
Is there anything you'd like to do in your life that you haven't done yet?
"So far I've done what I wanted to do, I don't have long-term plans. When I've done them, usually the opposite of what I'd planned has happened. So I live for the day, Carpe diem. What needs to happen, happens."
Zlatan, has football given more to you or have you given more to football?
"Football has made me meet people, travel, experience different cultures. It has given me the life I have. What have I given? The most complete striker in the world."