Stefano Pioli kept his feet on the ground after yet another Milan win and said 'I do not have any words to describe Zlatan'.
Milan beat Udinese at Stadio Friuli 2-1 today thanks to a fantastic early goal from Franck Kessié (18′) and an even better late goal from Zlatan Ibrahimović (84′).
The Rossoneri have extended their unbeaten run to 24 games and have stayed at the top of Serie A after 6 games with 16 points to their name.
"This was a tough and complicated game, we could have been a lot more efficient in the final third, and we created a lot of chances but didn't always make the right choice when we were on goal," Pioli told MilanTV. "Nonetheless, this is a win we fought hard for with spirit and determination so I'm very happy with my players' efforts.
"The team? Rebić has recovered, Hauge and Gabbia will be back soon and we need them fully fit, we saw today that playing so often makes you less lucid and many of our mistakes today were the result of the mental fatigue we've accumulated playing so often. It's very important to have all my players available, everyone is ready to do their part, to work hard and well.
"The substitutes? We're in a good shape at the moment, we're doing well but we're far from satisfied, this is just the beginning and we haven't achieved anything yet. When I notice the team is starting to lag, to lose their focus, having a lot of good alternatives on the bench allows me to make alterations. It worked today, it has to be one of our strengths for our starters to give everything they've got because their teammates can come and give a bit extra when needed.
"Ibrahimović? I don't have any words to describe Zlatan, I'm no longer surprised by what he can do because everything he does, everything he says, the way he is within the squad… it's right to highlight his contribution, but I think the entire team, each player, deserves praise for their work as does the fact that we are a team. That's what matters.
"Rebić? I'm happy Ante is back, he's worked hard to recover, obviously he's not fully fit yet but playing will boost his confidence and make him more determined and perhaps he can play for longer on Thursday because we need him, we need all our players' contributions. There are two games left in this phase, we're currently breaking the season down to 7-game phases, and this phase has two important games left. We need to recover mentally, so we can end this phase on a high, which would be a great boost for the team.
"The 'Never Give Up' mentality? It's a good term to define us because we never give up and we have to continue like this. Today we proved it."
Speaking to Sky Italia, Pioli said: "It was not our best match from a technical point of view. Today it was a good sign to win, it was a great game in terms of determination and will to overcome difficulties. Udinese is a physical and strong team, but we believed in it from start to finish. The great credit goes to the players.
"Scudetto? We are at the beginning, the objective is to do better than last year's sixth place finish and to think about growing a lot, also in the Europa League. The teams that finished ahead of us, plus Napoli, are really strong, the conclusions are drawn at the end.
"Ibra is a Champion and he's fundamental in our growth. The other players are also growing and working to make us even more competitive and ambitious. The environment? I am proud to have a compact environment where I work with seriousness and serenity, these are the ideal characteristics to make our qualities perform at their best."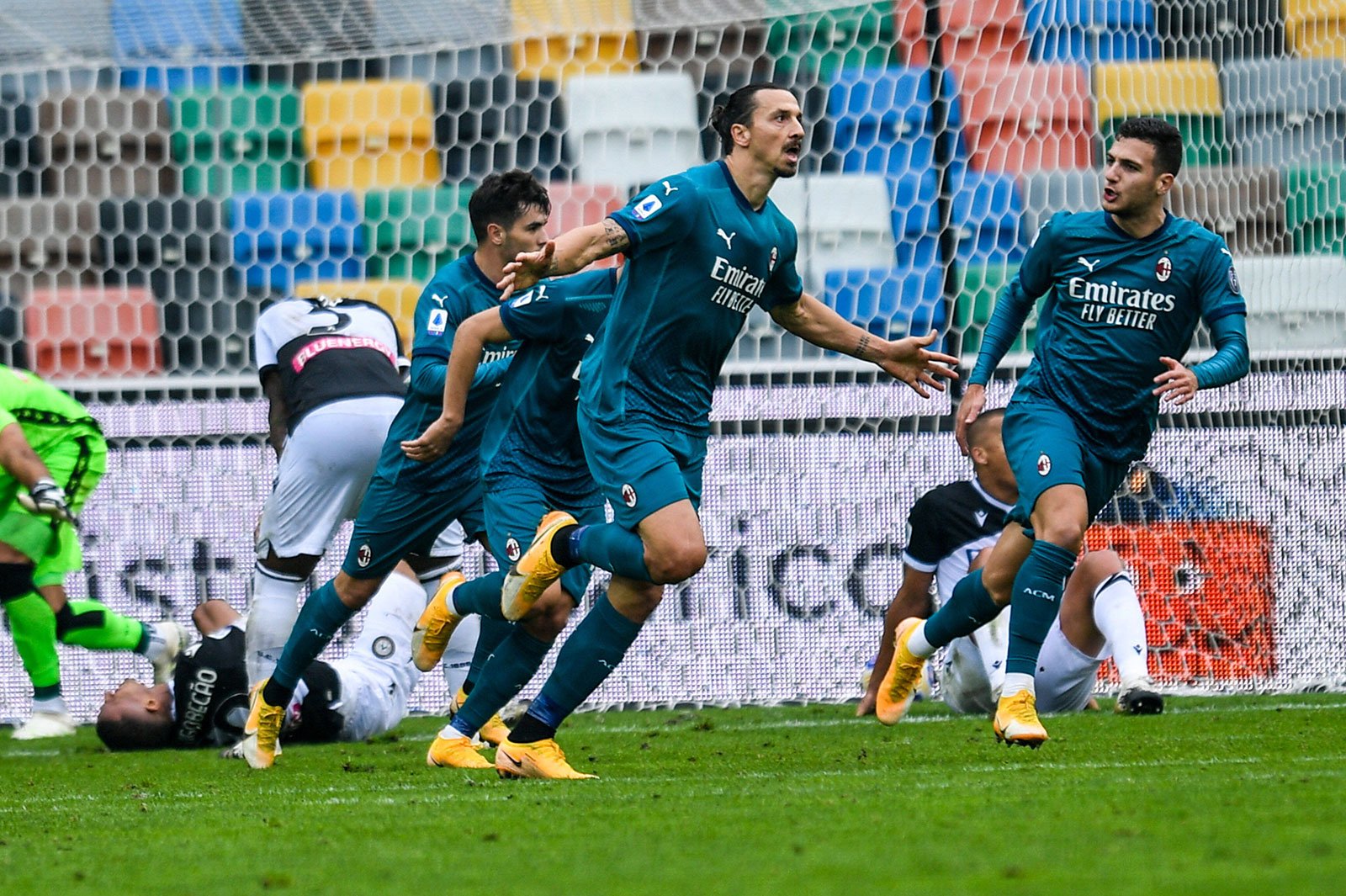 Pioli also held a post-match press conference: "I don't reduce the victory to Ibrahimović. The team managed to overcome some difficult moments but it was wonderful on a mental level. We tried to win and in the end we found it with a great performance.
"The standings? This is not the time to look at the standings because we are still at the beginning of the campaign. It will be a long journey, also because we have long blocks of games. We are focused on our path and we are aware of the things we are doing and of what we can improve.
"The entry of Tonali and Brahim? We needed freshness. We had to adjust some positions and some pieces in the match because Udinese took measurements."
In his interview with DAZN, Pioli said: "The match? The decisions must be accepted. It was a difficult match, my guys were very strong in spirit and will and in the end they managed to win. I'm satisfied, the growth also passes through these matches. Udinese were very dense in the middle of the pitch and countered well. Winning such a game means taking an important step on a mental level as well. We have always tried to be offensive.
"The substitutions? If we could train a bit more the level would have risen even more. With the club we decided to improve the squad with young prospects who could raise our level. I'm happy with Brahim, Dalot and Tonali and whoever is called upon. We haven't achieved anything yet, also today's game tells us we can improve. I'm sorry for those who suffer from my choices and are playing less.
"Playing both fullbacks so high? It was to keep Pussetto and Deulofeu down. We tried to attack from behind. We try to adjust our positions according to the opponents. In the second half with Brahim we were much more dangerous but we could have done much more and be more concrete and effective in front of goal.
"How is Tonali's growth going? I feel that the team has the right spirit, they know they will have to go through difficulties but they know they have the qualities to resolve matches. We base our growth on that. Sandro is doing well, also today he came on well. I have four very strong midfielders. He has everything, he's intelligent, he has legs, he has fast and vertical passes, and he must have more intensity from a mental point of view. He has to get used to a two-man midfield. He's a fantastic guy, attentive, willing and available. He has to continue like this.
"The limit or strength of this team? I know that I'm coaching a very strong team. I told them at the end of the first half… we are a young team but for me they are second to none. We are still at the beginning, last year we finished sixth and the teams that were ahead of us are strong. Our objective is to improve last year's standings and move forward in the Europa League. We have to take one step at a time.
"Ibra's statements about the Scudetto? Zlatan can say what he wants, he knows very well how important it is for the growth of this team that the path is long and difficult. Let's think one game at a time and to overcome these difficult challenges."