Silvio Berlusconi stated he has many things to tell coach Marco Giampaolo, as he talked about selling the club and remembered Arrigo Sacchi's Milan.
Berlusconi was present at Sacchi's new book presentation and the former Milan owner, who was at the top of the club from 1986 to 2017, spoke to the media.
"The Milan of the immortals? It would've been nice if Milan were really the immortals," Berlusconi told Sky. "It is a Milan that made the history of Italian football, changing the way teams play. From being tied to a defensive mentality, to having the will to be masters of the field and to play also in difficult away games with the desire to attack and get a result. There has been a change in European and world football following our change in Calcio.
"The Milan of that time? It was madness to think of a team like that before it happened, how crazy it was to think of all the projects I declared, by adding that I was certain of achieving the results: in TV, in politics, in construction… it went well that time too. After making this statement that made everyone laugh, we managed to achieve the result.
"A funny thing that happened with the Milan of the immortals? When we were in Barcelona, we faced Steaua București in the final. I left the dressing room for a few minutes, where I always stayed before the games. When I returned I said that I had been in the chapel of the stadium; they looked at me doubtfully, I said that I had to ask the eternal father for help and then that I had reminded him that our opponents were Communists, a very important thing.
"What is Milan for me today? Milan was an important period in my life, in which I tried to be part of this story. It was a story in which the protagonists were all those who were around Milan, not just those on the field. I remember many things about that Milan, probably the night in Barcelona when we won the Champions League was the most beautiful of my life.
"Today's Milan? I can't see the Milan of Maldini and Boban because it is a Milan that will come. I looked with sorrow at Milan last season because it was very different from the Milan we had created, both for the feelings with which the players came on the pitch and for the game formation that I didn't like. It was a too-defensive formation with few shots on goal.
"Giampaolo? I don't know if he's the right man for Milan. They tell me that he can do for Milan what Milan asks. I asked Scaroni to meet him because I want to give him some suggestions. The first is on the formation, although I know that in the teams that he coached he already played this formation. Then I'd also have some suggestions on individual players, for the best way they can be used. Sarri at Juventus? Football is now a professional activity, no wonder a coach moves from a team to their rivals. I can do nothing but make the best wishes to Juve and Sarri.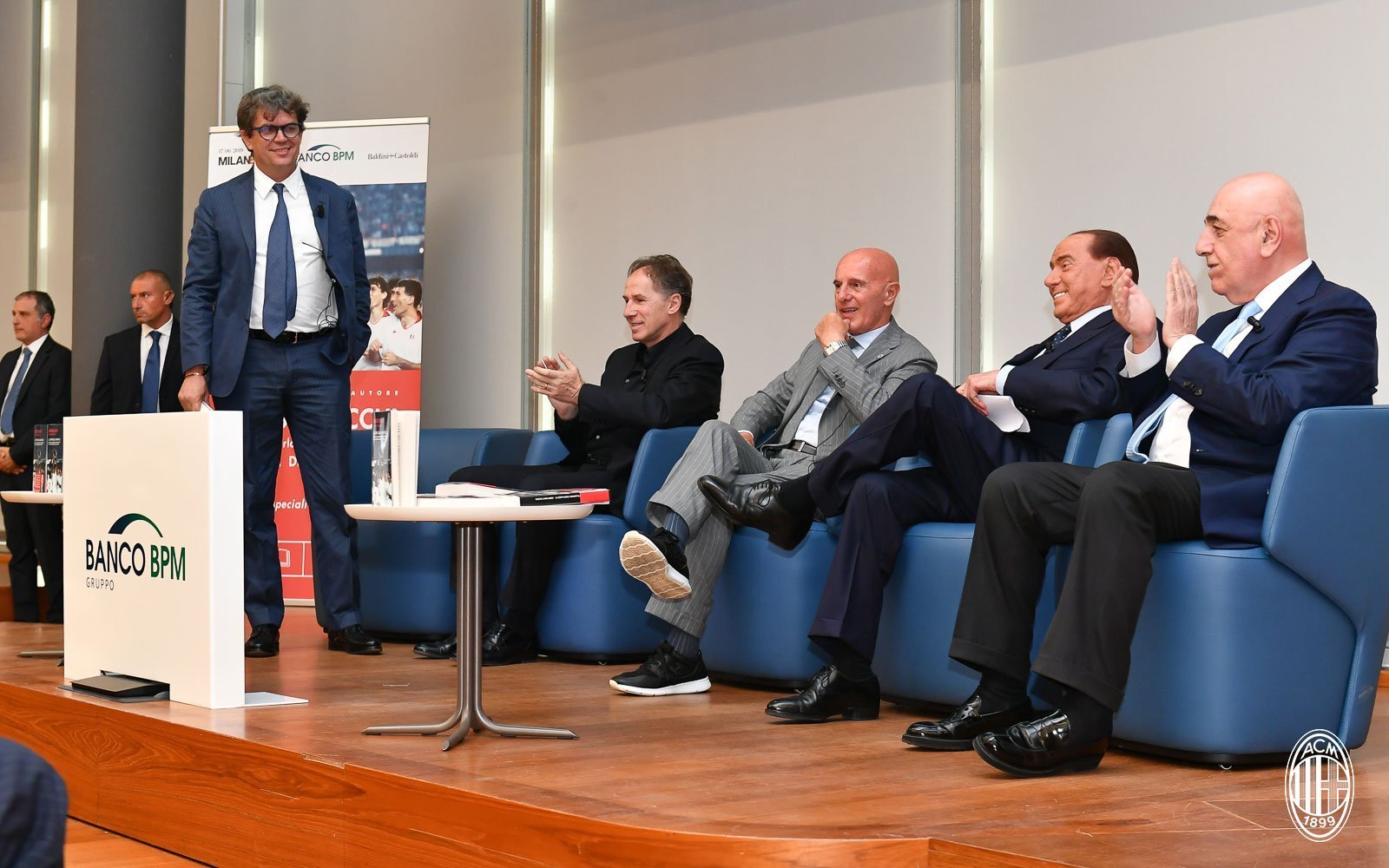 "Regrets on having sold Milan and selling it to Li? There was a need for us not to continue with these expenses that with the entry into the football world of the oil owners were exaggeratedly high. We were forced. The sale to the next owner, to the Chinese, was determined by the fact that they, among the various characters we had heard from, were the ones who were most advanced with the decision.
"We thought, however, that he'd rely on a different management and that he would hire real football professionals to entrust the team to. It didn't happen that way. He also had a lot of trouble from a business standpoint and things went the way they did. Now there is a provident fund that is getting interested because it wants to bring Milan back to being the protagonists in Italy and in Europe, so that they can be sold to someone who comes forward with those characteristics of reliability necessary to become the owner of a team like Milan.
"A return to Milan? I don't think so, because life passes unfortunately. Today I'm busy with other things and my dream is to convince the Italians of a majority that will allow us to found a government that can make Italy the democracy that it hasn't been in recent years, and make us defend citizens against financial, bureaucratic and judicial pressure."
Berlusconi also spoke to Milannews.it: "Sacchi's book has brought back to the agenda the memories of our great Milan. Naturally, when one rethinks of certain moments, the emotions return again. If I gave more to Sacchi or vice versa? I think we both did the work that we had to do, we found ourselves in harmony on practically everything. I don't remember a formation that went on the pitch that was proposed by Sacchi to the President on which the President didn't agree, just like I don't remember a single judgment on a player or a game that diverged.
"Giampaolo? I think he is a coach who loves the beautiful game, with an offensive mentality, which is the first thing a team must have to win and convince. The return of the trequartista? Yes, even in this Giampaolo follows our module. If I've heard from Scaroni recently? He's invited me to a meeting with him and I'll go in the next few days. Advice for him? I've already given him a lot, maybe the choice of Giampaolo is someone that comes from the advice that I gave him.
"Advice for Giampaolo? I've asked the President of Milan to be able to meet him, I believe something useful can be communicated to him by me. If I'm sorry for Gattuso? Rino is the great athlete that we know, and he's given a lot to Milan. As a person and as a player I'm very fond of him. I did have some disagreements with him as a coach, because we didn't share the same views on what the tactical system ought to be.
"If I miss Milan? Yes, I miss it. The returns of Boban and Maldini? I don't know… I know them as athletes and players, I don't know their managerial skills. If there will ever be a football President like me? I did the President role like I do all the other things… when one sets himself a goal, he must work totally to do whatever is necessary to achieve that goal. One must certainly have the quality to be able to do it.
"Conte at Inter? I would've liked to see him at Milan as well, but Giampaolo works very well and I asked the current president of Milan to be able to meet him. If Sarri was ever close to Milan? I don't know him, I never been informed of this. If Conte was ever close to Milan? For a certain moment we thought he could be a good choice but then I moved away from it and didn't follow it. Giampaolo can be usefully employed in a Milan that wants to go back to being Milan.
"What I would like from the new season? It would be enough for Milan to take the field always with an offensive mentality, convincing with a good game and always showing respect for the opponents. This year Milan were missing a lot in the final shots on goal and I was very sorry."