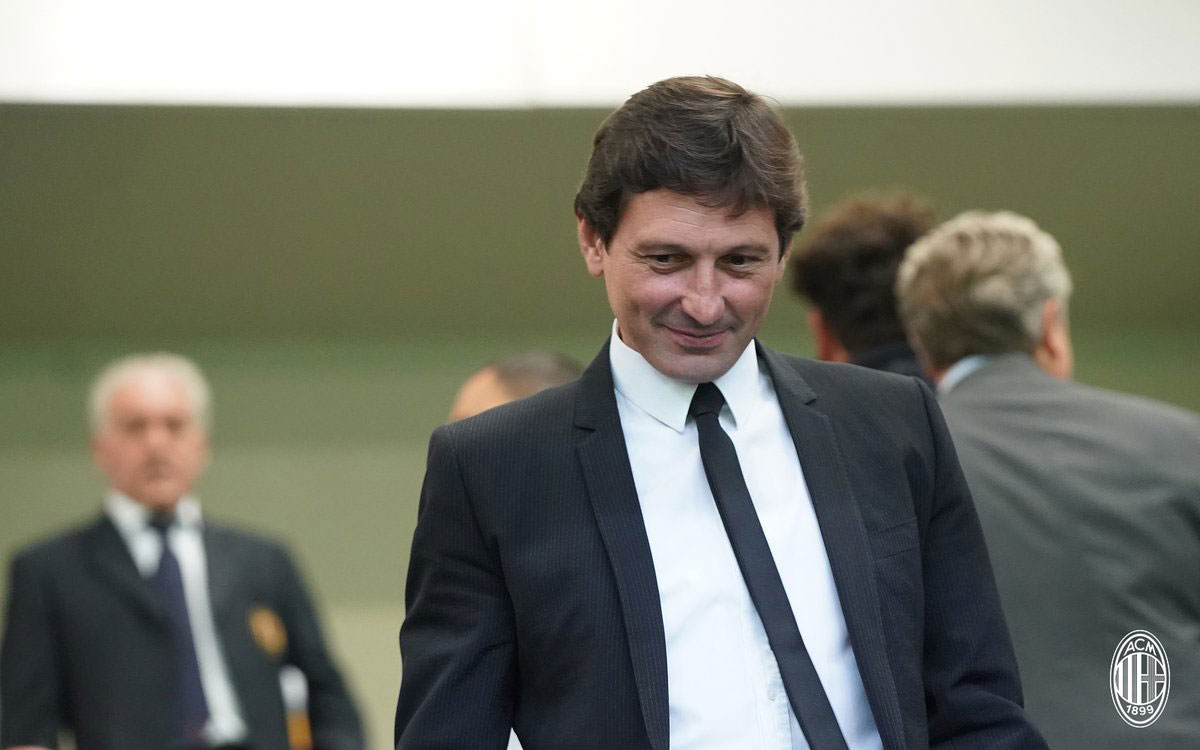 Leonardo has spoken about his past and present experiences as he received the 2018 Nils Liedholm award on Thursday.
The international break is in full swing but Leonardo hasn't stopped working and over the last few days he secured the January signing of Flamengo's Lucas Paquetá.
Milan will be paying €35m in total for the 21-year-old midfielder in different installments to help with the FFP situation (€5 million when he signs the contract, €15 million in January 2019, €10m in July 2019 and €5m in January 2020).
Leonardo addressed the Italian media today (Thursday) to discuss several things after receiving the 2018 Nils Liedholm award, which is attributed each year to an athlete that is particularly noted not only for his results achieved, but also for the important values of loyalty, fairness, courtliness, transparency and elegance that have characterized the life and the sports career of Nils.
"Lucas Paquetá? There is not much to say," Leo told the journalists. "We have a basic agreement with Flamengo, but as you know the market re-opens on January 3, so everything will have its effect at that moment. We still have a little way to go before the official.
"Now we have to think only about the league and the Europa League and not about the mercato. What kind of player he is? At the moment he is a player of Flamengo, he still has 10 games to play in Brazilian league and is competing for the title, he has to remain calm. We have to wait for January 3.
"Zlatan Ibrahimović? It's normal that there is also a personal connection with him. When we arrived [in the summer], we thought about him, even at the age of 37 he drags others and you can see in America what he is for the team he plays in, it's enough to note the impact on the psychological level and the titles won. Today the mercato is closed. We have to do things calmly.
"We must never forget that our moves will be gradual based on the Financial Fair Play, we always need a balance. Let's be calm and cautious and think about building a competitive team at high levels based on what we can do, it's important to always be very calm. There is a process that we are following. We must never forget where we started, 3 months ago we weren't even in Europa League.
"Higuain? He is a certainty, he's always scored. His arrival at Milan has made an important impression, he's great at dragging others. Who has surprised me? There is nobody in particular. Suso is a talent, everyone knows how he plays but they can't mark him. It's nice to see him play.
"We have so many important young people. Biglia is proving to be a great point of reference, Kessié has physical and technical strength, Jack has great experience, he inserts himself and scores goals. Çalhanoğlu must be more incisive, Cutrone has an energy and a contagious liveliness. We are talking about many important players, as there are also Castillejo and Laxalt. Bakayoko [who has impressed the least from the used new signings] will also demonstrate it, there are a lot of good things.
"The Derby della Madonnina? The derby is always the derby… you can say many things but then when the referee blows the whistle, the story emerges. We are growing, it will be a great test for us. I see a team that is more aware of what it can do, it's understanding that it can do important things. My past at Inter? The derby is always emotional. I respect my move to Inter a lot and I have great esteem for Massimo Moratti, we have a great relationship. Being back at Milan makes me very happy.
"Galliani and Berlusconi at Monza? I'm happy because they cannot live without football. It's a very beautiful story to tell. Their Milan has left us great values and emotions. We're a different club now, but the values are the same. Liedholm? He is a symbol of elegance and sympathy."
Leonardo also spoke on stage after receiving the award. "I'm happy to be here and receive this prize," the Brazilian said. "I think that being respectful, polite and correct counts. I'm more pragmatic than Liedholm, more direct. I thank Carlo [Liedholm's son] for choosing me for this award.
"I've done a bit of everything in my career [at Milan alone he was a player, coach and a director]. Having done so many different roles, I have a clear idea what my limitations are. Players and coaches win games, clubs win league titles. They live in the short term, whereas for a club it is the long term and it's not easy. Being solid, consistent, and building lasting relationships is important.
"When you are a coach, you experience other emotions. The coach lives his career in a way that is tied to the results, as a director you have to be more solid. With Adriano Galliani I did my six years of University. I think it was a practical University course and Milan was perfect for that in every respect.
"In Italy there have been many family-ownerships but the world goes towards club-company and also the role of the director of sport is changing in this evolution. The value of a coach is given by the balance between the budget and the emotions it produces.
"In my life it has always been difficult to make plans. I've had positive situations and I also got caught up in opportunities. I wouldn't have gone to Japan if Zico wasn't there. I arrived at Milan in 1997, I played for four seasons and then I decided to close my career in Brazil at São Paulo and Flamengo.
"After 6 months, Galliani calls me to organize the retirement of Zvonimir Boban; while I'm on the plane, Berlusconi calls Galliani and he says to me: 'Are you my friend? So stay with us'. I stayed until April 1, 2003, when I become the assistant to Galliani. We created Fondazione Milan and I'm happy to be part of it again. There are Elliott people with me and Maldini on the board [of Fondazione Milan].
"Then Milan made me become a coach. I didn't want to do it, but after we started we did the whole thing together [Leo was on the Milan bench in 2009/10, finishing third]. I went to Inter for a few reasons, but the main trigger was Moratti. I had relationships with a lot of the Brazilian Inter players when I was playing, and I always tried to stay close to Ronaldo and help him. Our relationship was born there. I shared thousands of projects with his daughter, Carlotta, and I met Moratti many times. This is now the fourth time I've come back to Milan, and all were based on emotion.
"The Youth Sector? It's all about balance. Barcelona was based on the values of the Youth Sector and created an epic thing. Today we have Donnarumma, Calabria and Cutrone and there was also Locatelli, and these are the fruits of the work. Our young players are a bit massacred by information: if a 15-year-old guy has no sense of belonging then we did everything wrong.
"The training methods of the coaches should be changed because working with young players doesn't mean pursuing the results."