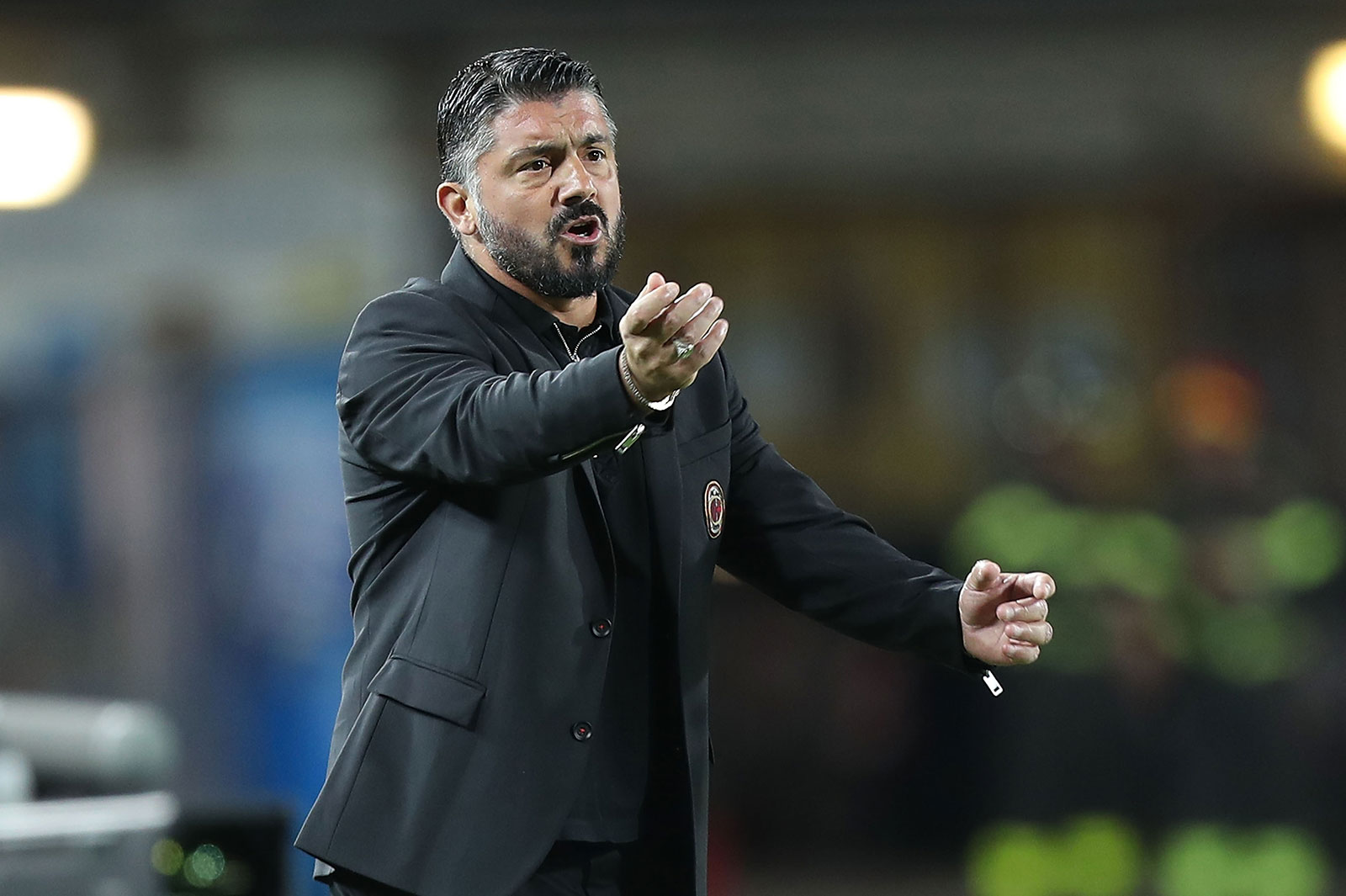 Gennaro Gattuso believes the 'results will come' after seeing his team dropping points again versus an opponent they had to beat.
Gattuso said in the pre-match presser that Milan need 3 points against Empoli like they need bread, but his team failed again.
It was the same old story that the fans have seen so many times already: a goal in the opening minutes followed by a series of wasted goal-scoring opportunities in the first half, followed by a second half disappearance, followed by the opposition scoring through a major defensive error and Milan failing to get back.
Lucas Biglia's shot took a deflection off Leonardo Capezzi in the 10′ minute to beat goalkeeper Pietro Terracciano. But other than in this occasion, Terracciano simply appeared unbeatable as he had a string of terrific saves throughout the game. Milan, as always, took their foot off of the gas and paid dearly in the 71′ minute when an absurd error by captain Alessio Romagnoli, the club's most reliable player perhaps, resulted in Empoli getting a penalty, which Francesco Caputo converted.
Milan remain the only team in Serie A to have yet to keep a clean sheet. They have lost 7 points from winning positions this season, which is more points than they have (6). Next game is on Sunday against third-place Sassuolo and at this point not many would bet on a Milan win.
"We created so many chances in both the first and second half, then an error can happen, even if it was very costly," Gattuso told Sky. "The problem we have is killing games off, we made 17-18 shots on goal even without an important player like Higuain, so Borini had to adapt. Once again we are here talking about an unlucky outcome, but we must look forward and work on our finishing.
"We're not winning much? When you systematically make a few too many errors, for how we want to play, and when you don't win playing well, a little tranquility is lost, I can't hide it. The guys are doing everything, we have to be calm and work. The great teams win when they have to? We are not a great team, we must be more clinical and concrete and we lack all of that.
"We must grow and remove some mistakes. We risked little, but right now we have to be calm and work and the results cannot fail to arrive. Managing the result? We tried to manage it a bit, we didn't make an ultra-offensive pressure. The penalty call cut our legs. But in those 20-22 minutes we weren't risking anything. We tried to manage the result and move the ball in our own half of the pitch. We have conceded goals in many games and on a mental level we're paying for it.
"If I said anything to Romagnoli? I don't have to say anything to Romagnoli. If I need to talk to him, then I also need to talk to those who had four or five chances and didn't score. Errors can happen, you just have to make sure they're not costly. We have to look ahead.
"Caldara? He is injured. He will have his space, he is a very intelligent guy and he has important skills. We hope to recover him as soon as possible. Higuain? We hope to have him back on Sunday. He has a bit of edema, it's not serious and we'll see what the doctors say on Friday."
In the post-match presser, Gattuso said: "If we're lacking 'badness'? I have to say that the Empoli goalkeeper was very good. There was a mistake and we paid for it dearly. We tried to score but we did not succeed. Borini gave a lot of willingness. At the moment it's like this even if I agree that these matches need to be closed. When you find Çalhanoğlu in his area and you always lose the moment then it means that the problem is mental. The standing doesn't help us to maintain serenity.
"We created a lot also in the first half, with less vehemence and speed. In the second half we had to do something different, I'd asked my players to close the passing lines. We only suffered on some changes of play and then what happened, happened. If I'm not mistaken, we made 10 shots on goal. But it's normal that without results, a little bit of fear takes over. We have to put everything aside, even if it's easier said than done. If we continue like this then the results will come.
"The mistake of Romagnoli? When we have 6-7 goal scoring chances in games and we don't score goals then it's clear that you pay a big price. An error can happen, now it was Romagnoli. The problem is not the error of the individual, we must limit the damage. How is Higuain? We'll talk to the doctors on Friday, it's not a serious injury. There was a bit of edema on the flexor and we worried a little bit. We'll face a Sassuolo that is very good on a mental and playing level."
Rino also gave an interview to MilanTV: "In the second half I thought we played the game we had to play. We paid a high price for a mistake. We tried to do something different and wait on the opponents a bit more and then close their passing lines. After the penalty we began to play again.
"I think the team didn't concede much to our opponents, but the games have to be closed off and we had many chances to do it. At this stage we can't ask more from these boys, we came off two special days, we were lacking an important player like Higuain. The regret remains, we must continue to have a clear mind to worth with will. If you play football then the results cannot fail to arrive.
"Seven of the eight goals we've conceded were scored in the second half? Of all the goals we've conceded in the second half, many arrived from our individual mistakes. We are always close to victory and then something happens. We must correct the errors. We have to keep working. It's important that we keep creating chances but we need to be more clinical.
"Leadership issues? We live in a country where everyone wants to say their own when results are not coming. I know the characteristics of my players and what they can give me on a technical, tactical and leadership level. I don't consider the latter a problem. We need to shake off all these fears.
"The match against Sassuolo? All matches are important, also Thursday's was. We are not experiencing our best period in terms of results. What we are doing is not enough: we must do everything we can to come out of it. We can do this through hard work and self-esteem."