Ivan Strinić was presented to the press today and he's positive he can use his great World Cup experience to have a good season with Milan.
There is one week until the transfer market shuts and today at Milanello, the first two signings of the summer were presented: Ivan Strinić and Pepe Reina.
"The World Cup? It was a fantastic month for me, I'm delighted with what I achieved for my country, reaching the World Cup final with Croatia, and it's an historic achievement for my country in footballing terms," the 31-year-old left back told the reporters.
"I'm sure that after this positive experience for my country, I'll be able to carry positive momentum into my club form with Milan. Let's see what awaits me. I'm struggling slightly, I have had some problems with the tendon, I'm not 100% ready to play, but I'm sure that within a week I'll be available for the coach. I'll give everything for the Milan cause.
"What it's like to be next to Paolo Maldini? Maldini is an absolute legend not only for Milan but also for football. I'm very proud to be sitting next to him right now, I'm absolutely delighted to be alongside Maldini and of course Leonardo who made history with this club.
"The starting position at Milan? I haven't been here at the club long, Ricardo Rodriguez, who also plays on the left, is a very good player. We'll see how things go, it's down to the coach. Rodriguez and I will be battling for a first-team jersey.
"I'm reunited with Pepe Reina and Gonzalo Higuain? Yes, I played in the past alongside Reina and Higuain at Napoli, we achieved some good results together. We had a very good coach at the time, Sarri was very good. And now I hope we can achieve the same things at Milan together.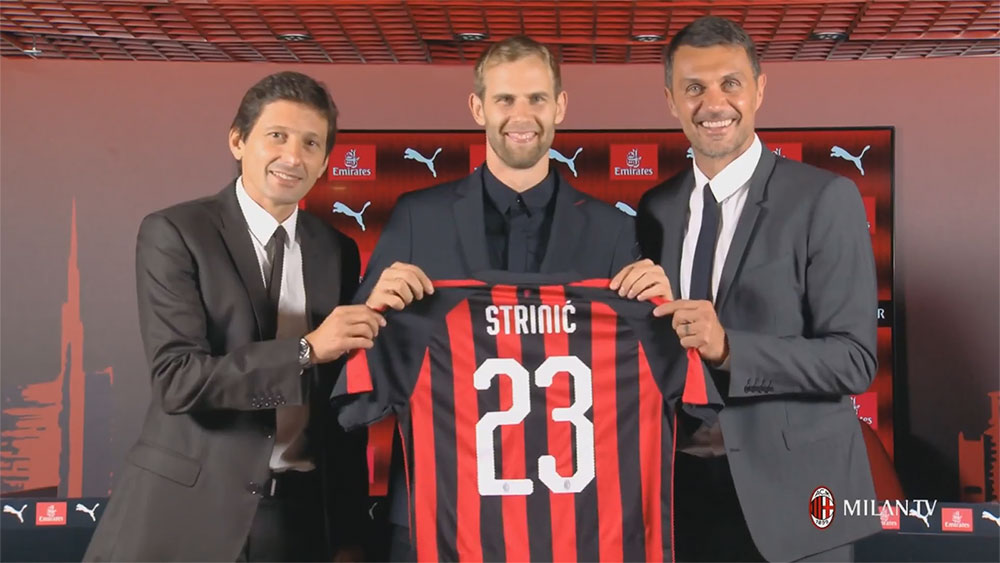 "The derby against Inter's Croatians? The derby is always very special, especially the Milan one. I'm ready, I'm looking forward to facing my fellow countrymen, the likes of Perišić, Brozović and Vrsaljko. Inter are a great team they will not be easy. They're all excellent players, I can vouch for that. As for Luka Modrić [who could join Inter], I haven't spoken to him so I don't know whether he intends to move to Inter or not. If I've spoken to Inter players? I haven't spoken to them. But no doubt when the derby starts to come around, we'll start to speak and wind each other up.
"Nikola Kalinić? I haven't actually seen him since the incident [Kalinić getting sent home by the Croatia coach]. But we've obviously spoken about it. He also spoke to me about other things, including Milan. He spoke very highly of the club, Milan is a great club, with a great history and of course I hope and I'm sure it will also have a bright future."
Strinić will hope that his Milan experience goes better than that of Kalinić, as the striker was yesterday sold to Atletico Madrid on a permanent basis after a very poor season in Red and Black.