Pepe Reina reflected on his four years at Napoli, confirmed the move to Milan and claimed the situation of the club with UEFA 'does not worry me at all'.
The Rossoneri mercato is believed to be on hold until UEFA decide what sanctions to give Milan for a breach of the Financial Fair Play rule (a transfer ban is not one of the options as only FIFA can give it).
However, Milan already secured their first summer signing a few months ago, as Reina will arrive on a free transfer from Napoli, where he played for 4 seasons.
"My four years at Napoli? They were wonderful from a sporting and a human perspective," Reina told Saturday's edition of il Corriere dello Sport. "I met lovely people and we were able, as a team, to go near a dream. We would've liked to experience [winning the Scudetto] together, because a feeling was created between us and the fans which deserved the most unforgettable of conclusions.
"We lost the Scudetto in Florence? It would be fairer to say that Juventus won it the night before in Milano [beating Inter in the last second of the match]. They were better than us, not just on the field. They represent a powerful club, perhaps in Italy on Milan and Inter have this kind of strength.
"If we missed something? It was destiny, that weekend decided it for us. Sometimes I think about it and I say to myself that maybe we were not used to winning, so therefore we failed in the habit of winning dirty games. Then I reflect and realize that 9-10 times when we were behind, we overturned the result. But I'm proud. What do I leave behind? The memory of a four-year period in which my family and I fell in love with Naples, its beauty, the generosity of its people. They touched my heart, immediately. And Naples will not get rid of me so easily… I often returned to Naples also when I was at Bayern Munich? And now I'll be closer, so it'll be easier for me. You will see me around.
"The most beautiful day with Napoli? Every morning that I woke up with the smell of coffee. And then: the pitch of the San Paolo, the first match in the Champions League against Borussia Dortmund, the Coppa Italia semi-final against Roma, when Diego [Maradona] was also in the stands, and the match at the Olimpico against Fiorentina [the 2014 Coppa final, which is Reina's only title at Napoli].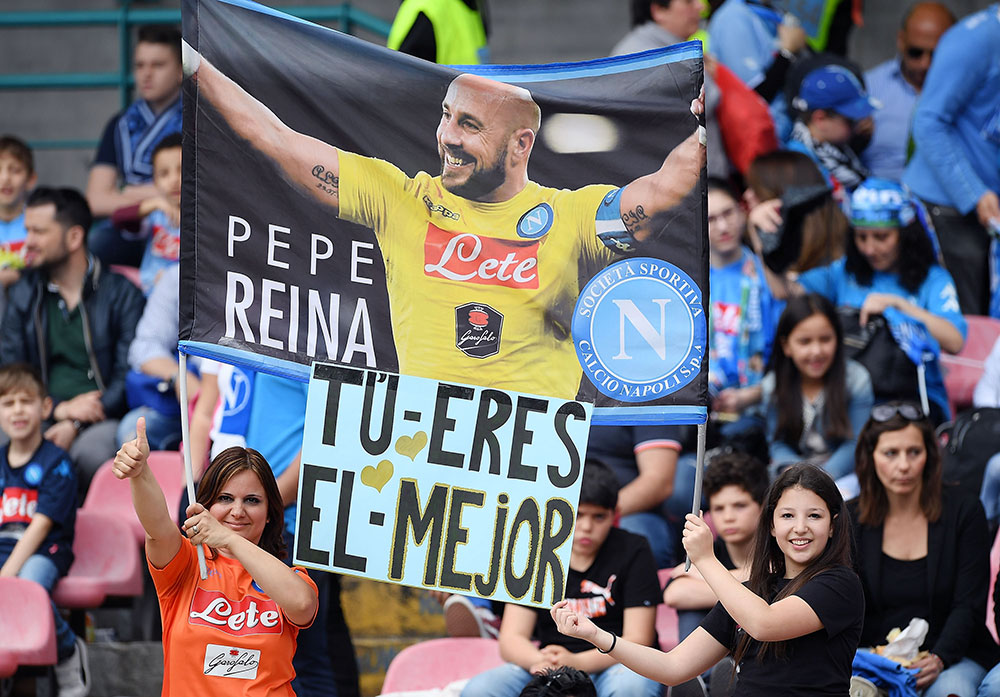 "The break was inevitable? I can understand that a club, when there's a 36-year-old goalkeeper with an expiring contract, faces the choice to renew the team. It is a business philosophy that must be respected. Then it's also true that my relations with the management were no longer idyllic.
"Benitez? My mentor, the one who managed to take me to Liverpool, but also the coach who gave me the chance to get to know Naples. Otherwise, it would probably have never happened. Sarri? With him we went beyond football: he put his face out for me and I'll have to thank him. He was parental in his attitude, I love him, and I wish him all the fortunes that a man like that deserves.
"Milan to close the career? I felt esteem and I think that preparing to retire in one of the most tiled clubs in the world is an absolute gratification for me. The past is there and speaks for itself, and I can only contribute so Milan will come back to experience some European nights. The situation of the club, in light of the UEFA events, is likely to be alarming [Milan could potentially be excluded from the Europa]? It doesn't worry me at all, I'm very calm. They will know how to deal with this situation.
"If I'll be like a 'father' to Donnarumma or force him watch from the bench to learn? We are talking about the future goalkeeper of La Nazionale for the next 15 years; an extraordinary career is expected of him. He's a serious and exemplary boy with whom I will establish a special relationship. I esteem him, if anything I'll steal something from him… he will make me feel younger, is that little?
"When the Serie A calendar comes out I'll think above all of a single match-up? The game in Naples will be the date that I will be looking for with all my family members. I don't know how I will experience it, I think that I'll be thrilled, like last Sunday, like every time I set foot in that stadium.
"I will never stop saying 'Thank You'." Reina will spend the first part of his summer in Russia with the Spanish national team, and then join the Rossoneri at Milanello for the preparations for next season.