Gennaro Gattuso said 'on the level of personality, it was the best match of my team' after his Milan conceded a 92′-minute goal against Atalanta, a goal which prevented them from securing 6th one week before the end of the season.
After the Coppa Italia humiliation against Juventus last Wednesday, Milan returned to Serie A and visited Atalanta's Stadio Atleti Azzurri d'Italia on Sunday evening.
The pouring rain made it difficult for both sides to develop a game in the first half, but in the second the Rossoneri managed to find the net in the 60′ minute through Franck Kessié.
La Dea suffered another blow four minutes later as Rafael Tolói was sent off. But Milan failed to take advantage of the situation and Atalanta became even more dominant despite being a man down. In the 75′ minute, Riccardo Montolivo – who only entered on half time – was shown a straight red too.
Milan resorted to defending in the last minutes and paid a heavy price for it as Atalanta's pressure resulted in a 92′-minute goal from Andrea Masiello, who beat Gianluigi Donnarumma far too easily. Instead of a great win, it was another draw for the Diavolo, who secured at least the Europa League preliminaries, but failed to secure 6th place and get a place in the EL group stage.
"A reaction [after the Coppa Italia defeat]? I think it was there," Gattuso told Premium Sport at the end of the encounter. "It wasn't easy to come to this field, Atalanta are a great side. We did a good performance. There are regrets, as a win would've sealed it, but after the defeat in the Coppa we showed a lot of character and it wasn't easy to put in this kind of performance.
"Donnarumma could've done better on Masiello's goal? We shouldn't always put guilt on Gigio, it was a wet field. I don't think it was a mistake. It was a powerful header from close range. Gigio has to stay calm, he is 19 years old and gets judged for the money he earns, but you don't buy experience at a supermarket. Everyone makes mistakes, even Buffon at this age made some mistakes.
"Kalinić will be sold in the summer? I don't know, we'll evaluate everything at the end of the season. We've got an important game against Fiorentina on Sunday and I really hope that the crowd don't jeer Kalinić. I hope everyone is supported for 90-95 minutes because we play for a lot. Considering the way Kalinić moves and the technique he has, he's a very important player. He has always scored goals, but perhaps we weren't good enough in putting him in a position to hurt the opponents."
Speaking to Sky Italia, the coach said: "Europe? It would be better to finish 6th, also for the coffers of the club it would be much easier. There is great regret, it wasn't easy to come here and make this performance after the Coppa defeat. On the level of personality, it was the best match of my team.
"The season [the initial goal was Champions League]? We all know what we've been through in these months, they are smart guys, we know that there are bad moments. Getting to the Coppa final was important, we experienced important emotions. To become a strong team, you must live through this kind of competition, we hope to be back playing the game against Fiorentina as it should be played. There is little to do to charge [the environment], the motivations are there. The players know what it means to get to sixth, they prepare themselves properly, some have bonuses in their contracts.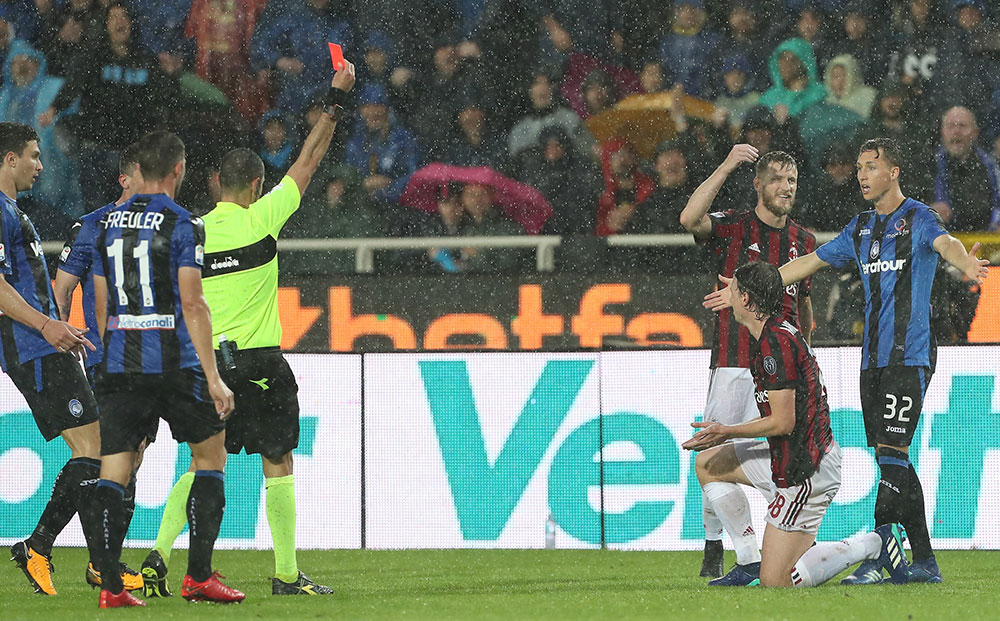 "The inclusion of veterans in this game? I always rest Calabria after the 90 minutes he plays. Biglia trained well and we knew that we could risk something. I chose like this because we played against a team with great physicality. Atalanta never give up, I preferred experience players.
"Alessandro Nesta was appointed Perugia coach [and he will lead them in the Serie B play-offs]? I didn't hear from him, he lives in Miami, the time zone is a bit of a mess. I'm happy and I'm curious to see him at work. He did very well in America and we hope he will do well in Italy too."
In his interview with MilanTV, the 40-year-old former Pisa boss added: "We have secured the Europa League, now it'd be better if we reach sixth place. After such a troubled season, this achievement seemed easy for many people, but it wasn't. On Sunday we showed bravery and sense of belonging. We are aiming for sixth place and it would be a good objective for the club and for our fans. Then it's also important for the organized summer tours, and we'll try to get to sixth.
"The performance of Kessié? He had a great game, but not only him. Atalanta didn't steal anything, it wasn't easy for us and we have to give credit to these guys for putting their hearts in it. All of Italy was waiting for Atalanta to crush us, instead we brought home an important point.
"The presence of Biglia [who played 45 minutes before getting subbed out]? He did something extraordinary, he wanted to be there in spite of everything and it's an important signal for the team. But everybody did well, also those who don't play like Musacchio and Antonelli."
Gattuso also held a post-match presser: "Kalinić? Do it for, don't whistle at Kalinić if he plays against Fiorentina on Sunday. He had a lot of chances, in my management he had 8-9 clear scoring chances, but he always failed due to bad luck or something else. But he always had the scoring chances.
"We think about closing [the season] and then we'll see. Donnarumma? It was a difficult ball from Masiello. In Rome he made two mistakes but on Sunday it was from one meter, a header on a wet field, what more could he do? He is a boy of 19 years of age, let's not judge him for the contract he has. Let's leave him alone serene, not only you [the press] but also those who surround him.
"What I liked from the performance? I was surprised by the interpretation of the game by my players on a very difficult field, because in some situations we always suffer. The Europa League? It seemed like an objective that is taken for granted but here there is nothing like there.
"We were on an elevator where we climbed and went down in the standings, the guys have given me a lot and the points in my management aren't few. This year it wasn't easy to achieve the Europa even though it was a minimum goal. After so many years, there is something on which we can work. If we don't do those 3-4 [summer] purchases wrong, this team can become competitive."
Milan are currently in 6th place and have their fate in their own hands. Should they finish 7th, they would have to play three Europa League preliminary rounds and would start their season in July.