Gennaro Gattuso was mostly satisfied after the 4-1 win over Hellas Verona and now looks towards the Coppa Italia final: 'A victory would make our growth easier'.
The Rossoneri got back to winning ways last week with a 2-1 win over Bologna and yesterday they took on Hellas Verona at Stadio San Siro, and it was clear from the start that Milan came fully-prepared.
After 10 minutes, Suso found Hakan Çalhanoğlu in the box and the Turkish sent a powerful shot past keeper Marco Silvestri. In the 32′ minute, Giacomo Bonaventura found Patrick Cutrone with a nice pass and the 20-year-old doubled Milan's lead.
4 minutes into the second half, a great exchange of passes between Suso and Ignazio Abate resulted in the fullback getting a rare goal. Lee Seung-woo pulled one back for Hellas in the 84′ minute but the final goal belonged to Fabio Borini, who made it 4-1 in the 89′ minute after another Jack assist.
"On Friday at the press conference I said that I saw a team that is lighter in the head and is fresher mentally and physically after the Bologna win, and I got a confirmation," coach Gattuso told Sky Italia after the final whistle of referee Fabrizio Pasqua, which officially sent Hellas to Serie B.
"The fans chanting after the game that they want 11 lions in the Coppa Italia final? Who doesn't want the Coppa Italia? We have to play the perfect match, we play against a team that has been protagonists for so many years, they have something more than us, but as a player I won against teams who compared to them we had something less. We need to get there with great lucidity and respect for the opponents. We must prepare well, we'll see how it ends and we'll definitely play for it.
"Matches against small sides? In games like this in my management we've always had a difficult time. At the start I didn't think that we would've reached 60 points because we lost many points on the road against the small sides. It's a team that has values, we saw it on Saturday.
"We miss something to compete with the teams stronger than us, [but] the average age is 23-24 years and good things can be done. The coaching job [he got the Milan bench in November 2017]? I see very little fun in my work, there is great pressure and I feel a lot of stress. I only enjoy myself when I have the whistle in my mouth. The thing I like most is coaching the players.
"Çalhanoğlu [who scored for a second time in a row]? He is an atypical number 10, he combines quality with quantity, he's a number 10 that fits us in the modern football, he's an added value for this team. He has a lot of room for improvement, both from mental and physical standpoints.
"Cutrone? He has a lot of room for improvement, he has great passion, he has very precise characteristics but sometimes he is not tidy technically. Because of his age and the passion that he puts it, he has a lot of room for improvement. He must have the desire and poison to learn and improve. At a certain point he stopped, he only thought of the goals he missed and the fact that he wasn't a starter. At his age, the priority should be given to the work that eventually bears fruit."
Speaking to Premium Sport, Rino said: "We all want the Coppa Italia [the final is on Wednesday at Stadio Olimpico]. We play against a team that has been winning for many years and you have to get there well. It's not always the strongest team that wins the final. The motivations and the energies for this type of game come alone, we have to prepare for the match on a tactical level.
"It's the most important game of the year and it can save us the season. Juventus are superior to us, we know that they have something more and in the last 6-7 years they've written the history books, like Milan did in 87′ and in the 2000s. We have to play a great game to be in business.
"We had a good performance against Verona. We have always struggled against the small sides, also in my reign, and I was afraid of repeating the Benevento match [which Milan lost 1-0 at home]. But I said that after the Bologna win I saw a team with freer of mind and this was a confirmation.
"The club has been dealing with this problem for years, it's a matter if mentality: you can't explain how against Napoli and Roma you make great performances [Milan drew Napoli and beat Roma away] and then… we must always play with desire, hunger and attention. Also on Saturday around the 70′ minute we took the foot off the gas and we did everything to help the opponents score.
"Cutrone or Kalinić up-front in the Coppa final [Nikola was subbed on for Patrick against Hellas]? We'll see… Suso? He got a knee to the stomach, it was iced as a precaution when he came off, but he should recover. Çalhanoğlu? The nice thing about him is that he's a number 10 of a new generation, he interprets the game not only at a technical level, but he combines quantity and running. He is important, he does the kilometers, goes to the back, goes to shoot and closes the passing lines."
Gattuso also held a presser: "We have to improve in the last 20 minutes, we took the foot off the gas and we did everything to make Verona score. We need to improve on this aspect. We are young, and we must immediately fix this detail. On a positive note, we improved our standings position, but we still miss the points against the small sides, we did too little against Benevento and Verona. It's been several years that these matches are hard for us and we have to start afresh from now.
"Yonghong Li [who arrived in Italy for the Coppa final and watched yesterday's match from the stands]? I didn't meet him, I ran away from the dressing room right away. But my English is not great, and his Calabrese is not great, so it's hard to communicate with him [laughs]. He doesn't make us lack anything and if I have to ask something, I talk to Fassone and Mirabelli who speak to him.
"Locatelli? He made me angry at the end, he and Kessié were walking on the pitch at the end of the game. Young players must play to express themselves at best and he can do it, he has play and vision. He can improve on the interpretation of the role, in the first half I really liked him.
"The Coppa final? Juventus have been at the top in Italy and in Europe for 7 years, winning helps to win and they know how to hurt you. We must not forget that despite the great football we played in Turin, it wasn't enough, and we have to get there with lightheartedness and awareness that they are stronger, but we can play with them. We can't do anything wrong and a victory could change the mentality of this world that surrounds me, the players and all the staff.
"A victory would make our growth easier. The physical condition of Romagnoli and Suso? Suso took a knock to the thigh which was painful. We have three days to recover him in full, but I don't think it's anything serious. Alessio is fine, but Zapata also did well, Cristian is one of the strongest in the world, but his concentration is a flaw. When we pointed out the defect, he started working at the maximum, he has everything. He's 31-years-old and he has everything to stay at the highest levels.
"The memory of Doha [the Supercoppa Italiana win over Juventus]? This victory is still fresh, but also there, there was suffering. We have to prepare for the match well because they are strongest win us, let's recall the Doha final and the first 70 minutes from 40 days ago."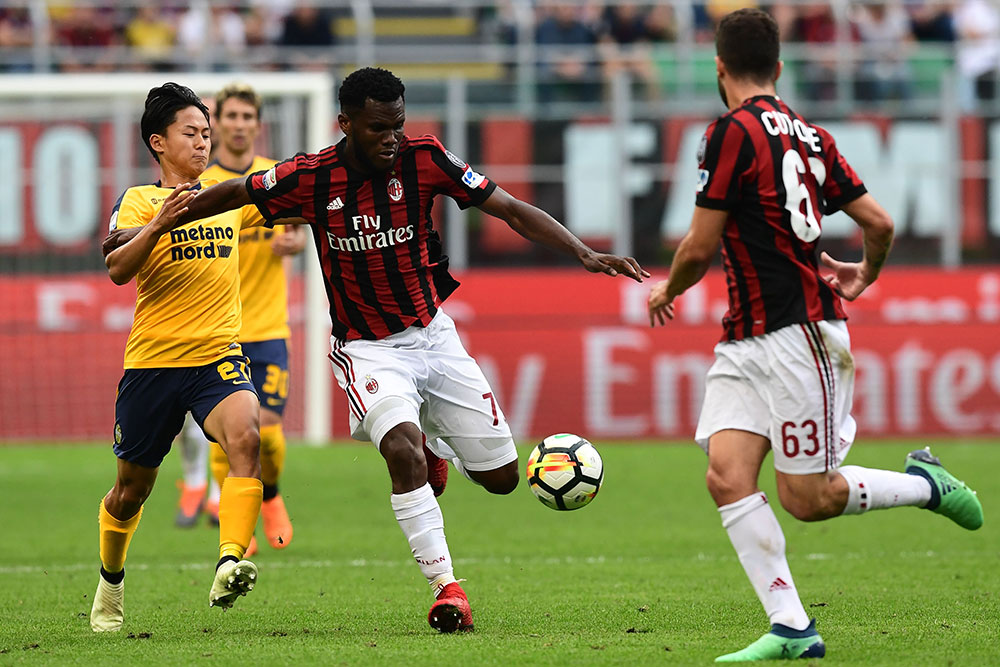 In his interview with MilanTV, Gattuso said: "The team found its vivacity? It's there to the eye, but there are also numbers on paper because we work with GPS. After the Bologna victory, the team had less thoughts in its head. It wasn't supposed to be an easy match. We were actually quite afraid because since I'm here, we have lost many points against the teams in the bottom of the table and we knew that we had to start off strong with the awareness that we can't go wrong.
"Abate's goal? I embraced him, because he's giving me so much as a player, he knows me better than anyone and he knows what's going to happen when I change my face. He is a great professional and he's training hard. He's giving me a great hand also in the locker room.
"What aspect was more different compared to the first round against Hellas? I don't want any merits, but certainly the fact of systematically raising the depth of the opponents. They tickled us on Saturday compared to the away fixture. I think this is the aspect in which there was the most difference. 7-8 actions were very similar but we worked well on our line compared to the first round.
"With the exception of Biglia [who is out until the end of the season with a back injury] we arrive to the final in a good condition? The fact that we arrive there with only two injured players, in my opinion, is a miracle, considering the conditions in which we worked: we changed the preparations, the loads of the work, the way we play. We were also a bit lucky, apart from the skills of my staff.
"What Juventus characteristic I respect the most? Their mentality, the fact that they've played 7 years as protagonists in Italy and in Europe. They have something more than us and it's a fact. We have to respect them but not forget the fact that we had a great performance for 70 minutes at the Juventus Stadium wasn't enough. We need something more on the level of mentality, heart, soul, everything.
"How much I want to crown the path in the Coppa Italia with a trophy? I also want to win when I play with my son in marbles. For me it's a pride to coach a team like Milan. Since I stopped playing I dreamt of coaching a team that played in a final and I hope to complete [the journey]. I think the club has given me a strong and young team that can become even stronger with small adjustments. We must experience it as something extraordinary, but not with too much pressure.
"The difference between the first final as a player [Manchester, 2003] and the first as a coach? Then there was fun, now it's a tragedy. You don't sleep, you feel the burden incredibly… I really like it when I put the whistle around my neck for an hour and a half, it's great fun for me.
"Now we enjoy this victory and from Sunday the head is on Juventus." After the Coppa final (21:00 CET kickoff), Milan play Atalanta away from home and then end the season against Fiorentina.