Gennaro Gattuso liked how his team reacted after the defeat to Arsenal as they fought until the very end to get a win over Genoa in the last second.
After losing in the Europa League, the Rossoneri returned to the domestic league and found a very persistent and organized Genoa side at Stadio Luigi Ferraris.
Both Milan and Genoa had goals disallowed for offside, but generally both struggled greatly in front of goal as they were missing a spark.
Gennaro Gattuso took off Nikola Kalinić and Hakan Çalhanoğlu, bringing on Patrick Cutrone and André Silva, changing the system to 4-4-2, and his bet paid off brilliantly as in the 94′ minute, in the very last moment of the game, Suso's cross found the head of Silva, who netted his first Serie A goal.
The Diavolo were far from brilliant, and it was a very difficult match, but in the end they return to Milanello with three important points in hand, as the chase for a Champions League spot continues.
"We were worried, and I was curious frankly to see how we'd react mentally to our first defeat in two and a half months [against Arsenal]," Gattuso told Premium Sport after the final whistle of Michael Fabbri. "I got a good response. My compliments to Genoa, as they caused us huge problems, but we played with character, moved the ball around without fear and I really appreciated that aspect.
"It was a difficult game, don't forget we played well but could easily have lost this game. Ballardini is going a great job. In terms of quality, I liked the team and then we'll see how we are in London. We are not going there for a walk in the park, we are representing a glorious jersey.
"I heard a lot of bar talk about our physical shape against Arsenal, but we simply got the wrong attitude. We had prepared a different approach but got the first half wrong and left them far too many spaces. Arsenal have the quality to put the ball where they want if you give them time and space. We cannot give gifts to anyone, the team has understood that, and we go forward with those lessons.
"The UCL? If you look at the table, we have closed the gap a great deal. There are still 11 games to go, seven of them at home. We'll see. It's important to get a few players back in shape. I'm happy that André Silva scored his first Serie A goal. It's already hard to carry this prestigious jersey, even more so when you are young, but we must continue our work and grow over time, believing in ourselves.
"Kalinić? He is missing a goal, but he is a strong player with good technique. I want to see him more determined when the ball comes, or he has to bully defenders to find space. He lets himself be pushed around too easily. He has our trust. Obviously, strikers live to score goals and don't care too much whether they play well or not, but we appreciate his hard work for the team."
Speaking to Sky Italia, Rino said: "There was a lot of concern on Sunday as we came off two and a half months without losing and with Arsenal we suffered, and something was wrong. We took the field well up to the 95′ minute on Sunday and there was no matter of physical condition.
"Congrats to Genoa, as we could've also lost. The difference compared to Thursday? Sometimes you don't contemplate the fact that you play against players with completely different structures and physicality, but in the first half we gave the impression of not being compact against Arsenal.
"André Silva? He's not a guy that I invented… he plays in the Portuguese national team, which is a great national side. He is young, and he has to get used to this league. He works hard and sometimes you have to tell him 'enough' after hours of practice and gym to give him a hand. He has great passion and desire, he can do very well. He's a strong player and until now he didn't prove all of his worth.
"The 4-4-2 formation? We wanted to try it and we did at just the right time. It's not the first time I used 4-4-2, it's the fourth or fifth time and also against Arsenal we did it at the end. We must take advantage of our attackers when I feel that the team must try to bring home the victory at all costs.
"My job? Playing and coaching are two complete different professions. Having been a player may help you in the daily ins and outs, but it is a truly different job. One must respect that and learn daily."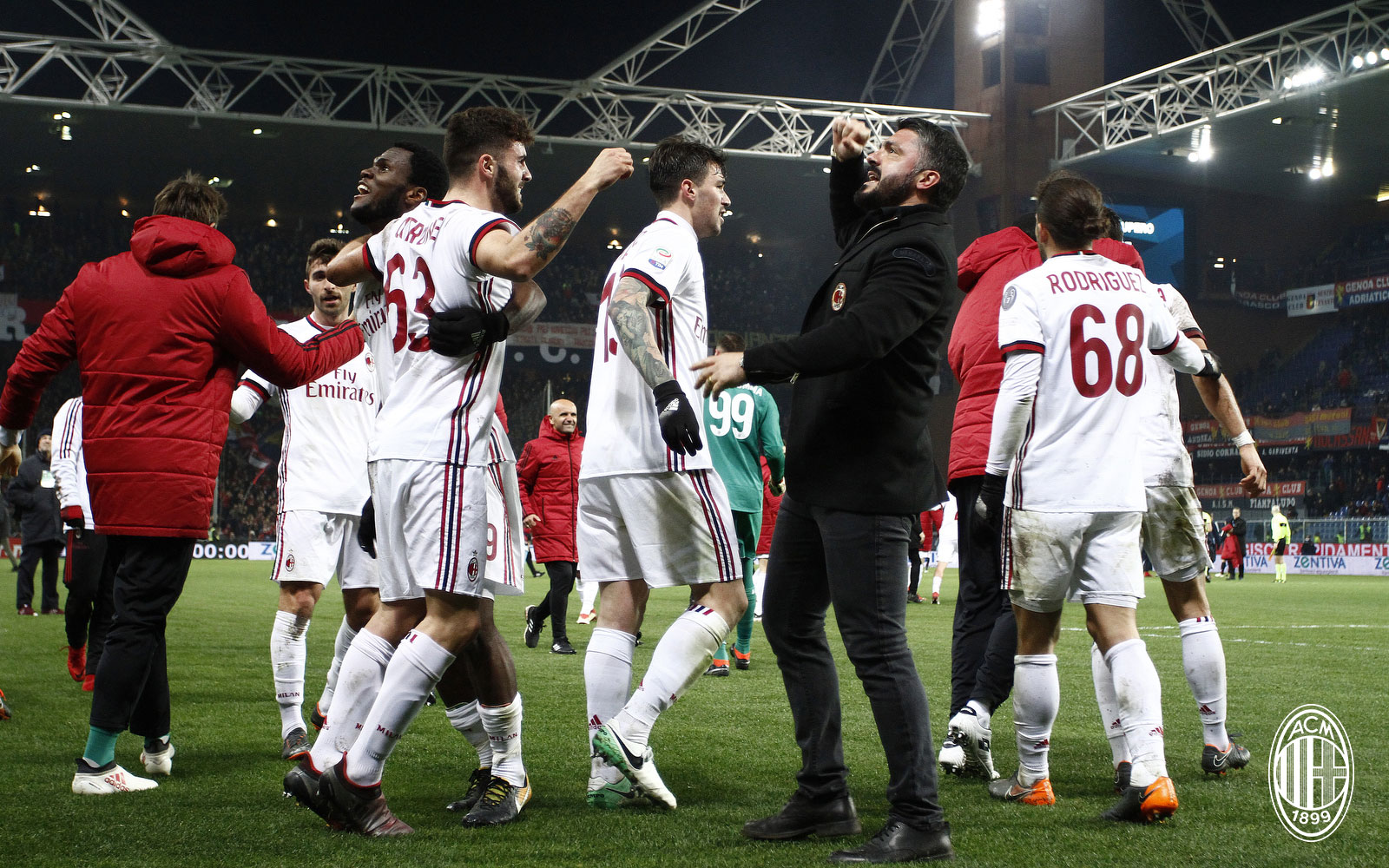 In his interview with MilanTV at the end of the encounter, the former midfielder stated: "I was worried because we hadn't lost in a lot of time and we wanted to avoid the taste of defeat. We could've lost because Genoa put us in trouble, but we held the field and we have to continue like this. The first 7-8 minutes of the second half were bad, it seemed like we were scared but then we came out well and also on Sunday, with the physical levels we went all the way. Now let's look forward.
"Borini? When we call him a stopgap he gets offended, but he can play everywhere. I'm sure he can also be a goalkeeper for us. On Saturday we spent three hours explaining the movements we need him to do. Kalinić? Nikola is of the highest level, he moves in an incredible way. We have to stay close to him, there's still a long way to go and there's plenty of time to get back to scoring.
"The 4-4-42? It's a sign of how the offensive department is working well. We now have 14 different scorers this season? André is a guy who always works and often trains also when we tell him to rest. I didn't discover him, he plays in the Portugal NT and now he needs continuity.
"The Europa League match? When you wear Milan's shirt, you have to respect it, it's glorious. We have a good fight on Thursday but it's going to be tough. We don't go to London on an Easter Monday trip."
Gattuso also held a post-match presser: "I'm very satisfied, it went well. Genoa is a well-trained team, we could have also lost. I liked the personality and mentality of the team. After Thursday you wrote that we had a physical problem, but I knew that it wasn't that. Two strikers? You lose more balls on the wings, but the penalty area fills more. Also on Thursday we played 2 strikers in the last 10 minutes. We can see it again [Gattuso said before Silva works better alongside another striker].
"The standings? We are starting to become pretty. We have 10 games to end and we have to keep working on growing, even though we have not done anything yet. I expect more reading from my team, we suffered against Genoa for 10 minutes and risked 2-3 times to concede.
"We live game after the game. The return leg in London against Arsenal? We aren't going on a trip. In football you never know. We know that they are 70% through but we have the 30%."