Gennaro Gattuso says Genoa 'are very aggressive and ready to win the ball back and play on the counter' and claims the experience against Arsenal will be helpful in the growth process of Milan.
Milan's incredible run of results came to an end on Thursday with a 2-0 defeat to Arsenal at Stadio San Siro in the first leg of the Round of 16 of the Europa League, and tomorrow they return to Serie A as they face Genoa at Stadio Luigi Ferraris.
With Inter playing Napoli on Sunday night, Milan have a great opportunity to reduce the gap from the Nerazzurri to 4 points, but Gattuso knows that it will be very difficult.
"I liked the atmosphere that was created in the last days, I saw the guys angry and disappointed and they were training with lots of grit and desire," Gattuso said in today's pre-match presser. "When you lose, it has to hurt, it has to burn you. We analyzed the game. It's not only a matter of experience.
"In the first half, we didn't play as we have been used to in the past three months. There was too much space between the lines and we were struggling when they were attacking. We did better in the second spell, we managed to move the ball around also because they lowered the tempo and conceded something more physically. I am the first one to be blamed for that first half performance.
"The game against Arsenal showed we have to play like we are used to. The physical condition? The team was less than brilliant but we ran like Arsenal and accelerated more than them. Our team is very technical, but we made a lot of mistakes. When we talk about inexperience then I should put myself there too. It's true that I'm a rookie compared to Wenger. Evidently, we could've prepared the game better and maybe it was me and my staff who were at fault. A few whacks in the face can do you good, they help you to learn. We were running but we didn't play like we wanted.
"The pressure of San Siro? The improvement also passes through these aspects. There was lots of enthusiasm, we wanted to score at all costs, 73,000 fans were pushing us, the media favored us to win… we paid the price for all this dearly. But I think this tough defeat will help us to grow.
"A loss against Arsenal can happen, there were in difficulty but they're not a third-division team. We could have done better but the important thing is that we put this defeat behind us and we look to the future with enthusiasm. It's wonderful to be the coach of a team, but you need to get results.
"I liked the atmosphere at Milanello for how we reacted after this bad defeat. Courage is not enough, as the Premier League players have a completely different physicality to ours. I continue to maintain Serie A is the more difficult league, but the Premier League is physically tough.
"The return leg? First things first. We will focus on the return game after Genoa. We will recover our energies and then prepare for this game. We are Milan, a glorious club we won't go to London just for a vacation. I never enjoy losing, even in Rijeka I was really angry although we were already through. It's going to be tough [to turn things around] but in football, we can never say never.
"Genoa? They are difficult opponents, they have been getting great results since Davide Ballardini arrived, it's not an easy game and it's never been. We have to focus on ourselves and start playing again like we are used to, regain compactness. In the last game we lost it a bit.
"Genoa know what to do. It's going to be a tough one tomorrow. We have to battle and fight back at them blow by blow. They don't create a lot, but they are very aggressive and ready to win the ball back and play on the counter. We have to be wary of second balls. They immediately try to find Andrey Galabinov with the midfielders and Goran Pandev in support. It's a very important game.
"The derby which was not played affected us against Arsenal? I don't want to look for excuses and alibis. Certainly, something abnormal happened. Astori played with many players here at Milan and it was a blow. There was great sorrow and we lived our days with great sadness. We lost a friend, a footballer, a man. We lost [on Thursday] because Arsenal were better than us.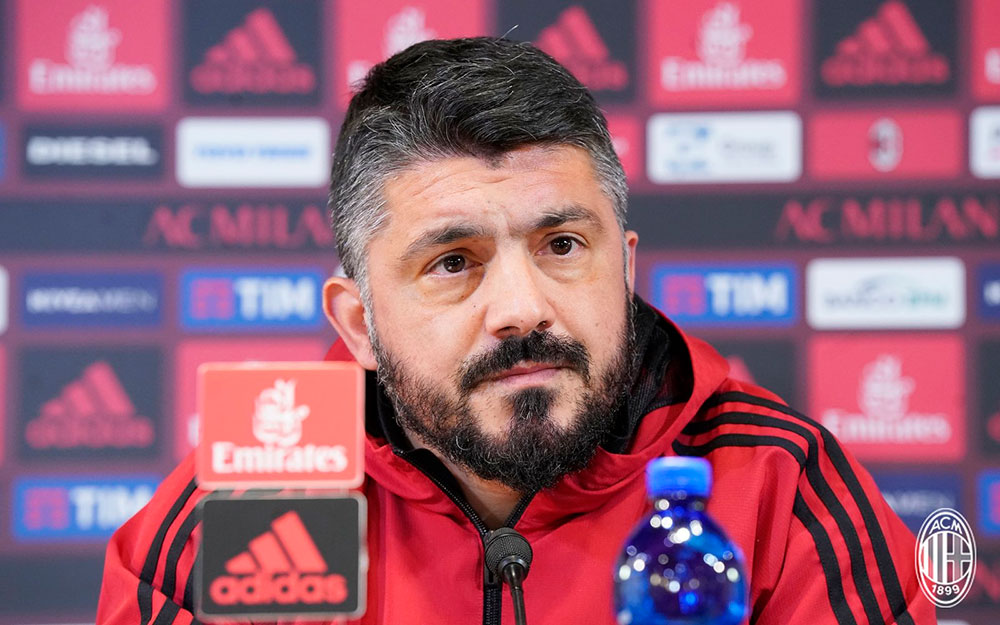 "Calabria? We are very happy with Davide. The Arsenal game was a tiring match for him and we'll see whether he'll take the pitch tomorrow. What I can say is that he's improving a lot physically and mentally. Fabio Borini in his place [as a right fullback]? We'll see, I have to evaluate.
"Rotation? We checked the boys' condition with the instruments of Milan Lab, as always. I'm not saying who's going to play. Tomorrow you will see. There is great availability from everyone."