Marco Fassone has stated 'there were moments of euphoria and complicated moments' during the takeover negotiations and clarified some things regarding the way the club was bought and the intention of the Chinese management regarding a new stadium.
Milan were finally bought by the Chinese as yesterday Rossoneri Sport Investment Lux completed the payments and took over Silvio Berlusconi's 99.93% stake at Milan, thus ending his 31-year reign.
The negotiations were very long and tiring, and the 'closing' which finally happened on the historic April 13, 2017, was postponed time after time as the Chinese struggled to sort out their money issues. New CEO Marco Fassone, however, assures that despite the fact that large portions of the money used by President Yonghong Li to purchase Milan arrived on loan from the hedge fund Elliott, there's no problem.
"If there was a time when I had lost hope? It's a negotiation you've all followed, there have been ups and downs, moments of euphoria and complicated moments. I've lived it all in Italy," Fassone said in today's presser. "Certainly, there were times of difficulty related to regulatory aspects in China.
"At the end, the will to close the deal prevailed. Fininvest in the past could've broken off the negotiations but chairman Berlusconi and Fininvest were always attentive and understood that the will to close the transaction was very strong. Apart from the financial support of one or another, what's important is the will by Mr. Li and this group to conclude the operation.
"How the new owners reacted to the skeptical attitude towards them [there are still many question marks]? I can reply talking about myself and what I've personally perceived. Supporters and everybody here in Italy were quite skeptical but we fully believed that this moment would arrive. We desired it and it was inappropriate to talk before. We promise to be more factual.
"The debts of Milan and loans taken by the new ownership to purchase the club? I can make you all calm, but let's distinguish the two sides. The debt part relates the club and the ownership, two different things. As for the holding company, this is an enormous transaction which you can easily compare with other transactions that related to other clubs here in Italy. You all know the calculations, the purchase amounted to €740 million plus about €100 million that was for the cost of management for this year, plus additional millions in the commitments for the next few years.
"This brings the total value of the transaction to over €1bn. So it would be foolish to imagine that any ownership performing all that can do so without debt, in my experience. I don't want to mention any other clubs that have been recently purchased but the debt of Milan is not so considerable. The club I'm taking up today has a debt that is very low compared to the club's resources. The debt has decreased compared to June 30, 16 and will gradually diminish more and more over the next season.
"The stadium issue? Thank you very much for this question," added Fassone, who took part in creating the new Juventus Stadium during his Bianconeri days. "This is one of the topics that I have dealt with David and Yonghong because we all want Milan to play in a stadium with some features that make it suitable for the future. San Siro stadium is unbelievable, but we can't follow one direction or another before talking to the Mayor of Milano and the President of the Lombardy region. There is no doubt that the stadium is one of the most important points and we want Milan to be equipped.
"If for a club like Milan and a consortium as important as the one represented by Yonghong Li a new stadium is not unfeasible? Of course it is not, it's totally feasible also because of the new law that allows regulatory framework to be shorter and shorter. The situation is different compared to the situation in Turin, because the two football clubs in Turin are of two different sizes and ambitions.
"So when we [when Fassone was at Juventus] met with local authorities it was quite complicated but not so complicated to come to an understanding. One club wanted a new brand, a new stadium and the other club was ready to accept staying at the Olympic stadium. Here in Milan the situation is different, the Mayor has a very innovative idea and this could take a while. The idea is to maybe find a common approach that is satisfactory for both Milan and Inter; then we may be able to speed it up.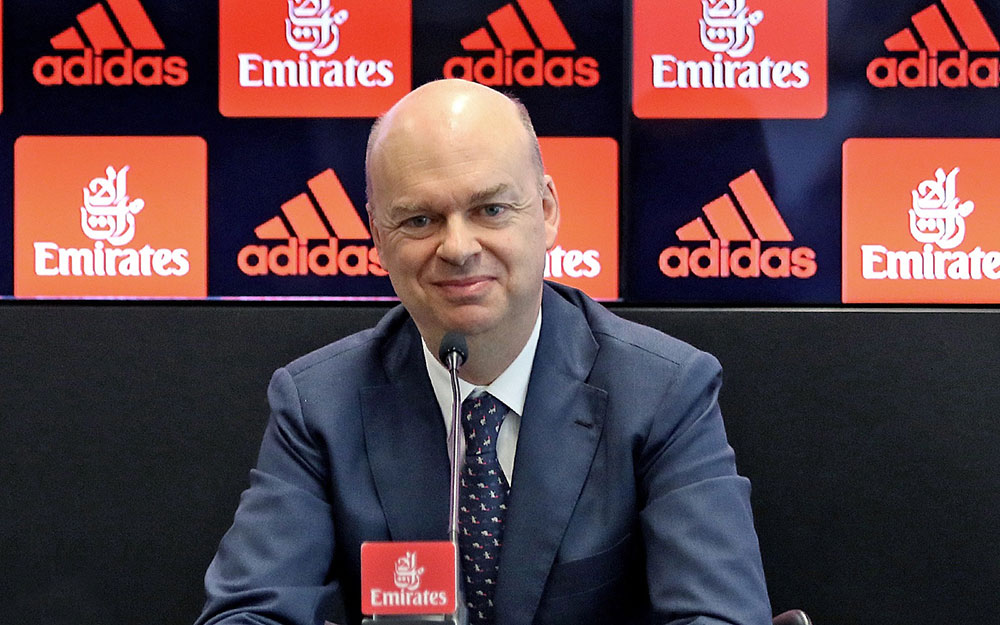 "I can assure that there are no economic problems. Financially we have innovative ideas for the club. Then there's my job. If we want to bring Milan to compete with giants of world football, we will have to double our revenue and perhaps more. To do that we have several solutions in the short run and in the long run. In the short run, there's the Champions League.
"With the new formula of the Champions League, being there or not being there is life changing. We're talking about clubs that qualify for the knockout stages, not only those who reach the final. It already means a lot in terms of cash, as a low estimate it's €50m of revenue per year.
"And then there is China, a market that the major clubs have never been able to develop that much. Milan are something extraordinary in China, I saw it with my own eyes. We expect revenues from Asia to be very high. In the medium-long run then there is the stadium, all the first-tier clubs who have changed the stadium doubled their turnover. This is what Juventus have done.
"A meeting with UEFA concerning the Financial Fair Play? UEFA, who deserve our thanks, agreed to postpone the meeting to discuss the Voluntary Agreement, which was set for March 31. Next week we will deliver our three-year plan to them. We are very confident this will be discussed in May.
"If there's a plan to include more Chinese stakeholders? I don't know and I can't tell you what the President will decide to do in the future. At the moment, he is the sole shareholder, he's the sole President and I assure you he'll take the best decisions for this club. If we plan on listing Milan on the stock exchange? It's something we've talked about. The place of the stoke change is unknown [there have been rumours about the Hong Kong one] but a scenario could be listing Milan.
"More people from Inter coming to Milan [Fassone and future director of sport Massimiliano Mirabelli both worked there]? Well I want to bring to Milanello the best talents, the best managers, the best partners and collaborators. Over the next few weeks I'll meet with all the managers and all the employees, I have no bias about anyone here within the club.
"Milan, in order to get strong on the pitch, need a strong managerial sector, so I've already figured out the best profiles regardless of their background, I think of people coming from all of the sectors, not only the football sector and I'll try to provide this club an even better managerial structure if possible.
"Former players in the management [Paolo Maldini famously rejected a return]? It'll be important to be supported by some Milan ambassadors, representing the DNA of the club, which can be very helpful, not only for me. Of course there are many world class past players and I'll have a long talk with, for example, Franco Baresi, with Filippo Galli and the past legends who are already inside the club. Over the past few months I was on standby mood. If you're asking me to set priorities so first of all I'll focus on the goal which is to be at the start of the next year with a clear corporate structure.
"The Milan derby is tomorrow [kickoff time is 12:30 CET at Stadio San Siro]? Sometimes it's better to begin with an easy match but it's fate. The derby was my last match when I was at Inter. So by accident, I'm beginning again with another Milan derby. Emotionally speaking I couldn't have asked for nothing better than that and of course I hope that the result will it even more fun.
"The match? As I said before, I would never dare predicting the result but I would like to see Milan play like I've seen Milan play this year and I'm convinced that tomorrow the match will be of that kind, a great match. I hope the best wins, particularly if the Rossoneri win.
"If I'll celebrate in the stands like Galliani? I don't know, tomorrow I don't even know what I'll think of as it'll be the first match but then we'll see. Possibly, I'll rejoice in a different way but I think I'll show my satisfaction when my team scores a goal. If I met the fans? No yet, by choice we have kept a fairly low profile until now. In our job, we have two main stakeholders: the ownership and the fans. Without fans no clubs could survive, and we'd have no owners as well.
"There is a new Milano derby between the Chinese of Milan and the Chinese of Inter? I've always experienced that if there is a healthy competitiveness. When you have two entities that want to become leaders and want to become number one, of course both entities can improve their results.
"If we have a time frame for specific objectives? Well yes, I think in this context you can be cautious all you want but this is Milan, we are Milan and we have no option to go slowly and see how things go. Our idea is to return to the Champions League as soon as possible, we cannot deny that.
"Participation in the Champions League, in terms of visibility, economic resources and prestige, that's something a club like Milan cannot do without. Our absence from this competition has been too long. We received from support from UEFA in September with the decision to have four teams guaranteed from Italy in the UCL starting from 2018/19, so our goal is to be there in that tournament."