Christian Abbiati says 'nothing surprises me about Gigio Donnarumma' but believes captaincy talks are very premature.
It's been exactly one year since Gianluigi Donnarumma made his Serie A debut, starting in goal for the Rossoneri.
In that year, Gigio has become one of the most talked about teenagers in the world of football and tonight he will of course play against Genoa at the Luigi Ferraris.
This match (20:45 CET) comes after the Saturday win over Juventus in front of a sold-out San Siro, which was also achieved thanks to a great performance by Donnarumma, who made a crucial save in the last moment of the match.
"I see myself in Gigio, we're quite similar temperamentally. He's introverted, he doesn't feel pressure," Abbiati said in an interview with La Gazzetta dello Sport.
"Donnarumma gives exceptional performances on ordinary fashion? I'm not surprised by him, I saw him in training and I know his qualities, the only unknowns were the impact of San Siro & the weight of the starting shirt. Another complicated factor is consistency, but he has always remained focused.
"That's how it is when the play is at the other end of the pitch, and within seconds the opponents can be in your box – you have to stay switched on. How much room for improvement he has? He's already at high levels but he still has room to improve. First of all, in terms of experience – if he will be in Europe then it will bring him a lot. From a technical standpoint, he can improve in dealing the ball with his feet but I've seen him calm. He always tries to play the ball and never sends it away.
"Montella has been very good and brought enthusiasm, however we must not forget the work of Sinisa Mihajlovic and Cristian Brocchi. This restart is also their merit. Galliani said Donnarumma's save on Sami Khedira reminds him of my famous save in Pergua on Cristian Bucchi? And I say that the real save – the most difficult and important one – was the early anticipation on Pjanic.
"On that occasion, Donnarumma was technically perfect, away and aggressive. What goes through the head of the goalkeeper after saves like that and if you realize what you just did? More or less. There and then you realize that something important happened because all the teammates hug you, but I was realizing it in full only when I saw it again on TV. Even in Perugia it was the same way.
"There is already the talk of the armband about Donnarumma? He has all the qualities to be the future captain of Milan, but I stress the word 'future'. Looking ahead, he has the right character. Now, however, these talks aren't helpful. The armband brings pressure; I'll tell you that from experience.
"When I realized that Gigio head a great future in front of him? I knew right away he could have a great future, ever since I went to see him train with the Primavera. Even an idiot would have seen that Donnarumma had above-average quality. I repeat, I can see myself in certain aspects of his character, I'd say he's an atypical Neapolitan (laughs)! Donnarumma has a great family behind him.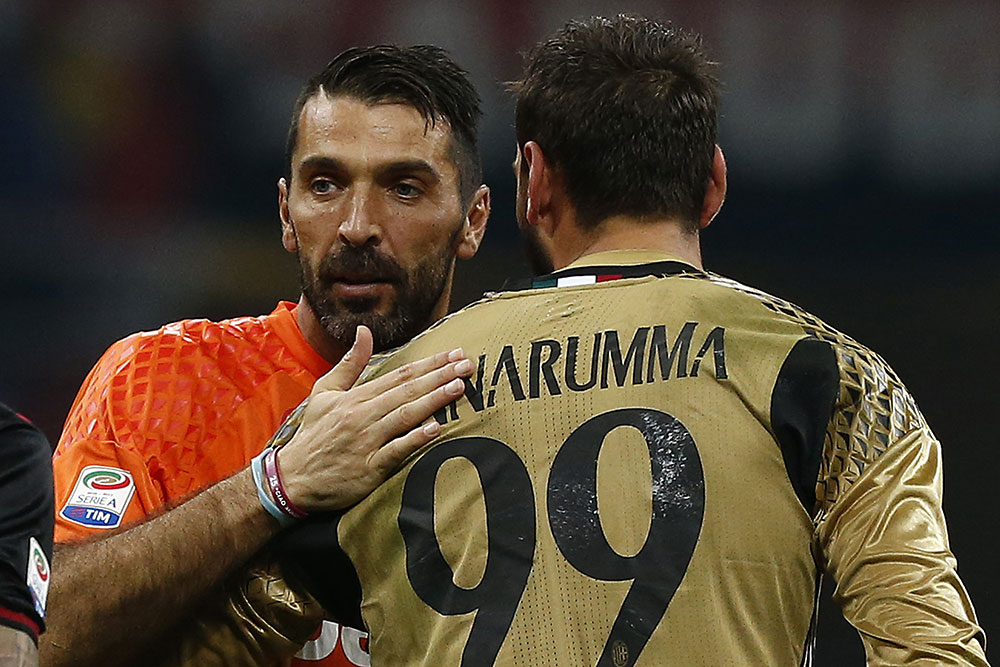 "Talk about contract renewal? I won't get into talking about agents. I'll just say I want to see him at Milan for a long time, because Milan have found a reference point. And so, he must remain where he is. Donnarumma in the national team? As I've said, nothing surprises me about Gigio.
"Buffon is in fantastic shape, but after this there's only Donnarumma. The other Italian goalkeepers are good, but they're not at their level," concluded Abbiati, who retired after the last season.