Cristian Brocchi held what could be his last Serie A press conference as the coach of Milan as he faces Roma tomorrow with some hopes of returning to sixth.
The Rossoneri have to beat Roma and hope that Sassuolo drop points against Inter (both matches take place on Saturday night at 20:45 CET) in order to finish this Serie A season in 6th place which will be enough for Europe.
Cristian Brocchi is fighting for his future and while some reports suggesting that Silvio Berlusconi wants to keep him no matter what happens in the last two games, it's clear that his side will have to impress against Roma and then in the Coppa Italia against Juventus (next Saturday night at Stadio Olimpico), for the fans to back a possible confirmation.
"Tomorrow is a huge match," Brocchi said in the pre-match presser on Friday afternoon at Milanello . "I will be assessing which players I can then rely on for the cup final. Those who play tomorrow have to show me how much they want it and have the right attitude ahead of the final. 
"In this short space of time available, I have tried to give everyone a chance. The only ones who haven't been given a start have been Manuel Locatelli and Stefan Simic (both promoted from Brocchi's Primavera mid-season). I have watched everyone. Tomorrow, I am expecting the players to show the right desire and spirit to try and claim a place in the starting line-up for the cup final. 
"If I believe in 6th place? My career has shown that I have always wanted to win. Always. I have a character and personality that means I give 100% and aim to win. Then, match incidents and other factors can result in a different outcome, but I have a winning mentality.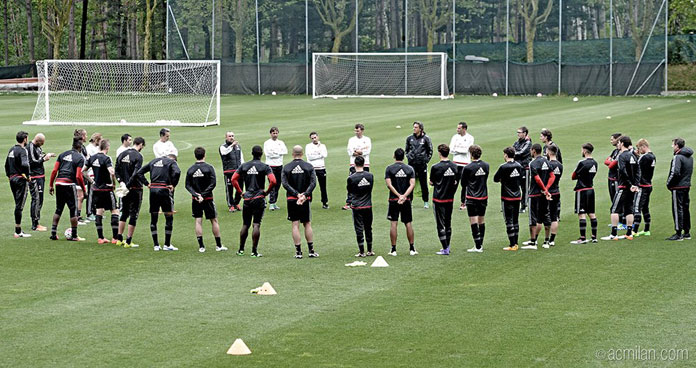 "I am disappointed we have lost sixth spot, but we have given our all and we have had a bit of bad luck. Sassuolo picking up 9 points from the past 3 games has been a blow to our chances. We have dropped points but in 5 games we have picked up 8 points. We only needed 2 more.
"The match with Bologna? We didn't play badly in the first half versus Bologna but the sending off changed the game. Had Bologna not been in 10-men, they would have played an open game. But once they were sent down to 10 men, Bologna closed up and we were too slow on the ball.
"We have made improvements (according to Berlusconi video message he agrees) however when in possession but without positive results it's hard to highlight this. But as a coach, if I see a player make the right movement or carry out an instruction, then it's right that I draw attention to it.
"Roma (who are still fighting for 2nd place)? Recently they play the best football and there is a positive atmosphere around the club as well as an incredible mental strength. Spalletti has done an incredible job and he has a quality squad. Francesco Totti? I hope Totti plays tomorrow. He has made history in the game and he has treated us to so many great moments.
"The fact that Arrigo Sacchi advised Milan last year to take Maurizio Sarri and now admires (Empoli's) Marco Giampaolo? I live for the moment because I know that news will come over my future. I was a kid when I watched Sacchi's side and I admired him. I would love for him to value me as it would be an honor. He hasn't had a chance to know me so it's normal that he sponsors those that he knows.
"Matches are clearly different to training, but you can still tell whether a coach is good or not via a training session. I was appointed to instill certain ideas and concepts. The history of this club dictates a certain playing style. However, I have to take note of the small improvements that there have been.
"At Milan, we have to follow the past that we all know. I was chosen for my ideas of the game which will not be altered. The President has a clear project in his mind & I have started this process. If I can then carry it out from the start of next season, then I am sure that I can have a positive contribution.
"If I would see it as a betrayal if there's a change in coach? Absolutely not. President Berlusconi chose me because I was cute. He didn't choose me because of my place in the history of Milan, but because he liked my work. When a club wants to make plans for the future they must be clear.
"At the moment Berlusconi has clear ideas about me and my approach. If he changes his mind I'll still be grateful, because what the club gave to me for nine years and for these past days is something important. There are values in life, and I thank him for everything he's given me.
"How would I judge my work? You can always do more, but my staff and I have given 100%. We have always tried to find the right solutions. At times, you also need a bit of luck in life and recently we have not had any. Our ideas and our methods have been strengthened in this period. If Inter will play the Primavera against Sassuolo? I don't expect to get any favors from anyone, never have.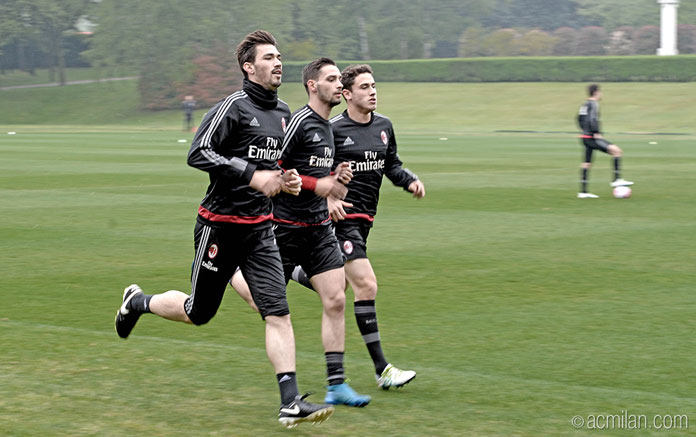 "If this squad has more limits in character or in technical ability? It depends, after all there are no two identical players and we need a touch of everything. You can't generalize. I just want Milan to have some real values. Many players have that, they're willing to give their all for Milan, and that's what I'm looking for. That's what the club used to be like when I played here.
"I think that should be the starting point to rebuild. I want players who believe in the project and who completely adhere to the Rossoneri values and history. Certain players have greater trouble in absorbing some concepts, while others feel troubled because they thought they'd be able to do more.
"Others still haven't had enough playing time. I'm working to bring as many of them as possible to 100 per cent. No-one's coming short in terms of effort, but they may have mental or physical trouble. Each has their own story. I expect a bit more from 4-5 players: an active attitude and the desire to convey a will to win to the whole group. They know who they are, because I've spoken to them.
"That doesn't mean I don't rate them, on the contrary, if I'm asking them for those things it's because I think they can give me them. If Riccardo Montolivo will play against Roma? The birth of his daughter didn't affect him as much as it did Luca Antonelli. He didn't train yesterday because he had a bit of a troublesome night. I'll see him again today and I'll make a decision accordingly.
"At the same time, I wouldn't be worried if I had to field Manuel Locatelli, much like I wasn't worried about fielding Davide Calabria against Bologna. He had a great game. Balotelli and Niang (who will be back in the squad for the Coppa final)? I haven't decided anything in view of the final. I have several players available, and I have clear ideas about which players can give me guarantees.
"If I start with Balotelli or Luiz Adriano it means it's because I think they can give me something. L. Adriano has shown great spirit and I'm sure he'll be up for the task if he's called into action. Balotelli's attitude has been positive, unfortunately he hasn't managed to score. If he plays well and doesn't score it doesn't detract from his game. Mario needs to get a goal.
"Keisuke Honda? He is always ready. He's an exemplary professional, one of those players I can count on either from the start or mid-game. He will have an important contribution in these next two games. Kevin-Prince Boateng? The problem of Prince is when he's in difficulty.
"If I were to judge Boateng only in terms of his attitude and drive, he'd always start. But I must evaluate him by comparison with the others. He deserves more, but the coach's job can be difficult that way. The 10 minutes at Bologna were an answer to the critics. In terms of attitude and spirit, he deserves to play. This doesn't mean that he isn't going to play at all, of course.
"If I'd like to coach Zlatan Ibrahimovic next season?  How can I be thinking about Ibrahimovic at a time like this when we have two matches ahead of us that can change everything?  I want to end the season on a high note and then sit down and think about the future."
There are new rumours in the Italian press every day about coaches who can come in the place of Brocchi who had just replaced Sinisa Mihajlovic last month. But he'll try to prove he deserves a stay.