Sandro Tonali has given an extensive interview to DAZN after winning the Scudetto, and he already targets winning the Champions League.
Milan won the 19th Scudetto in history and fans all over the world have been over the moon the past few days, celebrating non-stop all over the world.
One very special fan, is also one of the best players on the team – Tonali. The ex-Brescia man had an incredible season, turning into Milan's best midfielder, contributing greatly to the Scudetto run with his goals, assists and overall play.
"The attachment to the jersey is very high, when you win everything changes," Tonali told DAZN. "In Reggio Emilia there were many fans, but we understood what we had done only when we returned to Milano. As a fan I already experienced these moments, in 2011 I had waited for the team so I know what it means. These are great emotions that don't happen often. I didn't want to make any videos, I decided to experience these moments and I will always keep them with me."
On the most beautiful message he received: "I received many. My grandmother came to see me against Atalanta, that's the most beautiful message. I thought she would tell me 'no' considering the heat that there as, but she said 'yes' right away. It made me really happen."
On Ibrahimović: "Even when he does not play he stays up all the time on the bench to support us. It's sometime for sure. After the game against Sassuolo, he took us in like his children, talked to us and went over everything we've done in the last 2.5 years. I hope he continues to play, it's important to have him by our side. He raises the level so much in training and he never wants to miss even the training games. I'll tell you a secret: in the last weeks, the starting team never won a training game."
On Florenzi: "He has given us extra energy, he is someone who never switches off. He, like Ibra, Kjær and Giroud, talked to us a lot before games. In the last few matches especially they've helped us a lot."
On comparisons with De Rossi: "I'm pleased to be compared to him. Among those still active, I really like Thiago Alcantara. He always knows what to do and he finds plays that others don't see."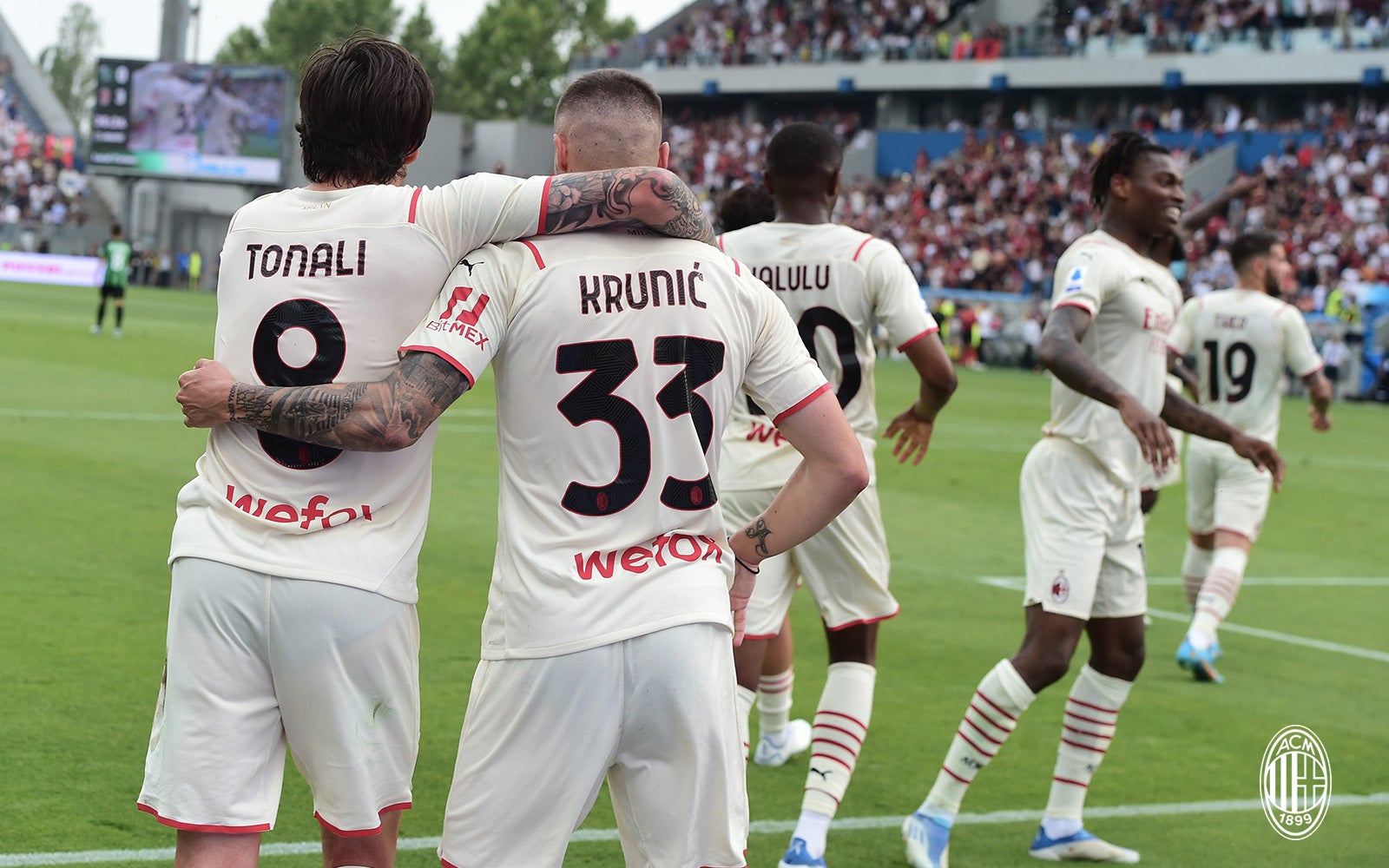 On the group: "It's been a perfect mix. Last year we studied each other and worked to become what we are this year. There is a good mix of experienced and young players. And it was also important how those players who came from abroad like Kalulu and Tomori adapted. They came walking on tiptoes, they are two great professionals as well as two good people. Maignan works from morning to night, he has a tremendous desire to improve himself. He always arrives first at Milanello. The first time I saw him I said 'this is huge'. So many guys made you understand that there was a great desire to win."
On if he felt Milan were the strongest from the start of the year: "We knew that last year there was a stronger team than us, without a doubt, and that it would be difficult to win. I think this year we were not the strongest team in the league, but we showed that we can do anything together. I think Inter, in terms of the level of the squad, were the strongest. But we put everything on the field that allowed us to become the strongest team in the league."
On Donnarumma: "He wrote to me, we often talk because we see each other often in the national team. I hope he experienced this victory well. I'm happy for him for the fact that he went to a situation different than Milan, but one that gave him the chance to win something important and immediately. Here, as we all know, there was a path to undertake and we are undertaking it as seen since Pioli and Ibra arrived, brick by brick. A strong goalkeeper like Gigio has to think about having fun and nothing else."
On Milan's best player of the season: "Leão, because he is the player who in moments of difficulty made us win several games. When he bursts forward, you know the ball is coming to you; at most it's you who's wrong."
On the key match of the season: "I think the Derby in the second round gave us an extra push."
On the Derbies in recent years: "There is no longer that blockage, there is no longer that fear of the Derby and you should have believed in the opportunity to win. We play it on equal terms because we've realized we are strong."
On the revelation player of the season: "Kalulu."
On the best goal: "Theo against Atalanta. You knew he was going for goal. In training he always does that."
On the best save: "The ones on Abraham and in the Derby."
On the difference between Maignan and Donnarumma: "Shooting in training at Gigio was difficult because he covered the goal in an impressive way. Mike has incredible reactivity. The moment you think you put in the top of the corner and it's impossible for him to get there, he gets there. He has an impressive strength, power and reactivity."
On his best goal this year: "The free kick against Cagliari."
On his goal that weighted the most: "Against Lazio."
On his best play this year: "The goal I scored against Atalanta. I pressed Freuler high, which is the result of the coach's play. We find a position 3-4 meters from the opponent with him having not played. Playing 1v1, he either gives it back to the goalkeeper or has to play with quality."
On the way to scoring: "There hasn't been a goal where I've given myself credit in the last months. Anyone can score these goals. During training I don't think much about shooting on goal, I prefer to play. At the end of training I stop and shoot."
On being mature: "The Derby is a separate thing from the whole league. It's 90 minutes where you don't look anyone in the face. On the field you can't even think that whoever is in front of you is your teammate on the national team. There is no time. You are focused. The fans get you into a crazy rhythm. Serie B had done well for me, I came in at a time where there was no VAR and there was little whistling. I took blows and punches. I played against hammers and that helps you and keep you going all your life. I played more than 80 games with Brescia and they all served me well. There, the game was based on rhythm, on competitiveness, on kicks. In Serie B, you fight over every inch and there are players who want to eat you up."
On where he needs to improve: "In the timing of tackles. Because if the ball moves and I take the opponent, 9 times out of 10 it's a yellow card."
On what he will ask Santa Lucia next December: "I think we've already asked her a lot. Maybe to win a Champions League, maybe not right away although that would be better. My dream is that of our fans. Winning the Champions League would be indescribable."