Stefano Pioli won the first title of his career last night, lifting the Scudetto with Milan: 'I have to thank everyone. We had an incredible season.'
After 11 long, grueling, disheartening years, Milan finally became Campione d'Italia once again! The Rossoneri finished the 2021/22 season in 1st place with 86 points, beating Inter to the title.
It's been an incredible season for the guys, led by Stefano Pioli – who also won the Lega Serie A Coach of the Year Award. A first medal for the 56-year-old Pioli – even if it got stolen during the celebrations and will be replaced by the league.
The Scudetto was achieved following a 3-0 win over Sassuolo at Mapei Stadium. Milan fans flooded the stands and then the pitch following the final whistle, and the Diavolo are celebrating.
"My players are phenomenal," Pioli told DAZN at the end of the game. "I am happy for my players, for myself, my staff, the club, the directors and our fantastic fans. For all the Milan world which deserves this Scudetto. We have always believed in it, surely I am happy."
On the Scudetto race: "We were more consistent. If you get till here, it means that you've had consistency. I don't like to mention this, but I think the last game we lost was against Spezia, which we were not supposed to. The players' mentality and identity have been remarkable, they've never given up and they have been fantastic. Everyone never lacked rhythm or intensity, also those who didn't play much. We deserved it because we never gave up and we were more consistent. We won key games. I have a strong team with two exceptional directors like Maldini and Massara by my side. If you reach this level, all the parts involved have done their best."
On the team: "My staff and I had fun working with these players, we prepared every single game, trying to find suitable solutions for us. The players know our way of playing well, that's the best thing that remains from our work. We all enjoy what we do, which is the most important thing. We've always had clear ideas and a precise target which was to make it better than last season. We knew that we could have achieved something more by earning more points. We are a strong team that has always believed. We were brave."
On the performance of Milan: "My idea is to improve the players I have, but it's all more difficult without talent. If you improve individuals then you improve the whole team and vice-versa. The club's ability to sign talented players brought results. Congratulations to everyone."
On Theo Hernández: "He has everything inside, he has taken a step forward in terms of mentality and ability to stay in the game. Perhaps, being different off the pitch has changed him as well. He is great in everything he does and he is a fantastic player. I love him to death."
On the directors: "The directors have created a winning mix of young and experienced players and we've built a winning mentality. We were brave, especially defensively, which rewarded us because we didn't concede in many games, we defended like animals when the opponents had the ball."
On winning the Coach of the Year Award: "It's thanks to the guys and the club, it's for them, without them what we've done would not have been possible."
On dedicating the Scudetto: "Surely to my dad, wherever he is, he'll be happy and proud of what I've done."
Speaking to MilanTV, Pioli was asked what question he would've liked to receive but didn't from reporters: "How did you remain calm despite the questions? [Laughs] I'm kidding. I've always given and received respect, with everyone, which is the most important thing. I believe in our field compliments and criticism is always exaggerated, so I try to be as balanced as I can be and to work well with my players. It's been a beautiful year, I'm really happy because we all deserve this victory: the Club, the directors, my staff, the players and our fantastic fans. There's so much happiness, it is right to celebrate now."
On dancing with the fans to 'Pioli is on fire': "I've wanted to dance with the fans all year long but I was always a bit nervous, by my character I'm not all that balanced. I'm actually much more emotional than I show, so I couldn't wait to dance with them. Receiving so much affection from the fans, and having had it even before we managed to win, is one of the most satisfying things I've ever experienced in football."
On if he believed in it: "Every time I spoke to the team, I perceived great focus and conviction. If I'm not mistaken, the two key games were the Derby we won and the win in Rome against Lazio. I think those games gave us greater awareness and confidence. However, at Milanello we always believed we could do it. That was our strength."
On advice he can give young coaches: "It's important to have great passion, to continue learning and having new ideas but above all to believe in your work and even more – to believe in your players. I believe that can make the difference. You also need to be lucky to have directors like I have at Milan, they know football, they know how to talk about it, how to talk to the coach; how to support the coach and how to discuss with the coach sharing opposing opinions. It's all important to continue growing together."
On what he's taken off his mind: "My only thought is to believe that I am a good coach for my players, then I don't care about other comments. I have never felt like a loser. Winning a Scudetto and entering the history of Milan and being compared with the legends of the past can only make me happy. From July 4th I will return to making my players feel the trust I have in them."
Sky Italia also caught Pioli for an interview: "We did something exceptional. All the components worked at their best and they gave us confidence. Staff, players and fans – incredible. We are all, deservedly, Campioni d'Italia."
On the worst and best moments of the season: "The worst moment was the match against Spezia. I'm overjoyed that I don't have to complain about that situation. The turning points came in the Derby and against Lazio."
On the merits: "I never stopped thinking that I was coaching a great team, I had great confidence in my players. We all have merits but without the club and players nothing would have been possible."
On clichés in football: "It's full of them, but they fit. I arrived at Milan because of a far-sighted choice by the management. It fits that some people had doubts about me, but in life you always have to prove yourself. They motivated me even more."
On Tonali: "Sandro did everything, he never stopped believing in his own qualities. He has gained experience and he can grow a lot."
On Ibrahimović: "Decisive. He brought mentality, awareness, competition, incredible qualities. I spoke with Zlatan, he was hurt that he didn't play San Siro. I advised him to keep player, he is thinking about it. He is a Champion, he gave us a lot and helped me grow a lot."
On Pioli is on fire: "I've been wanting to dance it for a year, but I was afraid… the fans gave me a chant even before we won, they gave me incredible emotions."
In an interview with Sportmediaset, the coach said: "Behind the Scudetto there is a lot of happiness and a lot of gratitude towards the club that chose me 2.5 years ago. My directors have been fantastic, as have my staff and my players. I coached an exceptional group that went above everything and everyone.
"Can a cycle be opened? Let's enjoy the victory, but we know that Serie A is increasingly competitive. We tasted the Champions League this season but we are Milan and we want to be competitive in Italy and in Europe. I dedicate this victory to my dad, who, wherever he is, I'm sure he is proud."
Pioli also held a post-match press conference: "I have to thank everyone. We had an incredible season. All the components gave a great result, I thank for the support they have given us. I thank the clubs, I thank the directors who are fantastic and with whom I discuss, the discussions always help us to try to grow, and clearly I thank my staff. I seem balanced and calm but on the job I am punctilious and scrupulous which is not easy for them. And then an immense thanks to my players who have given me everything. And then to our fans because I was a bit amused when people said that we were strong because we were playing without fans, and now I'm glad we were able to reciprocate."
How did you keep calm despite the questions?
"And what about the referee errors? It the Scudetto hadn't arrived because of the loss to Spezia then it would have been hard to digest, it is better that it turned out this way."
Three images to describe this Scudetto? And is there some satisfaction because there were doubts about you upon your arrival?
"Three images from this year: the victory in the Derby, the victory in Rome against Lazio and the speeches of Zlatan and Simon to the team, which were different and at different times. On a personal level, I'm happy and pleased but it's normal, when you come to a big club and you haven't won anything then you have to prove yourself. It will be like that also from tomorrow… well not really from tomorrow because now I'm going on vacation and we are celebrating, but from the get-together on July 4th it will be like that. My players, my club and my fans have made me a better coach, I hope I can be a great coach for my players next year as well."
You are in the history of Milan, alongside many great coaches. What will you tell your mother?
"Honestly I have to take it in well, it makes a certain effect on me to be in the history of Milan, side by side with great coaches. I'll tell my mom that I finally won something! The dedication goes to my dad, who did everything for me and will be happy and proud."
Do you think about raising the bar?
"It means working better, putting in more game ideas and a methodology that we know but we can improve. Then, we are Milan, we are back to being the Campione d'Italia and we will be in Pot 1 in the Champions League. We found a very difficult group and if we had faced it 3-4 later we would have had a different result, but we understood how difficult the Champions League is. Let's enjoy this victory because it's right for everyone to enjoy it, then later we will surely have a lot of ambitions and play against the best in Italy and Europe. We won a difficult league against support opponents and I think the value of the victory should be reinforced by having overcome strong teams like Inter and Napoli and very strong teams like Juventus, and over time we have become strong as well."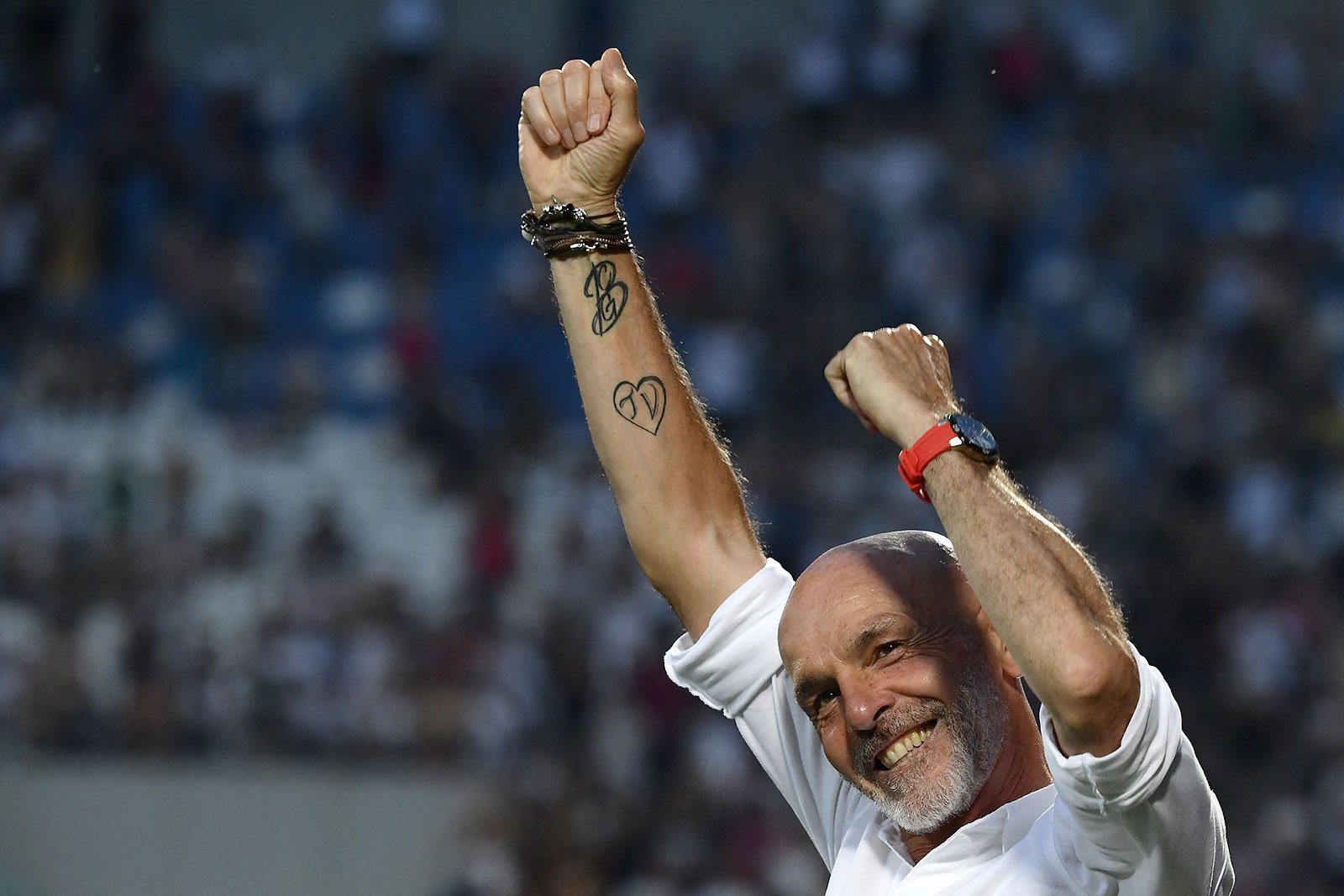 Was there a moment when you believed you could win?
"The Derby won in that way gave us more conviction and strength and I think that this one, together with the game against Lazio, made us understand that we can play for it until the end. We wanted to get more points inside of Milanello… we didn't tell you, we always talked about the Scudetto among ourselves and that is the strength of this team. There are Ibra, Kjær, Maignan – a phenomenon who won two titles as a non-favorite with Lille and Milan, and then everyone else, us and the directors, and this was a great reward for the work done."
Was there an experience that enriched you to bring you here to the Scudetto?
"I've had so many experiences, unfortunately – and I say unfortunately because of what happened because it improved me as a man and as a coach, but you know what I'm talking about. I've never felt so good, I've never felt so appreciated as in the Milan environment and this allowed me to give everything to my players and they did well at giving me everything."