Stefano Pioli was livid with the referee after the 1-1 draw against Udinese: 'I do not know if it is a lack of respect but we have seen mistakes which have cost us'.
After the awful 2-2 draw against Salernitana, Milan hosted Udinese last night at San Siro, with 50,000 fans coming on a Friday night to watch the Diavolo.
After 29 minutes, Sandro Tonali found Rafael Leão with an excellent ball and the Portuguese beat Marco Silvestri to give Milan the lead in the first half.
The Rossoneri, as happens too often, took their foot off the pedal after scoring and allowed Udinese back in the game. In the second half it was all the Bianconeri. In the 66′ minute, Udinese got the equalizer through Destiny Udogie. The midfielder very obviously and very clearly scored the goal with his hand, but rookie referee Matteo Marchetti and his VAR team, led by referee Marco Guida, showed their utter arrogance and extreme incompetence and allowed the goal.
Milan failed to score again and so the game ended in a 1-1 draw. Luckily for the Rossoneri, Inter drew Genoa 0-0 so the Diavolo kept their top spot in the standings.
"We weren't able to perform how we should have and wanted to at the start of the second half. We dropped off too much and there was no reason to do so, these are situations we need to develop better," Pioli told MilanTV. "On top of that, it was clear that Udinese's goal wasn't regular, perhaps not from the referee's view but certainly for the VAR. It's a pity, you can win games by a single goal while not playing great, and things could have gone differently.
"I don't know if it's a lack of respect but we've seen mistakes which have cost us dearly. Aside from our mistakes, we're paying for those of others. It's clear that there is a handball, and while the referee had a lot of players blocking his view but with the VAR's replays it's incredible it wasn't seen. It's very strange. On top of that, I can't believe that out of 95 minutes we only get 45 minutes of active play. That is where the referee must be more decisive. If a team starts wasting time from the first minute, the referee must do something or add 25 minutes of injury time. Playing just 45 minutes is unacceptable. We might not have won the game even had it gone on longer, maybe it just wasn't our night, but it's not fair and it's not a good show. 45 minutes of active play are too few. This is something I insist on often because it's a big mistake and it's all on the referee. If the referee calls fewer fouls, the players won't down and stay down as long, but if he continues to call everything way too much time gets wasted."
On the moment of Milan: "We're not doing as well as we had been, and within each game we're lacking the consistency needed to win these matches. Our last two opponents might be low in the table, but they were certainly not easy to beat; you need to play at a consistent level with tempo and higher quality. Today we lost a lot of balls in the attacking third which could have been good chances and instead allowed Udinese to counterattack."
On the squad: "The guys need to be able to manage this pressure because it's a privilege to be in this position. We've reached a high level, now we must take the next step and work hard to do so."
On the next game: "Clearly, the Derby is a special match and we want to reach the final of the Coppa Italia. We are aware of our opponent's value, so we'll prepare to the best of our ability to make sure we're up to the challenge."
Speaking to DAZN, Pioli said: "There's no doubt, it's a clear handball on the goal. The Udinese player scores with his hand. It's frankly unlikely the VAR didn't see it, so this is a serious error that proved decisive for the final result. It's true we didn't put in an exceptional performance, but the goal should've been disallowed and there was also the advantage not given to Messias in the first half. And I will keep repeating that you cannot have just 45 minutes of actual play. The responsibility lies with whoever is officiating the game. Let's think about doing better because we have the possibility to do so, that's for sure. You say my players looked nervous – they have always been very correct and sportsmen, also today – but they were nervous because they saw situations on the pitch that were not pleasant.
"He scored with his hand. And I repeat, VAR is there to avoid these mistakes. It's not good, we clearly think about improving but we have been penalized more than once. I am just saying it's not the first time we have been penalized by such a clear incident, because the goal was scored with his hand."
On the attitude after Leão's goal: "It's a situation I am evaluating as well. These games are usually difficult to break open, we broke the deadlock and managed it well. We needed more attention at the start of the second half. We stopped going forward and favored our opponents. It's been too many games that we go ahead and we don't bring home the result, we have to grow. We are used to going forward, at the beginning of the second half Messias was too low and when you get low dangerous situations can happen. We knew Udinese make long throw-ins in the box, we had to do better. We'll do better from the next game."
On Giroud's exit in the second half: "Giroud came off when we were ahead and as soon as Rebić came on we conceded, they are players with different characteristics. We kept the full-backs lower in the second half to bring out their outside players, then we had to break the line with Brahim or Giroud but we didn't manage it."
On if the players have lost their lightheartedness: "We are talking about a young team and it fits, we have to be good at managing these pressures. It is a privilege to have to deal with these pressures. These are experiences that will help us grow further."
On the Coppa Italia Derby: "Now we think about Inter in the Coppa Italia, the first semi-final, an important game for several reasons: it would bring us close to the final, it's the derby, we know the value of the opponents, we will prepare it in the best possible way."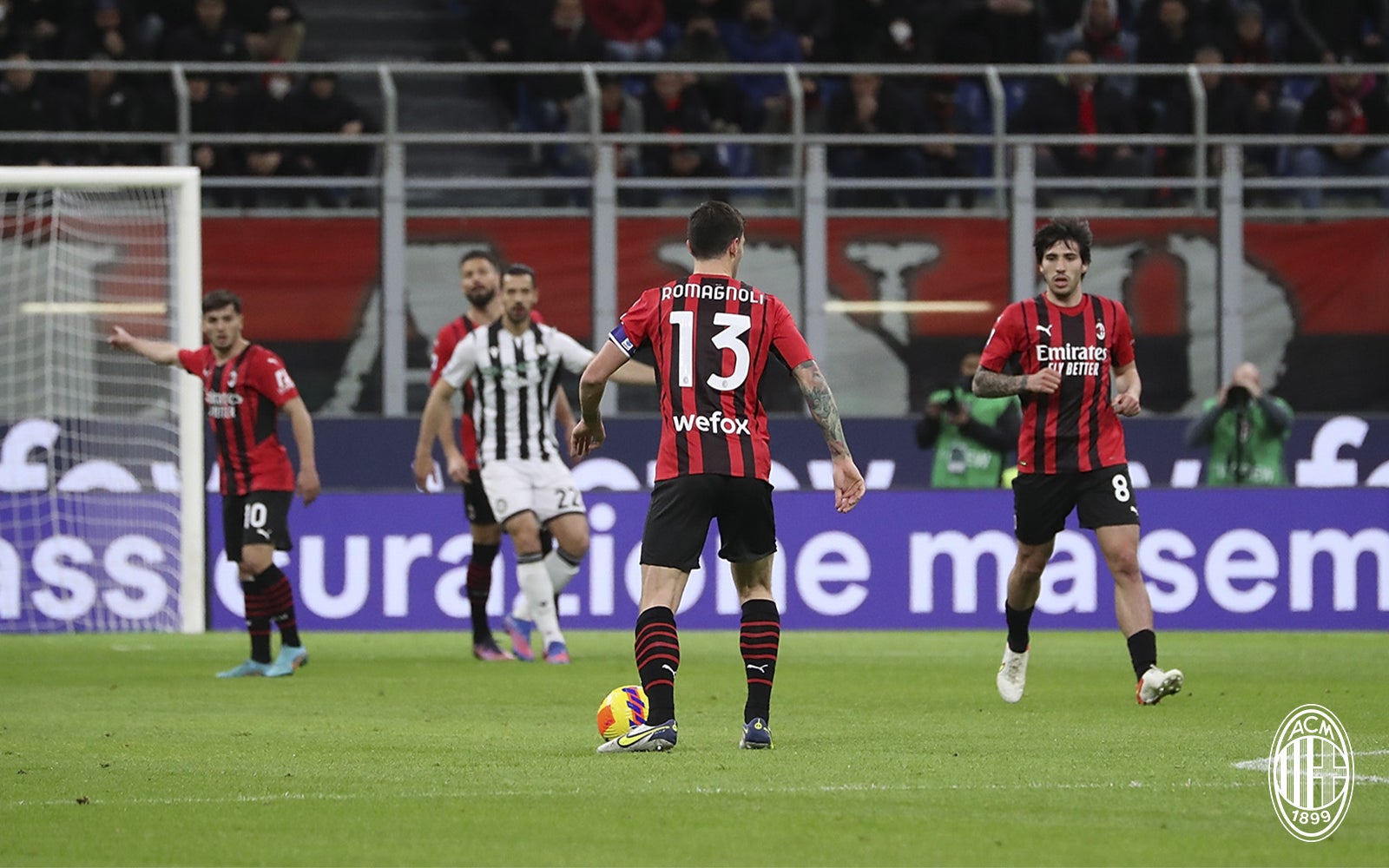 The Milan coach also held a post-match press conference: "The incident of Udinese's goal was decisive: without that goal we would have probably won the match. If Udinese have been wronged in the past, it's not like tonight there had to be wrongs in their favor… the hand ball is evident, it's a hand! The unfavorable incidents are starting to be many and it's a pity. We take our responsibilities: we didn't have our best performance, we lacked pace and intensity… we know how to play better and we'll work to do it, but these incidents have penalized us too much. There was no rhythm, you can't have only 45 minutes of actual play."
Milan have lost 12 points from the end of November to now against teams in the lower half of the standings…
"It's no fluke. These games are difficult if you can't break them open, but we're pretty good in our approach and then we to close them down. Tonight we didn't try to close the game with conviction, but we tried to manage it. Then a slip-up happens, or a referring error, and you draw the game."
Is this a moment of physical difficulty?
"I don't think there is an athletic setback. The team is fine from a physical standpoint, we need to give more rhythm by moving the ball faster and be faster without the ball. Tonight we underdid Udinese."
Did you expect more from your team?
"Of course I expect more, even they will not be stratified with the performance. We will work on everything: on tactical aspects, on positions with and without the ball and on the players' heads."
How is Ibrahimović doing?
"He was a little bit better, but until he trains with the team I can't be too confident or positive. We'll see in the next few days."
Did Milan lack desire?
"Desire is not the right term. I keep talking about lucidity. We have fought and won many battles, but we have to control games more by playing more in the opponent's half; in the second half we didn't do it."
What is your opinion of VAR?
"I have my own idea of it: I would go back to having fixed pairs of referees. All referees know the rules very well, but every referee interprets them differently. I would have fixed pairs: Marchetti on the field and Guida on VAR today and then Guida on the field and Marchetti on VAR. I am not against VAR, but today there had to be an intervention."