Franck Kessié scored and was pivotal in Milan's 2-1 win over Bologna.

After two back-to-back defeats in Serie A and in Coppa Italia, the Rossoneri got back to winning ways, beating Bologna away from home on Saturday.
Ante Rebić (26′) scored first, getting the ball to the back of the net off a rebound from Łukasz Skorupski's penalty save on Zlatan Ibrahimović. However, Milan got another penalty in the second half and it was well-taken by Franck Kessié (55′) who doubled the lead of the Diavolo.
"Today, the win was crucial. How we played and controlled the match didn't matter, only the three points. And we got them; we fought until the end and we took home the three points," Kessié said in an interview with MilanTV at the end of the match which ended 2-1.
"The return of Bennacer? I'm happy for Bennacer who was out for a while, now he's back and I'm happy as he can help the team too. For the last two months, we've been missing a lot of players, I'm happy everyone is coming back now. Hopefully we can continue to get stronger from here until the end.
"Penalties? I look at the 'keeper right until the 'keeper's last step and aim off his support foot. When his feet are towards the left, he'll be diving that way, or vice-versa. That's why I watch him until the end, but if he doesn't move then it's hard. You have to be used to it, that's why I train every day, to score more.
"The goals scored? Every year I score at least 5 goals, this year I want to score twice that, double digits is my objective. I'm not a forward so first I have to help the team, then if I score – I score."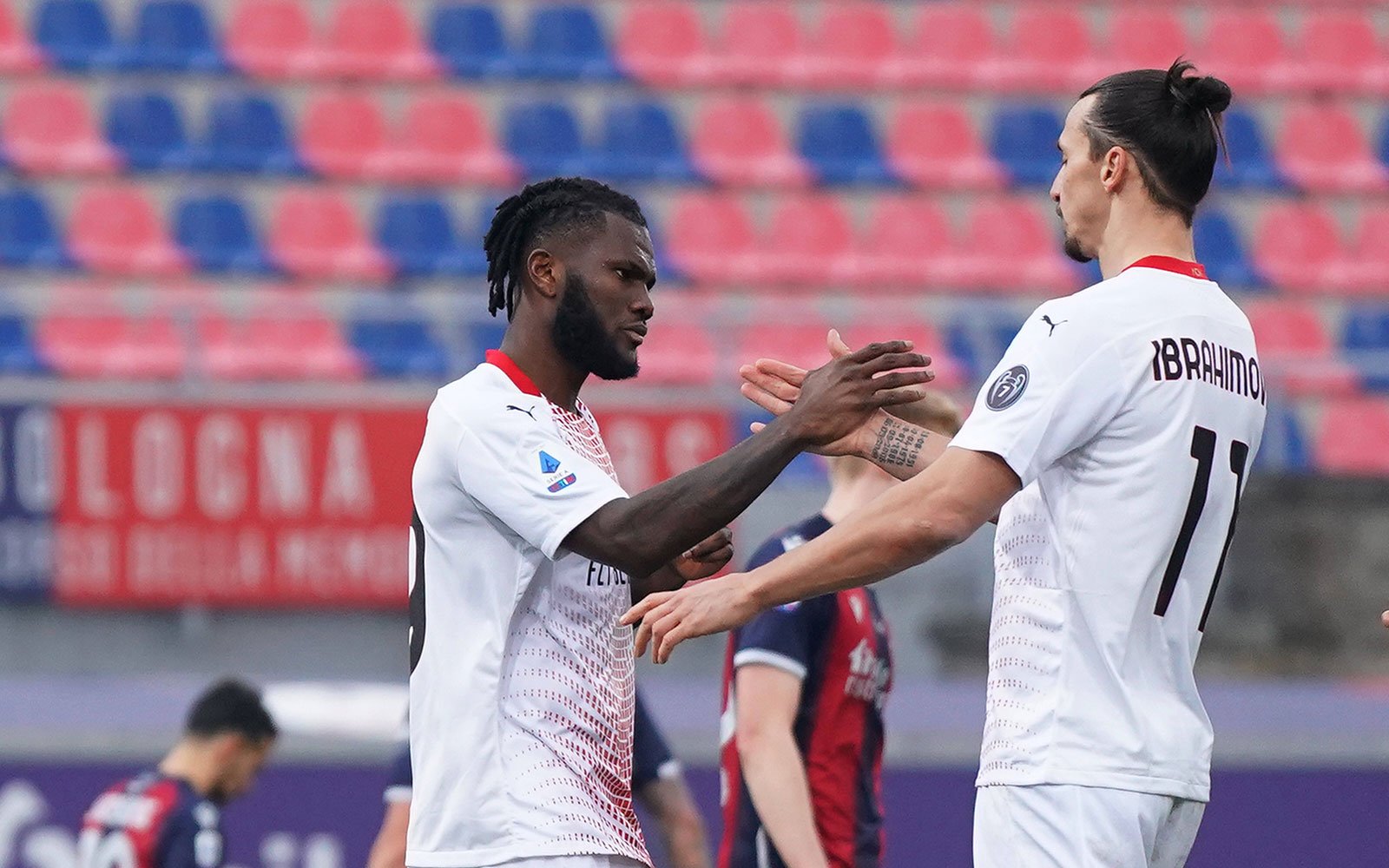 Speaking to Sky Italia, Franck said: "Today was an important match, it was important to win. When you play away from home it's very hard, especially in Bologna who never give up. Today only the three points counted. The reaction after the defeats? The season is like this, you can't play every match at 100%, we lost two games but we immediately raised our heads.
"The penalties? The penalty kick is more important for the striker, if he scores then he feels better. In the second one Zlatan left me the ball and I took it. In training we kick very few penalties, whoever wants to shoot – takes it. Ibra is the penalty taker, it depends on him. If he doesn't feel like it then he leaves it. When I kick, I watch the goalkeeper until the very end.
"Who are opponents for the Scudetto? They are all in the running for the Scudetto, they are all fighting. We have to be stronger. We think about ourselves without looking at others. We think about our game and we'll see what happens. We have to fight until the end to get as high as possible. We do what the coach says."