Mario Mandžukić was presented to the press yesterday and was confident he can contribute and help the team in fighting until the rest of the season.
The Rossoneri are leading the Serie A table after 18 matches of football but still needed reinforcements in the January market, which ends in 9 days.
One of the positions where they needed more quality and quantity was the center forward role – as there was no real alternative for Zlatan Ibrahimović.
However, now there is one – Mario Mandžukić. The 34-year-old Croatian joined the club on a six-month contract (with an option to extend for another year should Milan finish in the Top 4) and yesterday he was presented to the press at Milanello.
"The first challenge that I will face with Milan on Saturday? First of all, I'm really happy to be here, at such a big club like Milan and I've been working on it in the last time and now I'm here," Mario told the reporters. "My first impressions are very nice, because I see a good atmosphere here, the players are making a good atmosphere, the coach and the staff they're doing a good job. They are nice people and I'm happy also because Milan is now in a good position and they need to continue like this and I'm ready for this whole thing and for me it's important now to be ready if the team will need me in the next games and I'm sure I'll be like this.
"How do I see my role in this very young squad and if it's in a complementary role like Zlatan for these young players? Yes, it's true that it's a really young team but I watched Milan in the last games and I was happy to see how the team is playing, everyone is fighting and doing his job, and everyone is running, everyone is showing team spirit and this is what I like. And I will continue to be like that. We older players will be for the younger players so they can see what they also need to do and I'm always like this. I'm professional, I want to always do my job as much as I can and nothing has changed. I will do my best in training and on the pitch and if the youngsters want to follow me then I'll be happy [smiles].
"How did I prepare for this occasion and how many minutes do I have in my legs for the next challenge? I was preparing, I said that over the last month I've been preparing every day and I said also yesterday – if I didn't feel ready then I would never come to a club like Milan, I would have stayed at home and I would have watched the team, but I'm feeling really, really good and I'm waiting for this. And you can trust me – I'm good. Of course I'll need a few days to know my teammates, this is always a process when you change clubs, but I feel good. As for how many minutes… it's difficult to answer but I told you before – I'm here to be ready in every moment that my team will need me, so it's up to the coach. The team has also been playing very well in the last games and I hope they will continue like this, but I will be always now in support and waiting for my chance.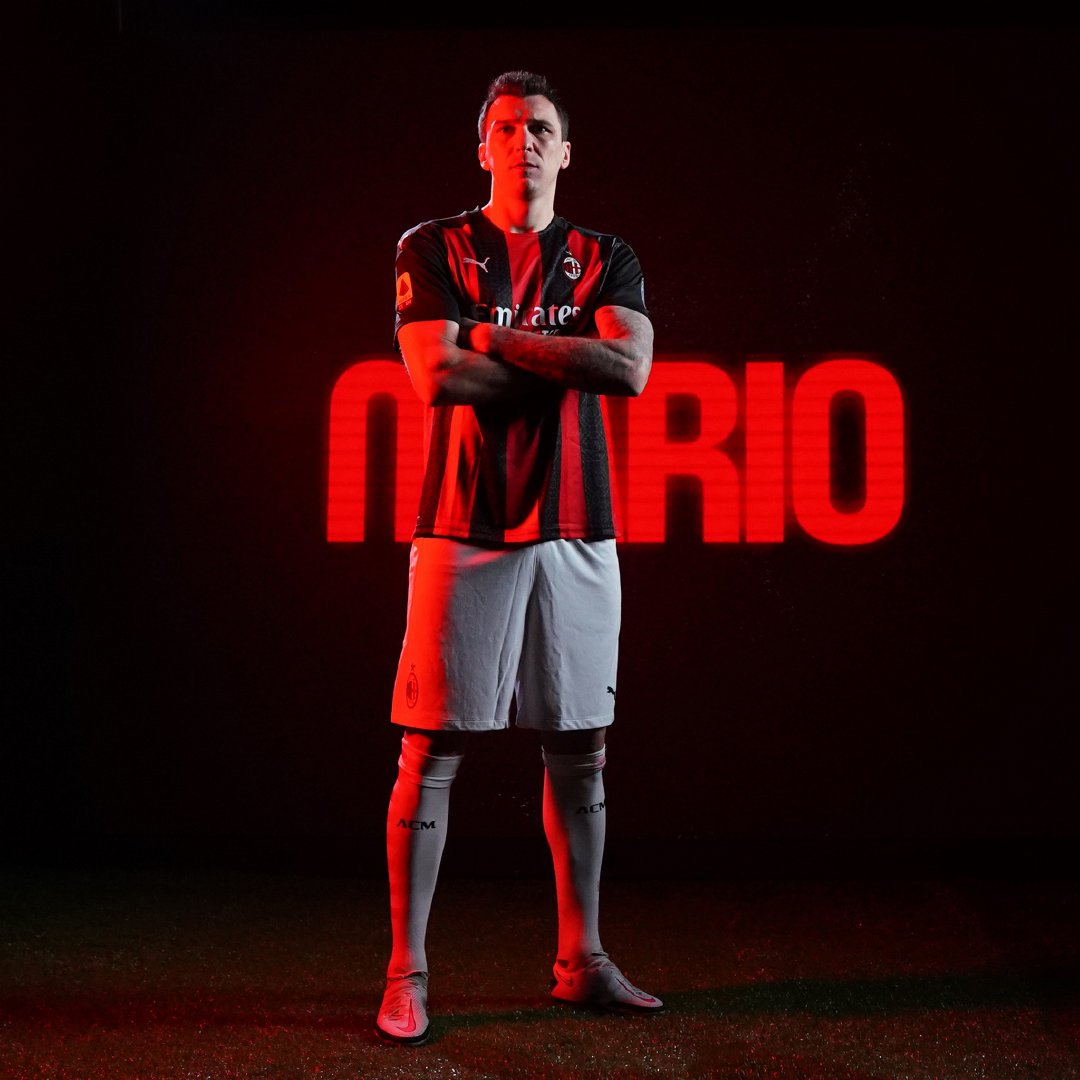 "What I think of Ibrahimović's statements after the last game that with me coming there will now be two players to make the opponents scared of us? I think what he said is good, because we have many games in our legs and we know how things go in football. Sometimes you need to be like this to protect your teammates and to fight for the club, like not only Zlatan but everyone is doing in this team. But I'm ready also for this to do with him [smiles].
"If I accepted the offer of Milan also because of the chance to win another Scudetto? There's still a long way to go to the end of the season but if you look then there's only four more months to play the last games and if we all continue like this, that everyone is running and fighting, that everyone is on the pitch for the win then it'll be easier to win the games. And then I hope that we'll stay where we are now.
"If I'd like to say a few greetings in Italian to all Milan fans? I know many words in Italian but I prefer to say everything I need by showing on the pitch, but of course I can speak in Italian but I don't know what they want me to say [smiles]…
"How important would it be for me to make Milan win the league titles after 10 years considering everything I've won in my career? Sure it'd be a big thing because everyone knows what Milan was in the past and how strong they were. It would surely be a big thing to get the title but you know – Milan is a big club and always playing for the trophies. And now we have a big chance to do it, but I always say that I don't like to speak about it too much; I like to work for this on the pitch.
"What do I expect from this new challenge in Serie A considering the many things that have changed since I left Juventus? I don't think too much about other clubs, I'm only concentrated on Milan and on myself to be ready, like I said also before; to be ready for my teammates and this is only what I'm thinking about now.
"Do I feel that I'm now with the strongest club in Italy? I've always been ambitious and I've worked a lot whole my career and if I do so then of course I have big ambitions, but sure now the team is doing very, very well, but I said also before the season is still long and there are still hard matches to play but if we all continue and the teammates continue like they've been doing, it'll be easier to finish like everyone wants – us the fans.
"If I've already talked with Pioli about my position? Yes, we were talking a little bit. My first impression about the coach, il Mister, is very nice and very positive. He's a good man and I like his ideas. He asked me about the position but I told him I would play in every position on the field if he needs me for the win, so I'm ready for all.
"What percentage am I in compared to my best in terms of fitness? For me it's hard to talk about percentages because I was never thinking about this but I feel really good, the last months I've also had time to prepare my body after a long time, I had a long time to do some kind of other trainings and now I prepare my body for – I'm sure – 4 years more at the top of football and so really don't worry about me – I have always been good, I've never had big injuries. And don't worry – I'll be ready.
"How would I feel when I'd have to face Juventus as an opponent considering I've been an idol for the fans in Turin, and what didn't work well with Sarri? When this happens that I play against Juventus it would be like every other game. Before the game we are friends but when the game begins they are my rivals who want to beat me and my team and I'm always like this. When the game finishes we can be again friends so for me it's always been like this and it'll never change. Of course, I wish that also our Milan fans come into the stadium soon but I don't know when this will be, because it's better to play with fans who push you. So yes I have an incredible relationship with the Juventus supporters, a special relationship and I will always respect them for everything they were doing for me during my time at Juve and this can never look like something negative, for me it's something beautiful and I said – I will always respect and I will also always do everything for Milan and for their fans. And as for Sarri, I don't like to speak about what was in the past, I'm looking more into the future and I'm concentrated more on the future and maybe you can try and ask Sarri…
"If I came to Milan also to show to the Juventus directors that they should've kept me instead of letting go of me? No… I can only say this: no. It was never in my mind. When I got the call from Milan I was never thinking about showing it to somebody, I only need to show to Milan what they expect from me, but as for what you asked me – no.
"What did I choose the #9 given the fact that it's a 'heavy' jersey at Milan? I don't have any problems with the jersey numbers. Of course I've had #17 for a long time, I had before also #9 but now the #17 was not free. I saw that the #9 was free and I had it also before. I don't have any problem with that because if you play then you don't have time to look behind to your shirt. But if you keep everything you have in front of the shirt and in the end it's good then what you have behind will also be good. So I don't have really a problem with the numbers. I'm looking always like this: the most important thing is to give what is in the front.
"If I spoke with Rebić before signing for Milan? I spoke with Ante but he had COVID so he was at home, but I called him to let him know that I would come and I'm happy to see him again and be with him. But I didn't speak too much because I knew I'd see him later at the club and that's all.
"What are my objectives personally for this season? It's always the same – to be ready in every moment for this team, if they need help in every game – this is the most important for me and this is always something that is important. I feel good and the most important thing is to support and to be ready in every minute. If they need me I'll be ready, sure.
"When did the negotiations with Milan start? It's a little bit difficult to say exactly in which day I had the first contact with Milan but I was really happy when this happened, because Maldini and Massara called me together and this was the first phone call. And yes, in this moment I was really happy because I said that I was working hard and waiting for something like this. And that's all.
"If from my first days here I feel that there's enthusiasm and that a new winning cycle will start soon? Yeah, of course. I was watching Milan also before I came and I said before what I was seeing. But since I've come then I've felt directly the happiness here, the good atmosphere… I've done two training sessions but in these two trainings I could see the concentration, the motivation and that the team wanted to continue like this. And me too, that's why I'm really happy to be in such a good team like this and with this coach and this staff. Only like this you can be ready for big things.
"If it would be enough for me to reach the Champions League or would I be satisfied only with the Scudetto? Everyone who knows me they know what ambition I have, but I have it in my head and I don't speak much about it. I prefer to work for this in training and in the games. It's not good speak too much about it – you need to work for it."