Arrigo Sacchi gave an interview to Milannews.it, discussing the style of his Milan, drawing similarities between this Rossoneri and his Parma and more.

Milan are working to return to the levels of the past and without a doubt the dream would be to return to the levels of the team of Arrigo Sacchi.
Sacchi, the best Italian coach of all time according to The Times and the man who coached the best team of all times as per World Soccer, won with Milan between 1987 and 1991 1 Scudetto, 1 Supercoppa Italiana, 2 European Cups, 2 European Super Cups and 1 International Cup.
The 74-year-old spoke to Milannews.it's Pietro Andrigo and you can find the interview below:
In the Europa League Milan find Crvena Zvezda and the memory goes to the match that you faced with your team. What is your personal memory of that match – besides the fog of course?
"When we were battling in the various matches at the 1994 World Cup, Costacurta told me that all of those matches were like the Belgrade challenge. We were lucky in the first half but to tell you the truth, I hadn't seen our goal or Virdis' red card. It was a night of passion. In the second game we deserved to win before [the penalty shoot-out] with big referee mistakes. They didn't give us a valid goal by one meter, there was violence… I have a beautiful memory of when the match ended however; the President of Crvena Zvezda and the Mayor of Belgrade got on our bus and said: 'We salute the future Champions of Europe'."
How much did the club influence and how much the individuals influence your successes?
"Everything always starts from the club. It's a difficult thing to understand for those who have not had these experiences. The club with its history, its life, its objectives, its passion and style comes before the team. Like the team comes before any individual. Italy, on the other hand, is a country that always focuses first on the individual rather than on the collective. We had great individuals but they played for the team and with the team. If it depended on individuals alone we wouldn't have achieved certain results. The first year Van Basten only played 3 games out of 30 due to a serious injury but we won the Scudetto. In 1989/90, out of 9 European Cup games, Gullit played only the final. The team is therefore very important, like having great players, but it is fundamental that they play for the team and with the team. They give and they receive. Talking about the team in a country like Italy is like putting a finger in a person's eye. Creating a team is the most important thing, improving collaboration and communication to achieve a great result. I often believed and repeated that improvisation was important and was favored by the team atmosphere. One day during a training session in which we were trying out some schemes, a player told me that we were not improvising with that exercise, but I replied that they were improvising without noticing it, because they were favored by an automatic communication created by the great team atmosphere."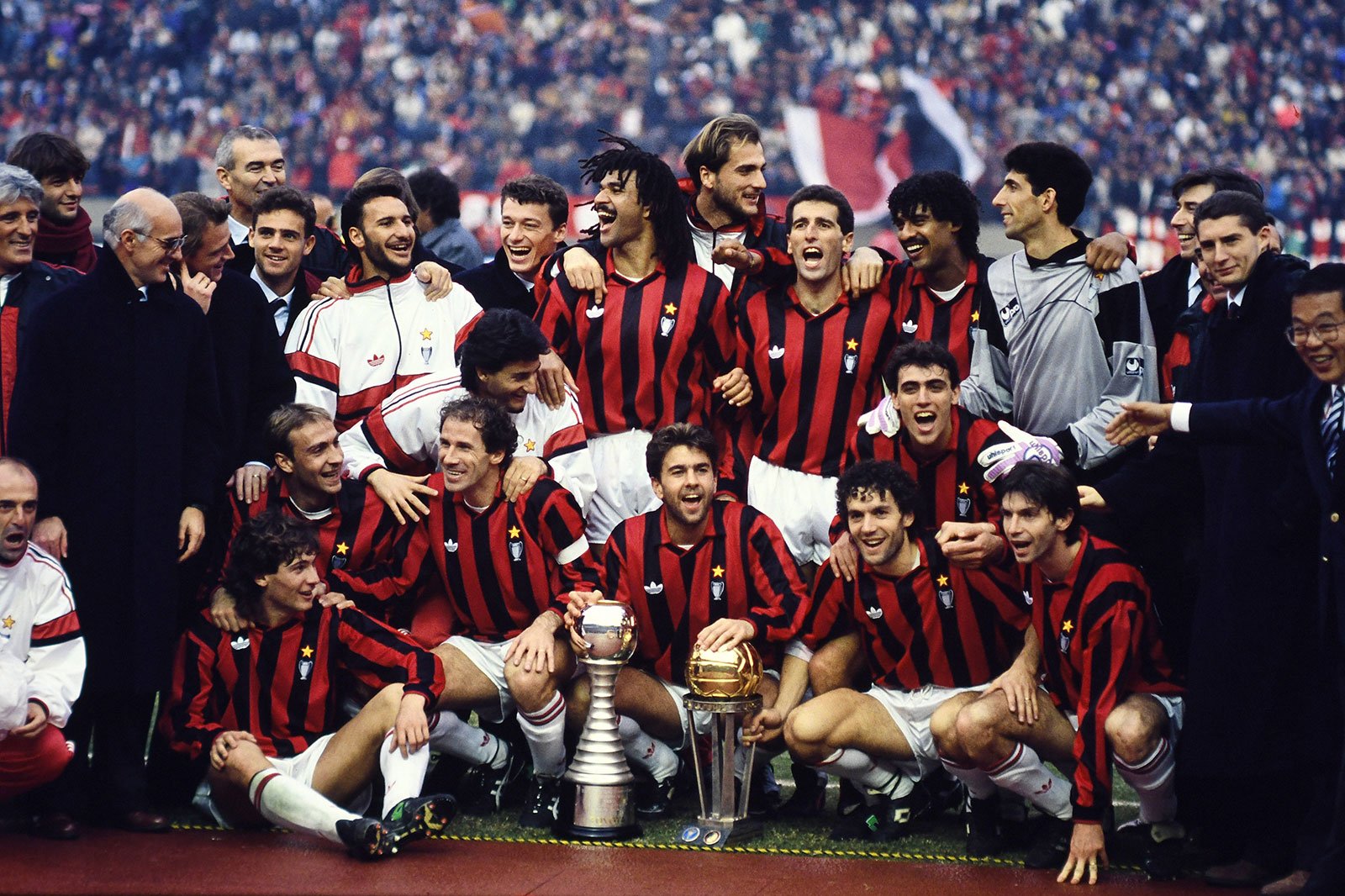 In the creation of the current Rossoneri group, one of the most united collectives, Maldini and Pioli certainly have great merit…
"Maldini, Pioli and Gazidis have created harmony and esteem between the parties. This creates a synergistic group that is giving its best. Maldini is an intelligent guy. I had him when he was very young but he had already played two Serie A seasons at a high level. I had a particular way of choosing players. Being used to poverty and being used to coaching in Prima Categoria or Seconda Categoria, I went to clubs that were used to fighting for salvation. Not having a lot of money to spend, I bet on the enthusiasm, modesty and intelligence of the guys. I did the same at Milan. I discarded players who were overly protagonistic or selfishness and people who were envious and greedy. I remember that I didn't want players who were phenomenal but would have undermined the integrity of the group. I remember that I once told Berlusconi about a player that his addition would be like inserting a neo-melodic singer into a rock orchestra. The first thing I looked at was the human and professional side. At Milan, in this sense, I found very good players like Paolo. There were great men, but at the beginning they were struggling to relate to each other on the field. One of the first things we looked at in training was the positioning of the body in relation to the ball when the opponents were in possession and not so much with the ball between the feet. In relation to this, the team moved together and in harmony. We were a connected team. I remember that once, against Napoli, Evani was tense because he had to mark De Napoli who had great pace. I remember that I told him not to worry because the team would help him. The union of intent is and always will be the secret in football."
This connection, this amalgamation and this unity was created in a special place like Milanello, which is defined by players and coaches as a magical place. What are your memories and recollections of this place?
"In terms of choreography and setting, it is one of the most beautiful sports centers ever. It is a place where you could work very well. The club made itself felt in this too. When Berlusconi arrived, when he saw something that was not working, he immediately called the director saying: 'the net has rust' or 'we need to change the flag' or 'we need to prune the hedge'. A maniacal and very important attention to detail that made it clear how much the club paid attention to everything. There was a lot of passion, especially from Berlusconi and Galliani. Every time there's a recognition, I call Galliani and Berlusconi to share this result because it was achieved together. When the certificates of esteem of World Soccer and France Football arrived, I remember calling Berlusconi reminding him of the words of the first day when he asked me to create the great team in the world. I remember that moment well. When he asked me, I told him that this request could be frustrating but also limiting. I swear, however, that I never thought that one day I would get such an important recognition, so much so that Ancelotti told me that they had not understood the greatness of what we were doing. I told him that I didn't understand it either [laughs]."
In addition to the three Dutchmen, in your Milan, there were extraordinary players like Evani, Donadoni or Ancelotti who were fundamental in your successes…
"Evani, when I arrived at Milan, was about to be sold to Genoa. I remember that I categorically objected. He had an injury and I saw him a bit hesitant but I needed him. Before a match against Verona I told him 'either you decide to play or I will see you in November'. He played and stayed. As for Ancelotti instead, I remember that our doctor, Monti, had ascertained that he had a 20% disability in his knee. I remember Berlusconi telling me 'how can you get a player like that? Our doctor says he has knee problems'. In the meantime, Galliani had called me and told me an agreement with Dino Viola had been found. At one in the morning on Friday, the day before the mercato closed, I called Berlusconi and said 'look, I am not interested in physical problems in his knee, I would worry if he had disabilities I his brain but that part works very well. If you take him, we will win the Scudetto'. I remember that he kept quiet for a moment and then he showed himself to be great by saying 'at your orders'. When we took Rjikaard, I showed him some of our team's games and he said: 'Coach, you already have a master in midfield', and I replied – surprising him – that I had taken him to play in defense. Rjikaard was a phenomenon, a great player, but at the beginning he had the person as a reference instead of the ball. He was not connected with the other players. It happened that our players were running backwards and he was running forward. In the course of time he grew a lot and became phenomenal. The great success of Milan was to play with great players who played with the modesty and intelligence of normal players.
Do you see any changes in attitude in today's football compared to the past?
"In Italy now there is an awakening, a sport of attempt to change the way football is interpreted. Incredibly, this aspect can be seen in the mid-low ranking teams that used to come to San Siro only to defend, while today they are more proactive. The current Milan team is reaching unexpected objectives because it is formed by a young group that does not have the experience of knowledge of a more experienced and perhaps more cautious group. The arrival of Ibrahimović has been very appropriate because it has allowed these guys to grow in their awareness. Hopefully he'll recover soon."
Has the Swede surprised you?
"Yes, in part yes, and I'm very happy for him. He has always been a great player but in some stretches a soloist while now I see him much more integrated into the collective. Milan have great enthusiasm. Great learning ability and a great desire to improve. There is a great team spirit and a very united collective shifted the vision of a single against 11 to 11 players against one. It reminds me a lot of the Parma with which I beat Milan in the Coppa Italia and with which we reached great objectives. If the collective fails, you can see all the defects of inexperience, but as a group, instead, they make up for what the teams that spend the most money have at the individual level."
Many ask you which is the best match played with Milan, but going against the trend – which is the most difficult match you played?
"There are so many games that would re-play. All the matches we won by not playing well for example. In Pescara I remember we won 2-0 and I had a very long face. Galliani said to me 'Arrigo, sometimes we can win even if we do not play well'. I said 'no' because he had to 'defend a style'. Gullit told me 'Coach, why in the last 5-10 minutes, if we have not scored, we do not try to send the ball into the box and resolve it with Maldini, Van Basten or Virdis?' I remember telling him that if we had the bad luck – not luck – of scoring goals then our style would have failed. With our style, came recognition for individuals who never had it before. Style says who you are and what you will be like. It will always give you a sense of belonging."