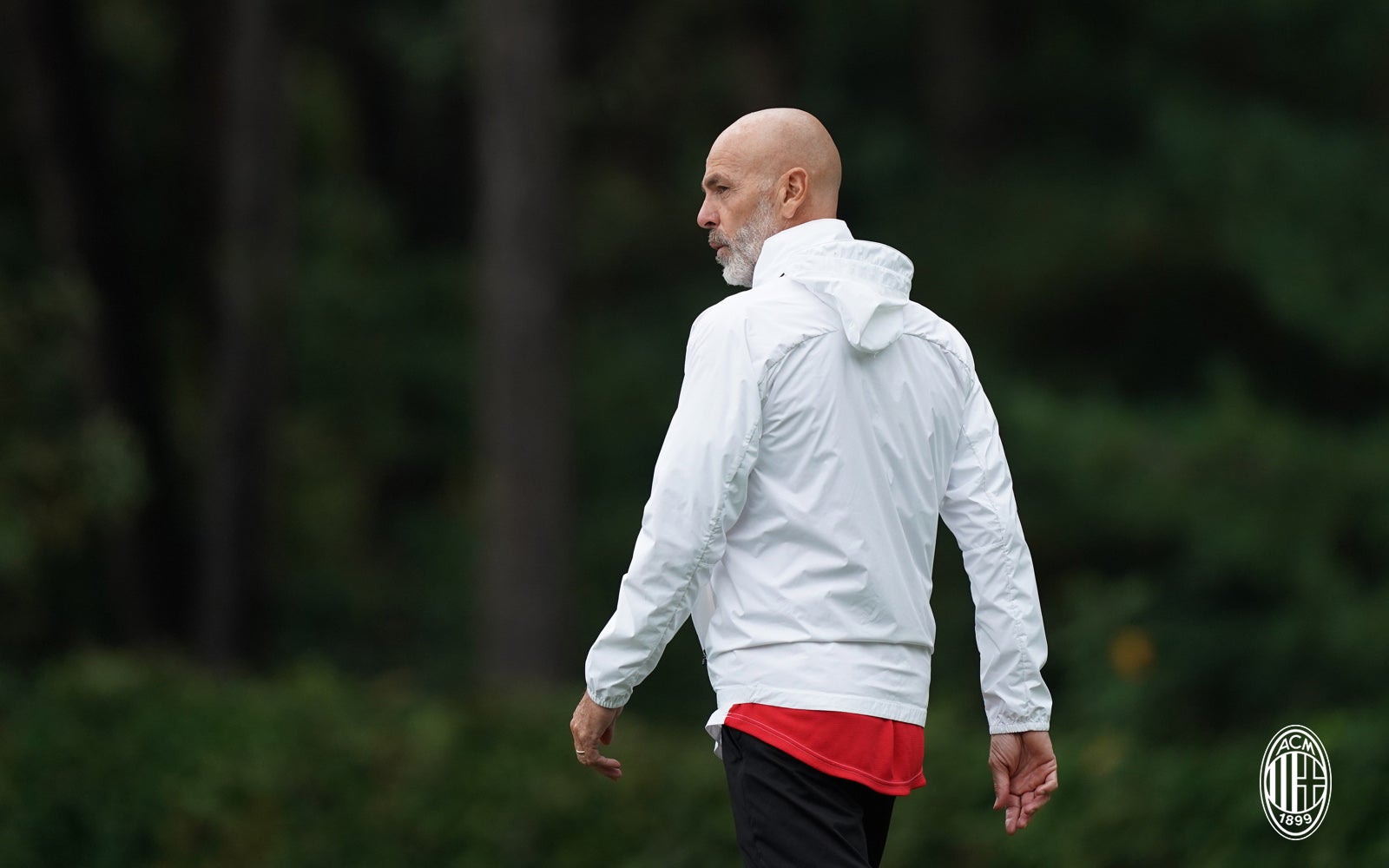 Stefano Pioli spoke to the press ahead of tomorrow's Crotone game.
Milan have been playing non-stop since football has returned and until the international break they have three games in the space of a week.
Tomorrow (18:00 CEST) they face Crotone away, on Thursday they are in Portugal against Rio Ave in the Europa League play-off, and next Sunday they return to San Siro for a match against Spezia.
On Saturday afternoon, coach Pioli sat down at the Milanello press room to answer some questions ahead of the match at Stadio Ezio Scida:
"If the fact that I was relaxed about fielding Colombo on Thursday took a bit of the pressure off him? I think that's the right approach, I think that's the approach and mentality that we need to have. When you are convinced you've prepared as best as you can, you then need to go out there with conviction and also the awareness of the fact that you are ready. So you also need to be relaxed and that can then allow you to perform even better as a result.
"How am I going to conduct myself with Colombo and whether I'll be a father figure to him or simply a head-coach and if I'll try to protect him or put him on the bench and take him away from the spotlights, or try to harness that good-feel factor from him scoring on Thursday? Besides the fact that he's 18-years-old, Lorenzo is a very mature guy. He's very switched-on in terms of the squad and the job that he needs to do. In terms of my mindset, I'm simply focused on picking the best XI tomorrow evening. So if I want to make a decision I will and I could also choose a different side.
"The fact that Çalhanoğlu made the difference on Thursday with his goals and assist? We're talking some really high-qualify technical skills, it's actually quite difficult. All be it, the second goal… really the credit needs to actually be split between the fact that Castillejo really played the ball at the right time and then Hakan did well to strike it correctly. But the Colombo goal was a deliberate back-heel because he saw a teammate unmarked 1v1 with the goalkeeper. So both from a technical perspective and from a decision-making perspective it was really high class football.
"What am I wary of before a match against this Crotone side? Crotone know how to play football, they set-up very well, Giovanni Stroppa has done an excellent job both this year and last year, they've brought in some excellent faces over the course of the last week and that can bring a feel-good factor to the team, they've got some good attributes in the side. They're an opposition side that we need to respect as always, they are well-aware of what they'll come up against in Serie A, they know they need to scrap and battle for every ball, which is why we need to prepare as well as we can for this match.
"If I like the way Stroppa sets-up his teams and the fact that it will be his first time as a coach against Milan after his history as a player here? Absolutely… he is a coach that gives a very specific identity to his side, in the last few years he has tweaked some positional play in regards to his players, he had a slightly different formation over the last few years and he's changed that now. He's got skill, his players and side play a very attacking, positive brand of football. So I think Stroppa is a high-class coach.
"Can Rebić play as a target-man or not? I think that Ante is first and foremost a forward… then in terms of the balance and shape we've got in the side, he is typically operating more on the left-flank and tending to squeeze in a bit. But he has a great ability in terms of running high up the pitch and I think he can also do a really good job as a center forward. He's a good player, he's someone who gives his physicality and quality so he can play in both positions without necessarily taking the edge off his ability and his potential as a player.
"Who complements Tonali best out of Krunić, Kessié and Bennacer? I've already said it and I think that all four of our midfielders can actually dovetail together. Based on the way that we want to play football, based on the way that we want to set-up, I see no reason why there would be certain priorities: whether we'd need only two ball-winners or one ball-winner and one deep-lying playmaker… we need midfielders who are able to do both phases of the game, we need intelligent footballers… I believe that they are that, I think Sandro is a young player but he's intelligent, he's mature, he's ready. He's only just joined the club. Sure, the way that we set-up is very different than the way that he played at his previous club so we also need to give him the time he needs to settle-in, to understand the way that we operate, but he's very much on the up.
"Could Leão be included for the squad list for tomorrow? Yes, there is a chance of that. He's only had three or four sessions but he needs to be with us… he's been out for a long time due to an injury, so the more time he spends with us – not only from a physical perspective but also from a mental perspective – so much the better, so he will be with us. From a physical point of view, he's a young player but he has a great deal of potential. So he's with us, he's available for selection, even if it's for a small part of the game.
"Have I ever considered playing Kessié as a center back? Yes, I've spoken to Franck and he's said that if needed he'd be willing to drop in at the back. I think he's the only player in the squad that is not a defender but in terms of the way he plays from a physical and tactical perspective, he is able to fill in as a defender. He's done it a few times in the past. Clearly, I hope that we don't have the emergency need. But if so, he's ready.
"If Calabria faced too much criticism last season and if this is the real Davide? That's part of the path of the player's development, it's all about overcoming obstacles and hurdles. Sometimes it's criticism and in often times that's the case. Often, there is a lot of praise and criticism, which is exaggerated in this industry. So we need to try and find the right balance, we need to stay focused, you need to be confident in your own and in our ability and then of course you need to be ready when called-upon. Davide is doing that, we're right at the start and we need to kick on from there.
"If Donnarumma has improved in his ability to start attacks from the back considering Colombo's goal on Thursday started form him? Yes, I think it's only fair that we underscore and underline the quality of our build-up play. I think we showed all of our principles of play in that passage of play. Gigio has really come on leaps and bounds with his feet, but he's always shown a great deal of presence and he always stood up and was counted upon, especially when we have the ball in possession, he takes up the right positions, so he gives a lot of options to his teammates that have the ball. Gigio is a point of reference and that has become a very important position now because all opposition sides are set-up to take you man-to-man, to press you high… so when you have a goalkeeper who knows when to hit it long or when to feed the ball through – obviously the teammates are the ones who give him the options – is very important in the modern game, it's essential to have a goalkeeper that knows how to read a situation. Gigio has come on a great deal in a number of areas and in that specific aspect.
"If the captain's armband helps Donnarumma? It is a source of pride for Donnarumma and I think that's clear and only natural because being the captain of such a prestigious club like Milan needs to be a great source of pride. However, I think that Gigio really is growing from every area, he's mature, he's on-board, he's positive, he's switched-on… and I think it's only natural. We've seen him play football for a number of years now, which means that perhaps people overlook just how young he still is. But he's really trying to improve even further and he's making significant progress in every area.
"Could Brahim Díaz be an alternative to Çalhanoğlu? That could be a good option for him and a good position for him, but based on the way we play, often in terms of the choices that we make, sometimes I prefer wingers cutting inside. But he can play in all three positions behind the striker, he has a lot of ability. He's also coming from a different way of working, a different tactical shape, but he's an intelligent player, he's ready to get out there and I think he will be very useful in a number of different positions.
"The upcoming week is very important with three games? Yes, it's an important week. We've started the season very well and I'm very happy with what we've achieved thus far. However, we naturally have seven huge games coming up, because we want to push on, we want to start the league season well and after the win over Bologna we have two very difficult matches. We need play as Milan, we need to secure some important points for the league table, and then we have that very important Europa League play-off. So, we're talking about seven days in which we need to be hugely-focused, we need a lot of attention, and then we'll have a chance to take a breather over the course of the international break. But yes, even though we're only at the start of the season, these are three very important fixtures, we're well-aware of that and I think we will approach them correctly.
"The fact that in 2020 Milan have been able to overcome difficulties better? There are difficulties and banana skins throughout matches and down the season as a whole, but we mustn't be frightened. We need to be aware that we have the opportunity, despite some absences that we are a united-together side, that we have a specific footballing philosophy and identity and that we play football and we try to win matches.
"If I miss the fans and would have rather have fans at the stadium tomorrow even though it's an away match? Yes, absolutely. We would have come-up against a very fiery fan-base but they would have been in celebratory mode due to the fact that Crotone have returned to Serie A. But everyone misses the fans, football is for the fans and is made for them and it's always very exciting and it will be a relief when I see supporters. The most significant moment of the season will be when we'll have our fans back at every game. So the players miss them, I miss them – we all miss them. It's a different type of sports. But the fact that we have done well to adapt to this new dynamic – and yes, that is certainly the case – is not easy because the fans give you adrenaline, excitement and the fact that you don't necessarily have them behind you means that you have to come up with a different way to actually prepare with how to approach games at a 100% level. But it's something different all together when you have the fans there.
"What needs to be the next step for Milan to get even closer to Juventus and Inter? We need to keep improving, we need to keep progressing because we've proven that we have a lot of quality and ability, but we've also highlighted certain areas where we make mistakes. There are still some areas where we're less clear-minded than we need to be when it comes to decision making, we need to be even more compact, even more focused and aggressive. So there is a whole host of different situations that we can improve upon. That, either way, is part of the developmental process, we need to constantly try to grow and improve. We need to try and get better as individuals, as a team, because when you get to the highest level you can always try to do something more and go that extra mile.
"What did I like about Thursday night's game and what I liked less? I think we did a lot of great things with the ball on Thursday but I think we need to work a great deal on when we're out of possession. Because when we weren't able to press them high, then we need to be a bit more organized; we afforded the opposition a few too many chances. However, these are all areas that we need to improve upon, that when we need to develop. And it's also true that we're playing matches every three days so we're working a lot about the previous match so we can develop for the following game because we don't have a lot of time on the training ground.
"The fact that Milan haven't had such a long unbeaten streak since the days of Ancelotti? I don't think we should be looking at that in this moment in time. We need to keep it to ourselves. It's more important to be aware of what sort of progress we're making, where we're headed and we need to keep getting better. We need to try and approach every match as best we can. We need to focus on tomorrow night's game. It's been a while now that we're realized that matches are very tricky, not only domestically but we also the proof of that on Thursday night – they are not a big name but Bodø/Glimt caused us problems, they were prepared, they were fit and firing… Crotone also have their strengths, so we need to focus on what we need to do tomorrow night and then on Thursday and then on Sunday against Spezia. Then we'll think about up upcoming matches and in the end we'll focus on the process that we're involved in and what we've been able to achieve.
"If being able to dig in and suffer an important part of a team? That's the way it has to be because if you don't have the strength and the ability to kill off a match and put a game to bed then in the end you need to dig in and you will have some hairy moments. But in terms of Thursday, I don't think we should have afforded that last opportunity to our opposition because we were set up well and we needed to be more switched on to make sure they didn't have that chance. But it's only natural that occasionally you have to dig in and suffer over the course of the match and you can't assume that you're going to win every match by 2-3 clear goals. We're a good team but we're also coming against sides that can cause us problems and we need to keep that in mind.
"How Ibrahimović is doing? I've spoken to Zlatan, I spoke to him after the game on Thursday and last evening. He's fit and firing, he's training at home, he's very motivated, he's in-touch with his teammates. Clearly, his absence will be significant and we will feel it, but we need to make sure this is an opportunity to show our progress and we need to show that we can still get results to make sure that when Zlatan comes back, that he can rediscover an even stronger side than the one he left behind. And then the club doctor will figure out the rest, I can't really pay too much attention to that."