Stefano Pioli has spoken to the press ahead of tomorrow's Bologna games, discussing the opponents, individual players, the new signings and more.
Tomorrow the Serie A campaign starts for Milan as they take on Siniša Mihajlović's Bologna at San Siro (20:45 CEST kickoff).
With a place in the Champions League on their minds, the Rossoneri will have to pick up the three points on Monday evening. Ahead of the game, coach Pioli sat down at Milanello for the usual pre-match press conference, answering the journalists' questions:
"How Mihajlović will motivate his players for tomorrow considering it hasn't been long since his Bologna lost 5-1 to Milan at San Siro? Yes, but we're talking about a previous season, this is a new campaign and tomorrow night will be a different match. We'll come up against different opposition players. He changed his team selection because we were playing a lot of matches in quick succession at that time so they'll be hugely motivated but so will we because we want to start the season well.
"If I've seen something new in Mihajlović's Bologna side compared to last season? We were only able to see their two friendlies that they played. I think they have tweaked something in regards to build-up play, they take up slightly different positions, but they have maintained that same intensity and aggressiveness that can cause you problems, and they have some quality players in the final third, a lot of pacey players up-front. So they naturally have a lot of ability and clearly we need a great deal of determination, we need to keep a clear mind and we need to really focus on the way that we set up, our ability and our guarantees.
"If I'm more relaxed now after seeing the team against Shamrock Rovers considering I said I was worried before Thursday's game? I'm always slightly torn on the eve of a match because on the one hand I'm always convinced that I've prepared the match as best as I can and to tackle the issues we might arise in the upcoming match, but football is unpredictable, unexpected events can occur. But the first competitive match of the season was a knockout game, there were some banana skins because we were coming to the game after some good friendlies but we hadn't played any competitive games, and we were up against an opposition with better fitness levels than us.
"But I never had any doubt as to the team I'm coaching, because we haven't been working together for three weeks – we have been working together since October of last year and above all since January of this year. We have a very clearly-identifiable style of play, we have quality players, we have a way of setting up the players are fond of and we have a lot of guarantees from that perspective. But we will need to re-produce all of that and the performance level three times a week and we really must believe in our capabilities, we need to respect the opposition and we need to be well-aware of the fact that there will be obstacles to overcome over the course of 90 minutes, but we have the opportunity now. We always talk about laying significant foundations that we can build upon and that really is our aim again this term.
"If it's an honor or a responsibility to have people place us high up in the standings? It's a privilege to have pressure – that means that you've reached certain levels and if you are able to work and play at certain levels then it's only natural that you have significant expectations. Naturally, our goal is to improve upon last season. However, there's no point thinking about predictions or who might start as favorites because in the end it's our performances out there on the pitch that will determine our league positons. That will tell us where we've come to. But naturally we need to be an ambitious side because we're Milan, we play to win. We'll be playing to continue to improve, we're still a very young side, so I think we still have a big room for improvement.
"If Milan can aim for the Scudetto? I don't know… it's quite hard to answer that question at this moment in time, I think we need to think about continuing to get better to improve and we need to try and show that we're an ambitious team, a strong side, week-in week-out, we need to show that every Sunday. As for predictions and forecasts, they are often made to be proven wrong. So we're going to approach our opening match of the season the best we can, I think Milan have always lost their opening match of the season in recent years so this is a target… we actually want to start this season with a positive result.
"If Milan could finish third? As I've said, Milan need to be ambitious, we need to try and achieve as much as we can, we need to try and strive for the best by playing with the greatest possible confidence and belief that we can win.
"The fact that Milan have often done well in the second half of the season after getting disappointing results in the first half? I think if we really want to improve our league position based on last season and finish in the Top 4 then it's very important to make a flying start to the season, absolutely. You can't think about just having a strong second half of the season playing catch-up because it becomes very difficult, you don't have much margin for error, you always have to really chase hard after the other sides, so it's very important to start the season well and we're very focused on tomorrow night's game because of that.
"If the fact that we miss a lot of in front of goal concerns me? I think the most important thing is to continue to get goal-scoring opportunities, to create chances – a lot more than the ones that we afford the opposition. If we push on from that, if we keep going then we'll have a lot more chances to win matches. And the more clinical and efficient we are, the more we can win games as well.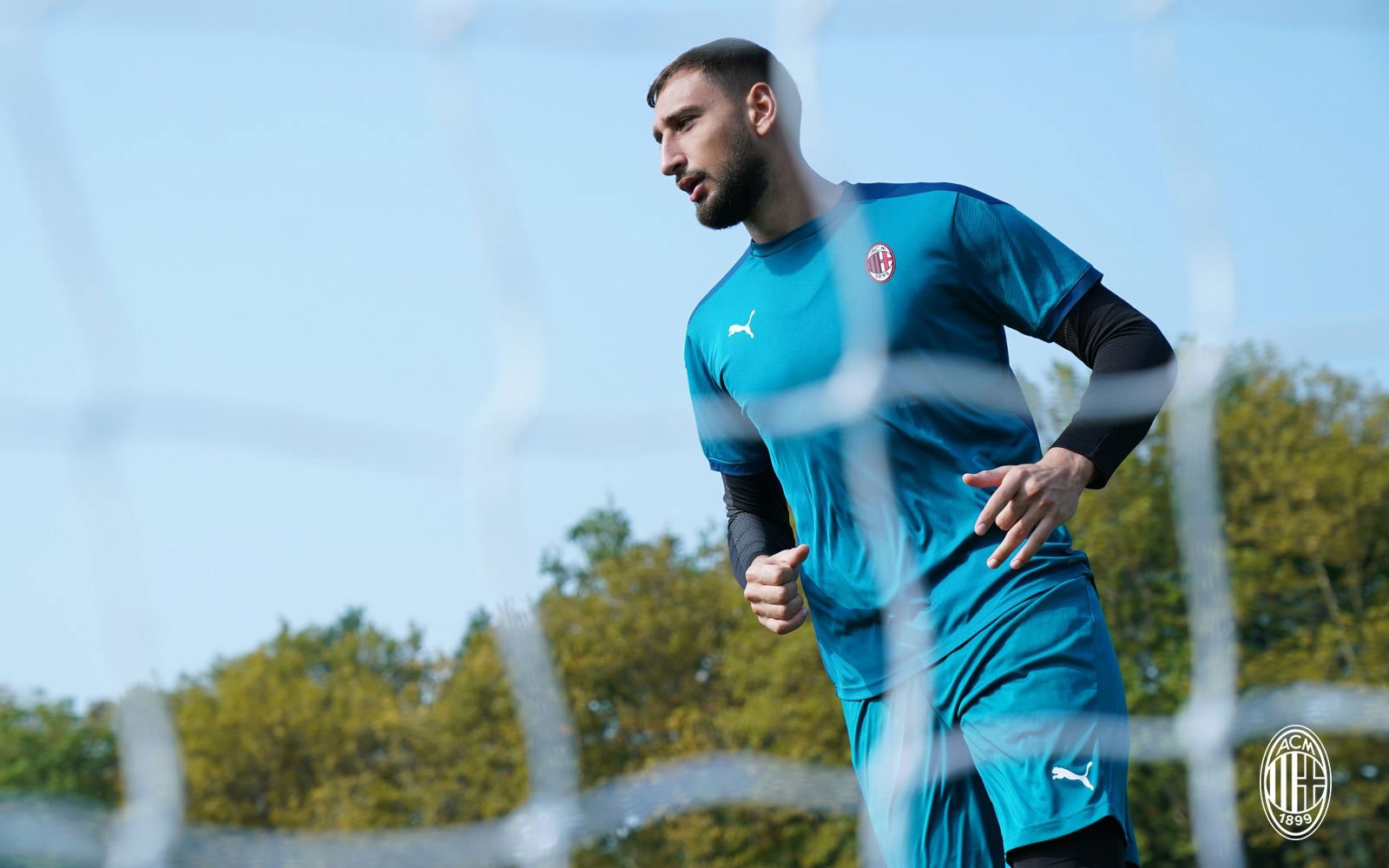 "A motto for the new season? Never give up and keep improving.
"What are the difficulties at the start of the season? I have no doubts about the team, the fact that the team has a certain approach, that we take the game to the opposition, that we're always focused, that we play attacking football – that's part of our identity, the way that we prepare and approach matches. The only banana skin, the only uncertainly we have – but that's the same for everyone for the first competitive game – is that after 45 days in which you haven't had competitive fixtures, there are always banana skins around the corner that you don't expect. But we're prepared, we've already played one competitive match. So from a mental perspective we have prepared for one game, from a physical perspective we played 90 minutes at a high tempo. Tactically, once again, we took up the right shape and that should give us greater confidence for tomorrow night.
"The fact that Milan have improved post-lockdown in how we read the game? I think that's a significant attribute, really to be able to choose your moments in the game and also knowing when the opposition are struggling and really maximize the issues they are encountering. I still think we need to make progress on that thing, I think we need to move the ball a little quicker and occasionally shift it more directly to catch the opposition off guard. But I think we're on the right track, we have a lot of options and opportunities to be dangerous.
"What are the main factors for Çalhanoğlu's growth in recent months? First and foremost, we need to start from the ability that Hakan has, because performances ultimately come down to that. He's very technical, he knows where to pick up space, he reads the game very well and he has a very understanding with Ibrahimović. That's very important, because both of them are able to operate between the lines, but Çalhanoğlu also runs high up the pitch into space, just like Zlatan. So a lot of it comes down to his technical and tactical ability, and also his willingness to work very hard, he has a lot of ability and he's also hard-working. So Çalhanoğlu has absolutely everything it takes to be a leader in this side and to continue to perform well.
"The settling-in process of Brahim, Tonali and Tătăruşanu? Their settling-in period is also being facilitated by the fact that they've come into a squad that is very settled, that works very well, that works hard for each other and gets on well. But these are three quality players, Tătăruşanu has a great deal of experience, he was already familiar with Serie A. The two other guys are young players, they're naturally very talented, they're big prospects but they can also help us out immediately.
"What season will this be for Rebić? Ante is a hugely important player for this team, he has ability, physical power, he runs high up the pitch, and he complements the attacking players that we have. It's a shame that he wasn't able to contribute in our opening match in Dublin but he's ready to play tomorrow night, he's fit and firing, he played a full game for the national team and then 45 minutes. I think he's ready, willing and able to play his part for the team.
"If there will be more rotation in the starting XI than last year? Above all, because it's the start of the new campaign and we've had players who've just now joined the club, the most important team is to pick the team that provides the most guarantees from a fitness perspective. We are going to be playing a lot of matches if we can get past the next two Europa League rounds and there will be opportunities and rotation. But it comes down to this specific match, whether to push on with that same XI, how the players are physically, whether or not I want to make some changes… some players have had a few issues but they are improving, and I've got a lot of players to pick from in my squad. Having five substitutions, given that we have such a busy calendar is very important and we need to make the most of it.
"If Paquetá can still be recovered considering he can't seem to fit my style of play? Yes, Lucas has some issues both in regards to the tactical shape that we take on the pitch but also because he's a player with some unique attributes. But we'll see what happens in the mercato between now and the end of it.
"If after Rebić and Çalhanoğlu, Calabria is another player that has got back to his best? Yes, I think he's shown consistency, he did it at the end of last season and I think he's made significant progress in terms of how relaxed he is, his confidence levels… he reads the game very well, he's tactically very strong and he needs to kick on from that.
"When do I plan to include Tonali and Brahim? It depends on them, it can be a short or a long process. But they already know what to do within our style of play and the way that we set up. I hope that I can give them an opportunity and a bit more playing time as quickly as possible because players need to get out there, they need to get to grips with match intensity. We've got a game tomorrow night and then we play on Thursday and then against Crotone on Sunday… we hope that then we'll be playing on the following Thursday, and then we face Spezia after that. So I think there will be opportunities for several players in these matches.
"The fact that 1000 fans are now allowed in stadiums? I think it's a significant first step, but it's only a first step… we can't wait to make sure that the ground is once again full of our fans, full to capacity because we need them, and football obviously needs supporters. I hope that this can happen as soon as possible because it'll probably mean that we've also won the battle against COVID19.
"If the team is once again ready to play a lot of matches in quick succession? I think the team is prepared, above all, from a mental perspective and in terms of professionalism. Naturally, playing a lot of games in such quick succession requires professionalism: you need to train well, you need to play well, you need prepare well, eat well and rest-up well. But the players are professionals and I think that they have the desire and they enjoy to be playing so many matches. That is our aim: to be playing as often as possible and to do the best we can."