Ante Rebić has given an extensive interview SportWeek and like on the field – he did not hold back.
The player who has made the biggest improvement in the second half of the season is without a doubt Ante Rebić.
The Croatian barely featured in the first part of the campaign but has now become indispensable: he is the only player at Milan who's reached double figures (10 goals in 22 league games) and his impact on the pitch is undeniable.
Ante is currently on loan at Milan from Eintracht Frankfurt, as part of the exchange that sent Andre Silva to Germany, but it's clear that there is a mutual desire to see Rebić keep wearing Red and Black.
Rebić has given a very interesting interview to La Gazzetta dello Sport's Weekend magazine, SportWeek, and you can read the whole thing below:
A friend, half Italian and half Slavic, says of you: a typical example of a Western Balkan: brilliant and unruly, poorly-balanced, difficult to frame…
"[Laughs] There are two Rebić's. In private I'm very tranquil, a little closed because I don't like people talking about me too much. On the pitch there's another Ante, who's a pain in the butt of everyone."
Of whom more: teammates, opponents or the referee?
"It depends. When the referee whistles well, 50-50, then I'm calm. But when I see that he makes too many mistakes and is always in favor of the other side, I don't like it. I become unquiet. In reality, I look unquiet but inside I'm calm. It is to the outside that I demonstrate the opposite [smiles]."
Is this also your strength? This fire and motivation that you unleash during the game?
"I would call myself conscious. I know what my qualities are, I'm physically strong, fast and I play with both my feet. And I'm also strong in my head."
In what sense?
"I'll give an example: in the game won against Juventus, at a certain point I said something to Higuaín… I don't like those who like him who are strong and big but stay on the ground for three minutes at every contact. Same goes for Bernardeschi. The same thing happened against SPAL. Ibra gets fouled too but he gets up straight away without a whimper. Others cry too much. I said something to Higuaín and then Szczęsny said: 'You are losing 2-0, do not be a phenomenon'. I didn't answer. Normally I would have replied, because another thing I don't like is when they underestimate me. But at this time I didn't say anything. I replied to Szczęsny in another way [with the goal of the 4-2]. This is my strength in the head: whoever attacks me, fires me up."
Have you ever been underestimated by your opponents?
"Two years ago, before the German Cup final. We, Eintracht, were against Bayern at the Olympiastadion in Berlin. On the eve of the game, we were both training on the pitch: first them and then us. We met the players of Bayern and I hear Thiago Alcantara saying to my teammate Kevin-Prince Boateng: 'The pitch is perfect, tomorrow you do not touch the ball'. I think: 'Maybe tomorrow I will not win, but I will kill you'. We won 3-1, I scored two goals."
Fierce and proud. And then what?
"Once, my teammate in the national team, Mario Mandžukić, said: 'Maybe in your eyes I am a bit boring, but in mine I am a lot of fun'. I do the things I like, not what others like."
And what is it that you like to do?
"For example, take the quad bike and go where no one bothers you, to the hills around Imotski, my city. We bring food and go up to the woods, where there is not even cellphone reception. If you die, nobody will find you [laughs]."
But is it true that after the World Cup you received declarations of love from all the single women in your city?
"They put giant posters on the street… but only because we made it to the final. Before the World Cup, zero."
Family?
"My dad Bosko has a Tour Bus company. He takes care of everything in my life outside of football. My mom's a secretary at a law firm. I have two sisters."
Did your dad put the ball between your feet?
"No, a school friend of mine, Ivan. I was 6-7 years old."
By the way, they say school wasn't really your thing…
"It's not true. I finished High School with Business-oriented classes. Two years in Imotski and two years in Split, where I moved to play. I liked football more than school, but I did what I had to do."
At 19 you arrived at Fiorentina. Too early?
"In the first two years as a professional in Split, I'd scored 5 and 10 goals. I decided to try at a higher level, but maybe I wasn't ready for Italy. I didn't know Italian, Montella didn't know English. But the real problem was not playing. They told me: 'We will have two strikers – Mario Gómez and Giuseppe Rossi. Then there is Josip Iličić, you are the fourth'. Gómez and then Rossi got injured. I thought to myself: my time has come. Instead, nothing. So I went to Leipzig."
You got to know Rangnick there…
"I had done well at the World Cup in Brazil, so he, who was the head of the football division of Red Bull, called my agent and told him he wanted me. He came all the way to Firenze: 'Welcome to Red Bull. Take your pick: do you want to play in Salzburg or in Leipzig?' I chose Leipzig, who were in the German second division, but the project that Rangnick had illustrated to me was important and the facts proved him right. But also there I played little because of the coach, Alexander Zorniger; he had his own group of trusted players in which there was no room for new players."
So you went back to Firenze…
"For six months. The coach was Paulo Sousa. I was playing mainly in the Coppa Italia and in the Europa League. Less so in the league, but three times out of four as a starter. I was in the midfield four of the 3-4-3 and I was covering the entire wing. It was 2016, the year of the EUROs. I didn't want to risk losing it, so I asked my agent to send me somewhere else, no matter where, as long as I'd be playing. So I went to Verona, but National Team Coach Ante Čačić didn't call me up. His loss… he was eliminated in the second round."
Four years ago came the turning point of your career, at Eintracht Frankfurt…
"The coach was Niko Kovač. I had him as the national team coach in the Croatia U21 team: in my debut match against Sweden I scored a goal in the first minute. Since then there has been a unique relationship between us. When I feel respect and consideration from someone, I return the same respect and even more. In the same way, if one shows that he does not appreciate me, I repay him with the same coin. I'm not capable of pretending. Between Niko and me there was frankness and sincerity: he would tell me what I had done well and I would listen and perform. That made all the difference. In general, I listen to the advice, and then I decided in my head."
At Eintracht you teamed up for two seasons with Luka Jović. Is he a player 'da Milan'?
"I can't say, he hasn't been signed yet. But it is no accident that he went to Real Madrid. Things didn't go well for him because he had too many injuries. I don't know what happened in his head, and now they have an image of him that is not the real one. We Croatians are all a bit peculiar. In Germany they don't distinguish between us and the Serbs, to them were are all Yogo, to you we are all Slavs. Jović has to focus only on football, because he's really strong."
At Eintracht you played as a winger, winger striker and trequartista… favorite role?
"Playing with someone like Ibra, who takes the ball with his head and opens up spaces. Last year at Eintracht we did so because I was attacking the deep spaces, Jović was scoring and Haller was winning all the aerial duels. I knew Haller was going to win it, so I threw myself inside. This is what happens today with Ibra."
What did Germany leave with you?
"It taught me to work hard. There they leave no one behind. You receive as much as you give."
What did you know about Milan before arriving?
"I remember Ronaldinho, Beckham, Shevchenko, obviously Maldini and Nesta. Instead, Boban, who is Croatian who was born in my own city, Imotski, I don't remember, no. Same goes for Savićević. I was too young."
Is it true that Boban was decisive for you arrival at Milan?
"Yup. He also called me after the Juventus game. He was glad that I was showing that he had done well to take me."
What did not work in your first few months with the Rossoneri?
"I never spoke to Giampaolo. When I went to Frankfurt to sell my house in January and the newspapers wrote that I was returning to Eintracht, I said: 'I want to play 4-5 games in a row at Milan. If I play badly, it will mean that this is not my level and I will be the first to say that I cannot stay'. I didn't want to leave without having an opportunity. When it arrived, I took it."
And what is Milan missing to bring back your memories?
"In recent years the ownership has changed several times, the coaches have changed… the team has struggled. The first 3-4 months of this season started badly as usual, but now we have taken the right path and we must continue, because we have qualities. All the players who are here did very well where they played before, they just needed a little peace and trust. Since January, we've been playing much better than before, we know each other more. Today I know how Castillejo moves, how Bennacer gives me the ball. I know my teammates better and they know me better. And in 10 days we beat Roma, Lazio and Juventus."
Is this team mature enough to walk on its own two feet or do you still need someone like Ibra?
"We need him. Ibra is a leader. Before the Juventus game he said to us: 'I will show the Juve players how to play football'. It was his way of firing us up. Begović, Kjær as well… mature players who know how to calm you down or encourage you."
What has Ibra taught you?
"He has brought so much to everyone. But when he says something, many are silent. If, on the other hand, I don't think like him then I tell him."
It is true that in the game you turn off a bit and turn on a bit?
"My game is more expensive than others. I always move vertically, spirting 30 meters a 100 times a game, it's clear that after a while I have to rest. The coach and the teammates know that."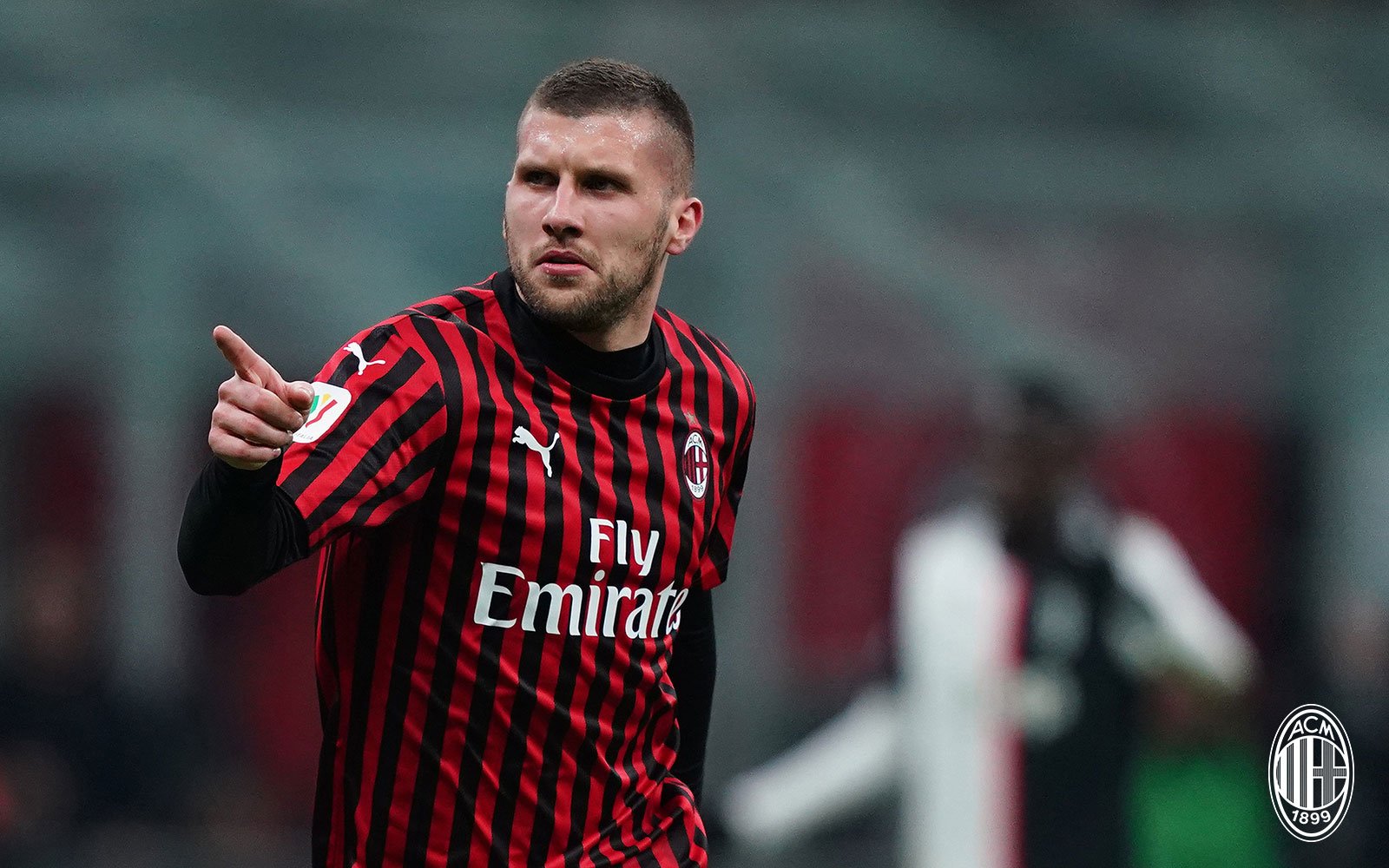 What do you like about Milano?
"Everything: the city, the people, the climate…"
Which shops do you like to enter?
"I like cars, but I don't want to be considered the classic footballer. I don't want people to see Ferrari or Porsche and not the rest."
If it were up to you, would you stay at Milan?
"I've already said it: yes."