Stefano Pioli has spoken ahead of the game against Bologna tomorrow, discussing the improvements of Kessié and Çalhanoğlu, as well as the possibility of leapfrogging Roma and finishing the season in 5th place.
The Diavolo want to continue their good run of performances and results when they meet Siniša Mihajlović's Bologna tomorrow at Stadio San Siro (21:45 CEST).
There are five more games until the end of the season and it's very likely that these are the last matches of Pioli in charge of Milan. Despite the excellent results of recent weeks, it's almost certain that the club will appoint Ralf Rangnick in Pioli's place for the next campaign. However, the former Fiorentina boss focuses on the here and now.
"If I would be putting the league standings back on the walls of Milanello to encourage players to do even better after previously removing it? No there's no need for that because the team is well-aware of what the position is, they know what we're doing well," Pioli said during Friday's press conference. "But they're also fully-aware of the fact that the next five matches are very important because we need to try to continue pick up as many points as possible, because we still need to improve our league position and we haven't achieved anything yet.
"The performances of Kessié and Çalhanoğlu and the fact that they don't have a specific position on the pitch but are very modern players who attack and track back? That's what modern football is all about, players need to be able to operate both going forward and tracking back. Naturally, Çalhanoğlu and Kessié have those attributes and they also need to provide options for their teammates, they need to be able to read the space. We need to be able to come up against opposition players that can change position and formation during the game or from one game to the next so we need intelligent players who can read the game. Modern football does require switched-on players, positive players, guys who are ready to change position and are able to read match situations that can change very quickly.
"What has changed post lockdown considering we've scored 20 goals from the Lecce game to the Parma game while in the first round against the same teams we scored 7? As I said, the work we've done is ongoing and naturally this process could not produce results immediately. In the past we produced some excellent results, but we were unable to take all the chances that we've created.
"But we have become a team, it has taken time and that is natural. I think there are a number of different factors which have contributed to the fact that the team really is exactly that. We balanced different positions with players with different characteristics than the ones we had earlier on this season. We've worked very hard, we've worked moving towards new ideas, new positions, new ways of setting up and it did require a bit of time, and now that we have become a team, we need to stay united, stay together, because we are still talking too much about our future but this here and now and still too important. We must have great respect for the opposition tomorrow, we are coming up against a team that produced a massive performance against Napoli the other day, they've won 6 games on the road since Christmas, they've already beaten Inter at San Siro, they're an aggressive side and they are doing well mentally, physically and tactically. So now we are fully focused with our hearts and minds on what we need to do tomorrow, because we've done a good job, we continue to do a good job but we must continue down this path.
"Is Pioli now having fun coaching Milan? Pioli is very happy at Milanello, yes. Pioli is happy with his squad but it's not the case of Pioli just being happy with his team… it's the whole environment, the whole staff here at Milanello. Excellent individuals, everyone has been so hardworking, there are wonderful facilities… As I said, this squad is all much focused on one thing, which is trying to give 100% for this club and get the best possible results. We know that the next two weeks could mean a lot for our league position, for our here and now, so we need to simply focus on the job that we have in hand. We have neither the need nor the desire to think beyond tomorrow's game and then Sassuolo, Atalanta, Sampdoria and Cagliari, that's all we need to do.
"If the objective is fifth place and taking over Roma, or the Europa League? No, we want to try to get as many points as we can until the end of the season, we're going to try and produce our best football out there on the pitch and in the end we'll draw conclusions and see where we are. Qualifying to the Europa League straight into the Group Stage would be a significant target, but in order to do that we need to make up some points, so we need to think about these next five matches and try to win as many as we can. That's all that we can do, that's all that is in our own hands, so we need to be focused on doing that.
"If I don't think it's strange that I said that we need to focus on the here and now when the likes of Çalhanoğlu, Ibrahimović, Donnarumma and I are linked with a move away? No, we all need to be protagonists over the next five games. We will need to take a starring role, and then we'll see what happens.
"With five matches to go, how do I see this match-up in the standings between Milan and Roma? Roma have the advantage over us so we need to keep pushing on and we need to try to get as many points as possible. But we mustn't hope for our oppositions for fall down… we need to be very aware of the qualities that we have, we need to be aware of the fact that tomorrow night's match will be a very tough match and it's equally important because we have the opportunity to do a good job, we have the opportunity to continue with these performance levels and show focus, and we need to use all of the ability we have tomorrow. And above all, we are up against such aggressive opposition, they will not allow us to play easily. So it's from a technical perspective that we need to be excellent. We have that within our locker but we need to make sure that we produce a very precise performance of a high level.
"What sort of banana skins will Mihajlović lay out for us tomorrow night? With regards to my opinion on the job that Mihajlović has done at Bologna then I think he's worked absolute wonders when he first took over last year and he's pushed on from that. He has a team with good ideas, an aggressive side, they play a high tempo, they want to play the game from start to finish and he prepares the game to try and cause us problems. We need to expect that, there will be issues, but we'll have the quality and the ability to play our own game.
"If the fact that when players like Biglia, Laxalt and Krunić who haven't played much this season, get on the field and give 100%, shows that I'm experiencing a very unique time here with Milan not only from a professional perspective but also a personal one? When I spoke about us being a team, I didn't only mean from a technical and tactical perspective in the game, but in terms of a team spirit, the desire to work together, the willingness to share things and to want to give 100% for the best of the team. That is what we're doing, we've always done that and I think we've done a very good job when the going got tough. Because it's easy to be a team, it's easy to have fun when you're getting results and you're winning matches… it's harder to believe in what you're doing when the going gets tough, particularly in regards to results. But we have done a good job in terms of believing in what we're doing and really staying true to the way that we work and the way we play, and that is what being a big team is all about, having players always willing and available and to put to one side personal ambitions for the best of the team. That is very important.
"Will Ibrahimović start tomorrow night? Today's training session as well as tomorrow morning's session will be very important. I don't think we need to ask Zlatan how he feels, because if you ask him he'll always have a sure answer that he's fit and firing. But so do all of his teammates. So I'll make a decision based on the starting XI and also above all, based on the fact that we need to make sure that we have qualities and substitutes available with specific attributes. It's important to start well in this moment in time, but it's also important to have players that can guarantee character and ability in important stages in the game.
"It almost feels like Mihajlović and I have parallel careers as we've both coached in many of the same clubs? Yes, we have obviously been in similar clubs, although in different years naturally. I think each of us has our own ways of behavior, our personality, our character, the way that we produce football, but he is trying to do as much as everything to get the best out of his players.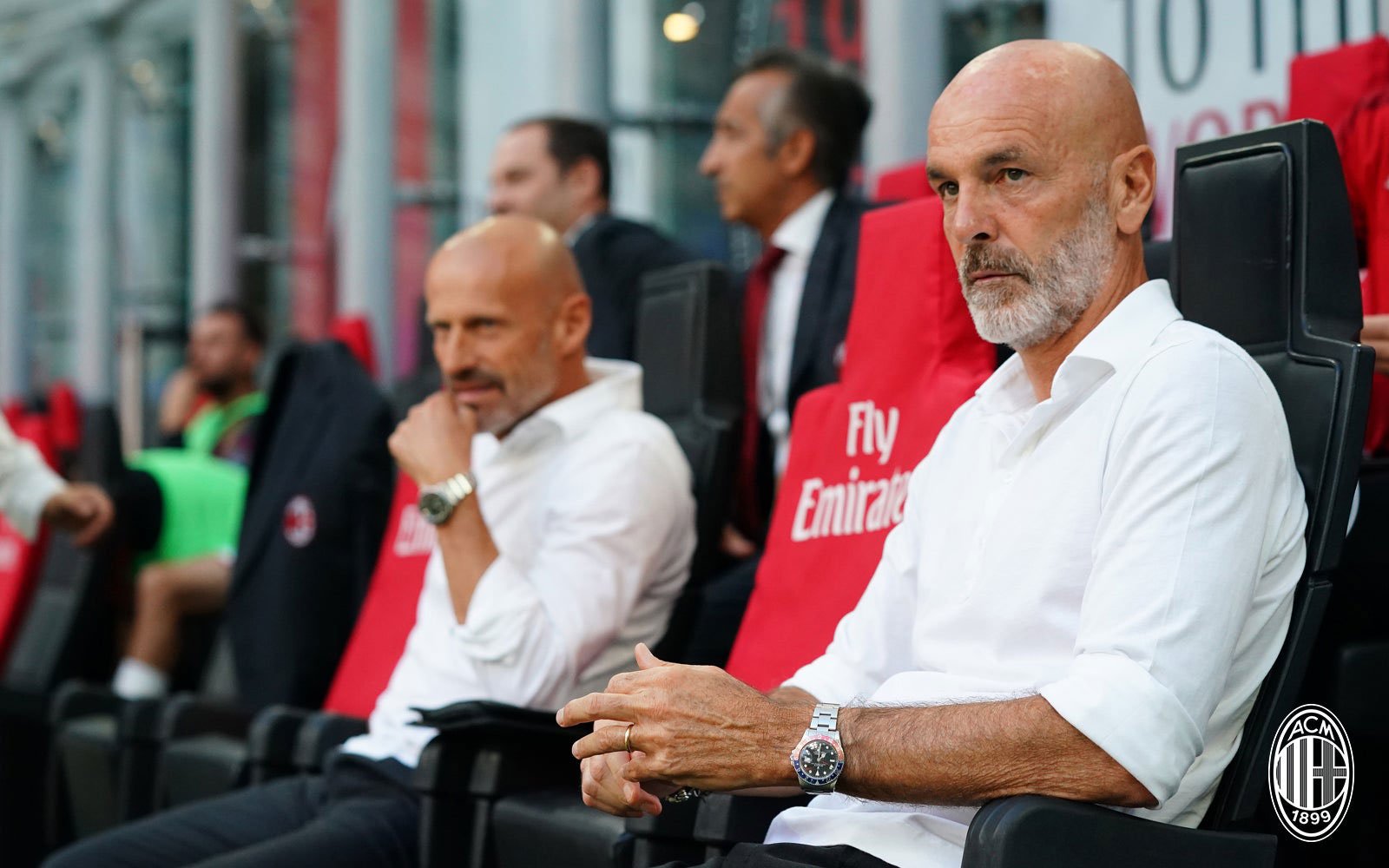 "The talk in Italy about reopening stadiums and if it would be nice to have the final match against Cagliari at San Siro with fans? It wouldn't be great, it would be wonderful! I'm not trying to please anyone by any means, but the Milan fans are fantastic. I'm not just saying for the sake of it, but they have been very enthusiastic even when the going got tough, even when the team was not getting the results we were hoping for, even when the league position wasn't where we wanted to be. But it didn't take much for you to find their enthusiasm, their excitement, so I can only imagine what it would be like now to play the last three home games at San Siro in front of the excitement and support of our fans. So it'd be wonderful, like I said.
"But it's equally important to continue to be very cautious and keep an eye on what's going on, both here and around us. I don't think it would be possible this season, even though it's a huge disappointment not to have our fans around us. But I hope that from the following campaign we'll be able to reopen the stadiums because football is all about adrenaline, tension, enthusiasm, passion… so without fans obviously the game is very different."