Simon Kjær has officially joined Milan until the end of the season, with an option to make the move permanent.
After announcing the move of Mattia Caldara to Atalanta yesterday, today the Rossoneri confirmed the arrival of Kjær.
The 30-year-old Dane spent the first half of the season on loan at Atalanta but didn't get too much playing time. However, under Stefano Pioli and with a four-man backline, the club believes that Kjær can be a good option at the back.
"Milan have reached an agreement with Sevilla for the acquisition of Simon Thorup Kjær on a six-month loan until June 30, 2020, with an option to make the deal permanent," a statement on the website reads.
"Simon Kjær, born in Horsens (Denmark) on March 26, 1989, started his career in the academy at FC Midtjylland, making his first-team debut in the 2007/08 season. During his career, he has also played with Palermo, Wolfsburg, Roma, LOSC Lille, Fenerbahçe, Sevilla and Atalanta, registering 20 goals in a total of 408 appearances. Kjær has been the captain of the Denmark national team since 2016, with 3 goals in 95 appearances.
"Kjær will speak to media for the first time as a Milan player during a press conference on Thursday, January 16th. The press conference will be aired live on the Club's TV Channel Milan TV and on Milan Official App. Welcome Simon!"
Kjær already trained with the squad and could be called-up for the Coppa Italia game against SPAL on Wednesday. The center back also gave an interview today to MilanTV:
Name…
"Simon."
Surname…
"Kjær."
Age…
"30."
Zodiac sign…
"Aries."
Role…
"I'm a defender."
Why did you choose Milan?
"It's been my dream."
What does Milan represent for you?
"It represents a historic club, with the toughest Champions in the history of football. The strongest defenders of all time were at Milan, namely: Paolo Maldini, Alessandro Nesta, and Franco Baresi… a lot of them. It's been my dream for many years         and now I'm finally here!"
The Rossoneri legend that inspires you…
"Paolo Maldini."
In Rossoneri colors after our previous Danes: Thomas Helveg, Brian Laudrup, Jon Dahl Tomasson and Martin Laursen…
"I spoke with Tomasson last week. He had nothing but good words for Milan, the city of Milano, the club. Yes, I did speak to him a bit."
You often score with free kicks. Who's your inspiration?
"In my view, either you have it or you don't! I have it, so it's just a question of adequate training and practice. Sometimes, when playing for my previous teams, there wasn't a designated free kick taker so I trained hard and took the free-kicks. I don't feel the need to always be the one to take it, if there's someone better they take my place, score and that's it. If there aren't any to step up to the plate, then I'm available."
Roma nine years ago, Bergamo and now Milan. What do you think of Serie A now?
"Many good players have returned to Italy, Italian teams are improving in the Champions League and the Europa League. It's not like in the past where you'd lose the ball, fall back and remain there. The style of play is faster and has been modernized."
What is your main goal with the Rossoneri?
"Lift Milan to glory as much as possible. Milan have many young players with good quality. I'm here because of the interesting project presented to me, it doesn't matter to have arrived on a loan but I hope to show that I deserve to remain here and do my best for Milan."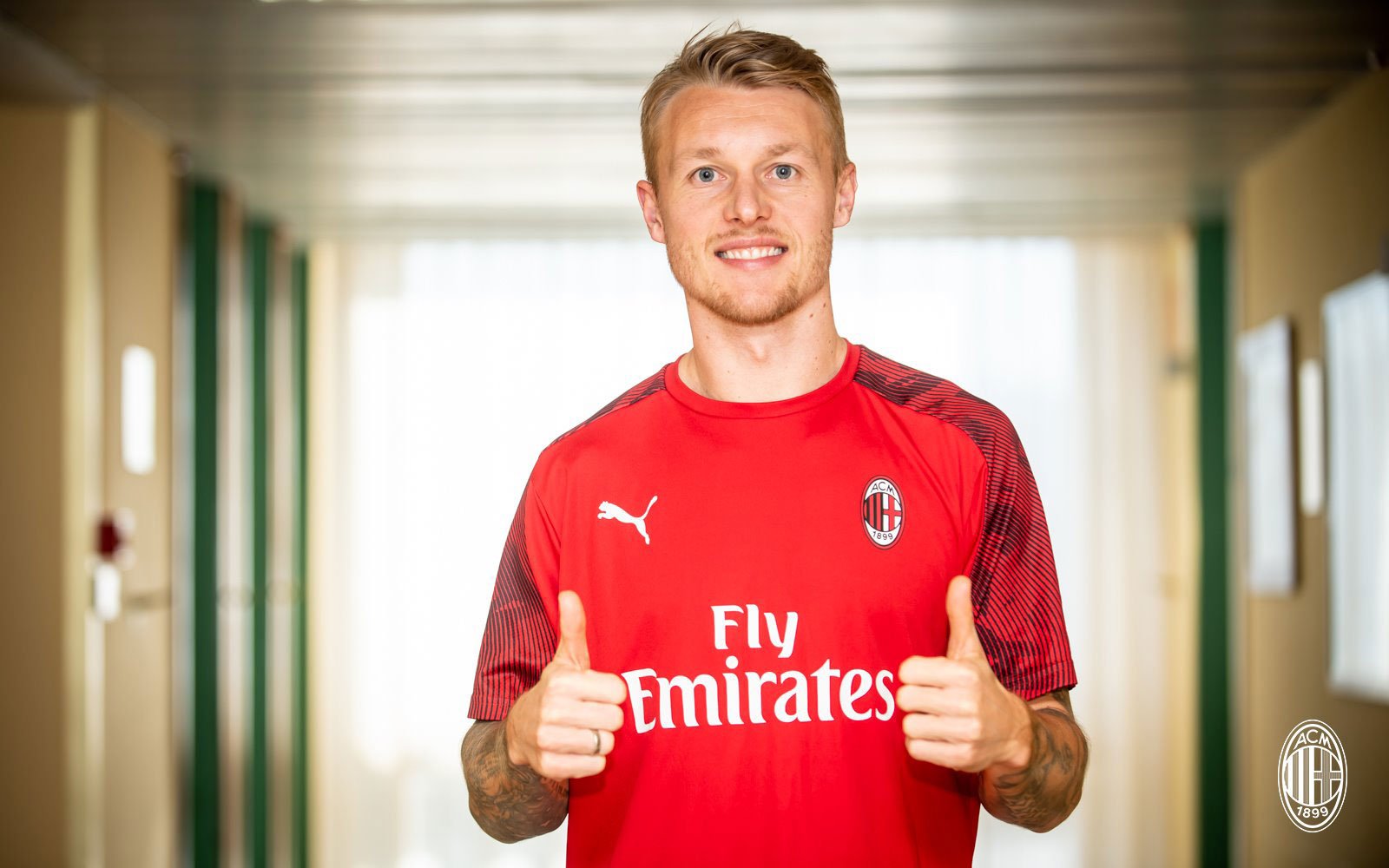 You've often worn the number 4 on your shirt. Does it have any particular meaning for you?
"My career began in Denmark with the number 4 shirt, my father played with the same number during his time. I always tried to play with the number 4 shirt, if it wasn't available I'd use 12, 24, 32, and 44 and so on. In this case, the number 14 and 24 were available but my dad advised me to choose the number 24 being that it was the first one I started with here in Italy. We hope this will be our final number here in Italy."
What does it mean to be captain of the Denmark national team?
"Being the first to step on the pitch, representing your country is a feeling that's quite difficult to explain. Let's say regarding the emotions and all that… I'm honored."
How are you feeling physically?
"I feel great. If there's one thing I'm 100% sure of it's that I'm fully fit and I've trained hard. I'm in the best shape ever, physically, and I'm ready!"
Playing with Ibra…
"Zlatan is Zlatan… He doesn't need my comments nor anyone else's to explain how good he is. Everyone knows his strength. At 30 or 38, he's still the same person I've met many times, he might not have the same physique of 10 years ago but he is still devastating. I also watched the game against Cagliari and he's decisive, which is why I believe Milan brought him."
"Forza Milan!"
Kjær at Milan - click to enlarge