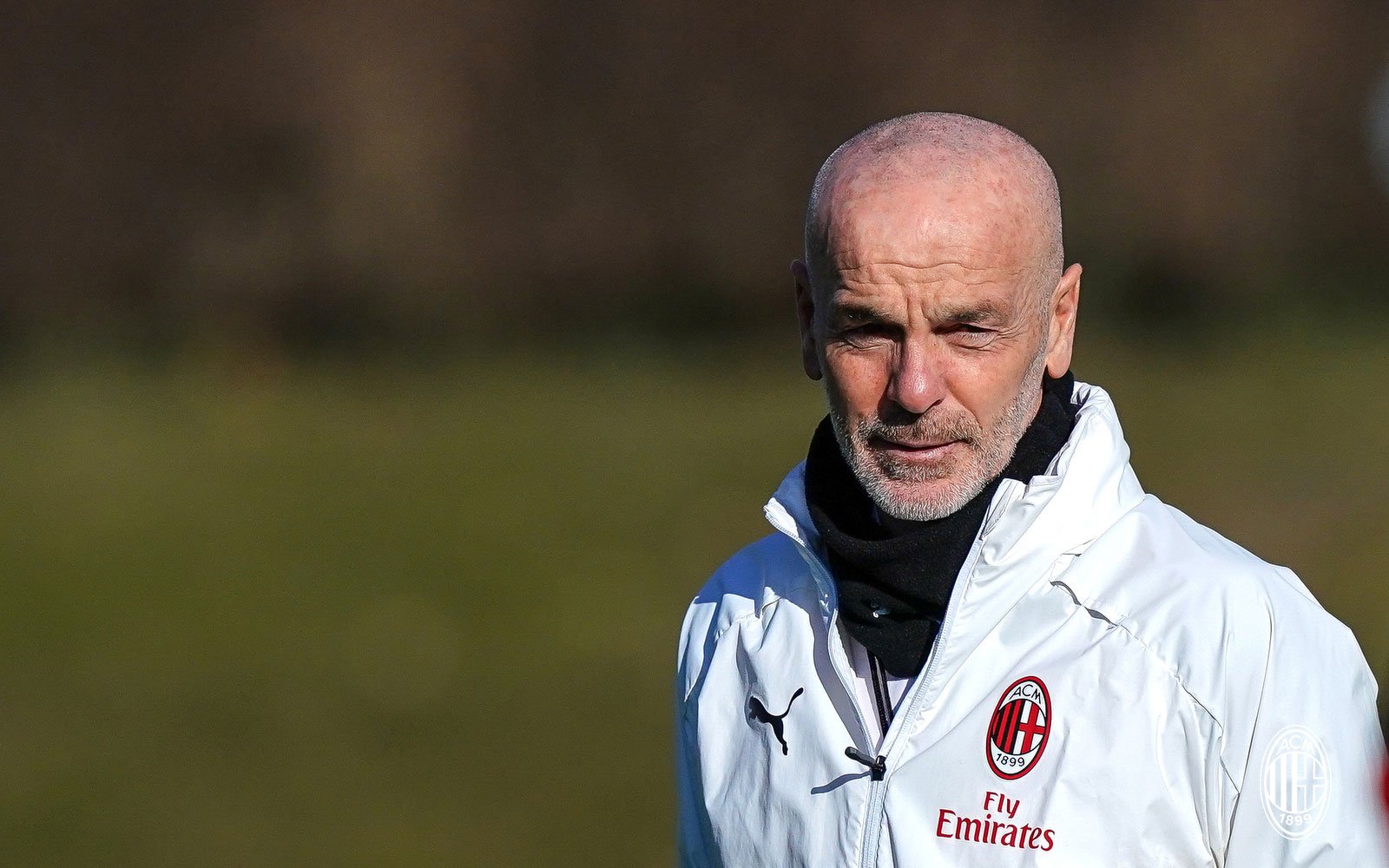 Stefano Pioli has spoken to the press ahead of the game against Cagliari, saying 'we must return to winning ways, we must improve our position'.
Milan have not scored a single goal in the last three games, drawing 0-0 against Sassuolo and Sampdoria, and losing 5-0 in disgraceful fashion to Atalanta.
Tomorrow, the Rossoneri have a very difficult game against Cagliari in Sardinia. Pioli is expected to make some changes in the line-up, benching the extremely disappointing Suso and Krzysztof Piątek in favor of a change in formation to 4-4-2, with Rafael Leão and January signing Zlatan Ibrahimović up top.
"What kind of week was it at Milanello with Ibrahimović always in Milanello? It certainly an important week. We need to convert the quantity of play we create into goals. This is our primary object and that is what we focused on all week. Ibrahimović trained all week, he is highly-motivated, very determined and enthusiastic. He's in good shape.
"The fact that Cagliari have done very well especially at home in the first half of the season and the fact that I've statistically always done well against them? At the moment, we need to take any advantage we can find, that has to be our mentality in each game. We need to use our characteristics on the field to turn things in our favor, we need to overcome our negative results and we need to perform to the best of our ability.
"How have I studied Maran's Cagliari? I have a very close relationship with Maran but I'm not going to be giving him any advantages. Cagliari have been doing incredibly well this season. They didn't pick up the results they needed in the last couple of games, but we are well-aware of their characteristics, we know when they are most incisive. We need to be very, very careful and we have to be proactive, we have to control the game. We need to create dangers and be efficient.
"If Zlatan can be a mentor to Leão considering Rafael said that he considers Ibrahimović an older brother? If Leão sees things in that way then it goes to show that you can learn great things from great players. Leão has fantastic, incredible potential, but he has not realized it yet. And having an experienced player like Ibrahimović next to him; not just on the field but in training and off the training field, can be a great opportunity.
"If tomorrow we'll play 4-4-2? We have tried a number of solutions this week, it's a possibility.
"If Ibrahimović is fit enough to start a game? I don't think he has the fitness levels to play an entire 90 minutes. I need to decide whether to start him or to bring him on later on. Certainly, the minutes played against Sampdoria and the week in training have boosted his fitness. He is in good condition and he will soon be fit enough to play all 90 minutes but not quite yet. That's normal for any player who hasn't played in a couple of months.
"Talking with Ibrahimović and if he was brought in to develop the talent in the squad? It's normal for there to continuous dialogue between the coach and such an important player, a player with such a strong character and personality. We were lacking it. But he hadn't trained for quite a while with a team. So it will take a bit of time to understand exactly what he can do, where he can improve on and where he will fit in on the field. He is a great player and must be good in a position to give his best in terms of his positon, his role in the build-up and the players who can make best use of his characteristics.
"Is Ibrahimović at the center of the project? He was signed intentionally to help us improve the team in terms of technical ability and character. So of course he's at the center of the project.
"The market rumours regarding Piątek? I think, like all Italian coaches, if I could move the calendar to February and get over with this transfer market as soon as possible – I would. We have to live with this mercato. But given our current position and our current moment, it is essential that everyone remains focused on giving their best for the team. We are fully focused on tomorrow's game and nothing else. Piątek has been called-up and he will be available for tomorrow.
"What was the reason behind playing Krunić instead of Kessié against Sampdoria? It was based on the evaluations I made in the week building up to Sampdoria; that was the sole reason.
"If Kessié is still a part of the plans for this year? Yes, I understand where you are trying to get at… but a coach has to make decisions, which will reward 11 and penalize the rest. However, if a player doesn't play in one game then it doesn't mean that he will not be part of the project. Krunić and Kessié and all the other midfielders that we have are all a part of it. Paquetá? At the moment I'm doing making other choices.
"If the mercato rumours can distract the squad? From what I saw this week in training, the players are fully focused, they're dedicated, and if I didn't see that then they wouldn't be called-up for tomorrow's game. We cannot afford to be distracted by any rumours regarding the transfer market. We cannot afford to be distracted by anything besides tomorrow's game. We must return to winning ways, we must improve our position in the league.
"If the possible change of formation and exclusion of players like Suso is an attempt or a sign that the formation must be changed now? I've always believed that in moments of difficulty, when things are not going your way and results are not going your way then you need to find a solution. If I do decide to change positions on the field tomorrow, the sole reason would be to try and be more concrete and more efficient – without giving up any of the build-up we've managed. We want to be proactive, we want to impose our game style, and we need to control the field. We want to seek every advantage we can get. Now, we are testing our new solutions based on our players, to find solutions to problems that have affected us for too long. We, as a squad, have characteristics to implement many different formations well. The change in formation, however, will not mean that certain players will no longer play, the players must adapt to the new formation.
"If I'm worried by the fact that we only have two center backs available, with three important games coming up? Well, there are actually three center backs available, because there's also Gabbia as well, who plays for the U21 side and has high potential. And it's clear that another center back will have to arrive soon.
"Can being clinical be trained or if it's innate, considering Ibrahimović said after the Sampdoria game that Milan must be more clinical? Everything can trained, some things are permanent, and some players have those characteristics innately. But we are focused on working on these characteristics, we were focused on our finishing in training this week. Clearly, it is the thing that is harming us the most this season, we need to be as precise as possible and as determined as possible. We have the quality and the determination needed.
"If playing with inverted wingers is what one of the main problems of the Milan attack considering the last striker who came close to 20 goals at Milan was Bacca and that was in a year in which Suso was not playing? Clearly with inverted forwards the crosses are different than with a natural forward. But we also have the fullbacks coming forward, who do provide those traditional crosses. On Sunday we crossed 25-26 times. We simply need to have greater quality and be better in taking decisions. We need to take better positions to create goal-scoring chances. We had the right number of chances created but they weren't the clear chances we need.
"What do I think about Suso's involution, how do I respond to those who criticized me for keeping him on the pitch against Sampdoria, and what do I think about Politano? I do not take part in any witch hunts in the media… I try to help my players believe in themselves and overcome the difficulties they face and the frustrations of people who are working hard but are not obtaining the results they should be. I believe that the way in which you face your challenges show what kind of person, what kind of player you are. We need to show that we're true professionals, that we know how to take these challenges and overcome them with pride and conviction. As for players who are not in my squad – I don't want to talk about them.
"What didn't work between Milan and Caldara and why was it decided to let him return to Atalanta? Well, we made technical and physical, fitness, evaluations and we believe that we can improve the squad with other players.
"If Ibrahimović can advise me? Well the first thing Ibra said when he arrived is that he is a player. I am the coach. And that's it.
"If Bonaventura has fitness problems and if he can benefit from Ibrahimović's presence with the change in formation? Let's not forget that Jack was out due to injury for a very long time. So, it's perfectly normal for him not to be fully fit just yet. And he had a couple of difficult situations and a couple of issues in training and was unable to train… these things have affected his fitness. As for his adaptively, he can play very well in many different formations and take adventure of many different situations. He knows how to use space, how to attack space… he is working to improve his fitness at the moment.
"What does the team need most based on recent performances? A sense of pride, strength, conviction and desire to improve our quality. Looking at our recent results, our situation is not a good one. We didn't expect to be in such a situation, but we need to prove that we can improve.
"If there's something from the game against Sampdoria that I would like to see against Cagliari? I think we need more intensity than we showed against Sampdoria. We did well in certain situations and build-up but we need to be more incisive, a lot of decisive. We need to build on all the situations from Sampdoria.
"When do I want the full squad available, also considering both starting center backs are one yellow card away from suspension? The January transfer market is always strange, but it is not my role to handle the mercato. We are ready for tomorrow's game and I hope a new defender arrives as soon as possible. January is a very, very challenging month for us. We also have the Coppa Italia coming up so we need the complete squad at our disposal.
"How to relaunch Paquetá and were would he play in a potential 4-4-2? I don't want to talk about Paquetá, Suso or Piątek… I don't want to talk about individuals. My job is to have Milan win. I hope all my players are available. I hope all my players can perform at their best. I want my players to get the satisfaction they deserve. In a three-man midfield he's a mezz'ala, he is a central midfielder in a four-man midfield. He can also play on the wing and cut inside the pitch. He's an excellent player with great characteristics.
"What is the realistic objective in the league table considering the state of the team? There are 20 games left, 60 points. Our goal is to pick up as many points as possible."