Stefano Pioli was pleased with the win over Bologna but stated there are still many things to improve.
For the first time since September, Milan managed to string together two wins as after beating Parma last week, they managed to defeat Bologna of Siniša Mihajlović 3-2 at Stadio Renato Dall'Ara.
Krzysztof Piątek opened the scoring in the 15′ minute with a well-taken penalty which he also earned. Theo Hernández doubled the lead of the Rossoneri in the 32′ minute, taking advantage of an excellent assist from Suso. Theo however then scored an own goal in the 40′ minute. Jack Bonaventura made it 3-1 two minutes into the second half, while Nicola Sansone netted the 3-2 in the 84′ minute from the penalty spot.
"Meeting Mihajlović? I was very happy to see him," coach Pioli told Sky. "I wanted to hug him, but Siniša said best we don't [due to his condition], it was still a lovely moment. I hope he's on the road to a full recovery now. It touched me, just having that moment together, it really did.
"The two victories away? The objective is the next game; that is all. We have to build on the positive sensations, it was a great game between two attacking teams who wanted to score goals. This is just another reason to believe even more in our capabilities, as with the quality we have, matched with the right intensity, we can keep growing.
"The first goal? Quality is important, but everyone is now working for the team, sacrificing themselves and it's no coincidence that we are getting the results now. We have had a lot of good performances, now we believe more, we don't pull back. We should've finished this game off earlier, because when it went to 3-2, anything could happen, but we showed that we are on the right track.
"Piątek? He was a very important reference point. He won many duels. We knew Bologna would press us high, so we'd have to put it long and he held the ball up really well. Kris too will emerge from this evening with more confidence.
"Theo Hernández? I think he has really good timing of his forward runs, strong physicality and an elegant foot. In the first games I may have played him too high but he's the kind of player who can break opposition defensive balances if he has space in front of him. We can release him if we are balanced elsewhere and push the whole team forward, which lately we are doing. He has this timing. We also empathize Suso's play. It's good to see so many players pushing forward, as we should always have this attitude.
"Bennacer and Bonaventura? They are players who know how to find space, the central defenders also worked well in the ball possession phase. Bonaventura, Bennacer, Çalhanoğlu, Suso and Kessié moved well. We've got the players to provide some quality football. With intensity and ideas we can play against many teams in Serie A."
Speaking in the post-match presser, Pioli said: "Who is the penalty taker? Piątek is the first and Kessié the second. If we saw Pioli's Milan? There are still so many things that we can do better. We have to make less mistakes, the performances are growing. I'm happy with what I see on the field but there is a lot to improve.
"The attitude of the substitutes and of Piątek? All this must be normal. It means that there was something that did not work before. Everyone deserves to play but everyone must do their best. I'm satisfied. The game was good. But now we have to think of Sassuolo."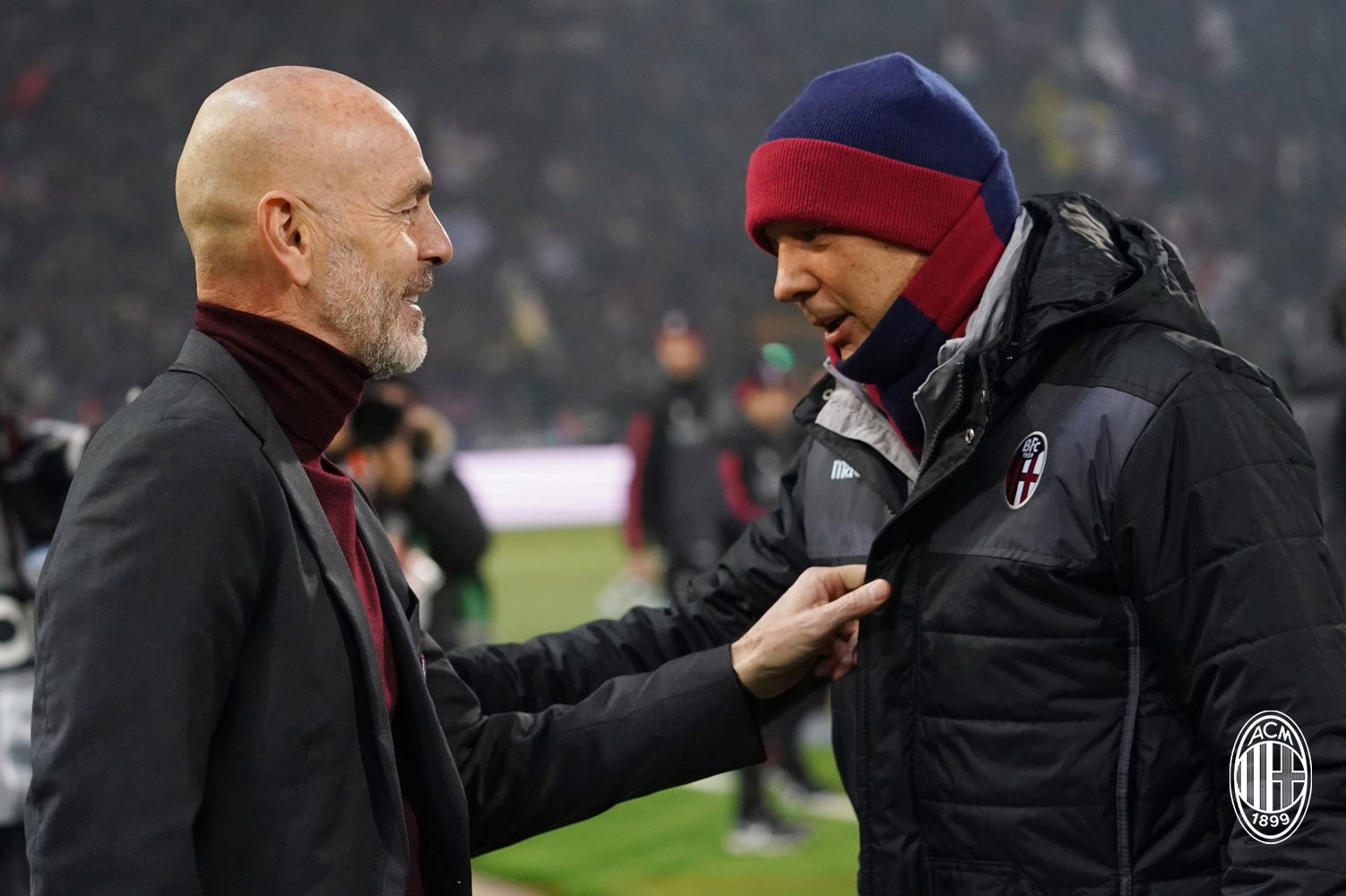 Pioli also had an interview with MilanTV: "The secret is to play as a team: with ideas, an identity and intensity. We played well against a tough opponent, it was a good game because both sides fought to win, playing well and with intensity. But our greater qualities saw us through in the end. We dig in, we work hard and fight and that's what is important.
"I think it's through our daily work that we'll improve, it will show us we're on the right path. We're performing well even though we haven't won many games but we did face some of the top teams in the league and we were always a match for them. There is still room for improvement on a lot of things, not everything is sorted. We must focus on our next game, while building on our performances and wins, they can give us confidence and the awareness that, if we play and work as a team for the entire match, then we can achieve our goals.
"Bonaventura? I'm going to break my own rule for Bonaventura, I prefer to talk of the whole team but he has Milan in his blood, the desire to be at home at Milanello, the sense of belonging that pushes him on, and must push us all to give that bit extra because we are a great club, with exception fans and we must feel the need to give all of ourselves.
"Jack has that and I'm happy for him because he's been through a lot due to his injury. He is quality player, with great presence on the field and personality, so he needs to continue as he's been doing, he can still improve because he hasn't reached his peak fitness, yet."