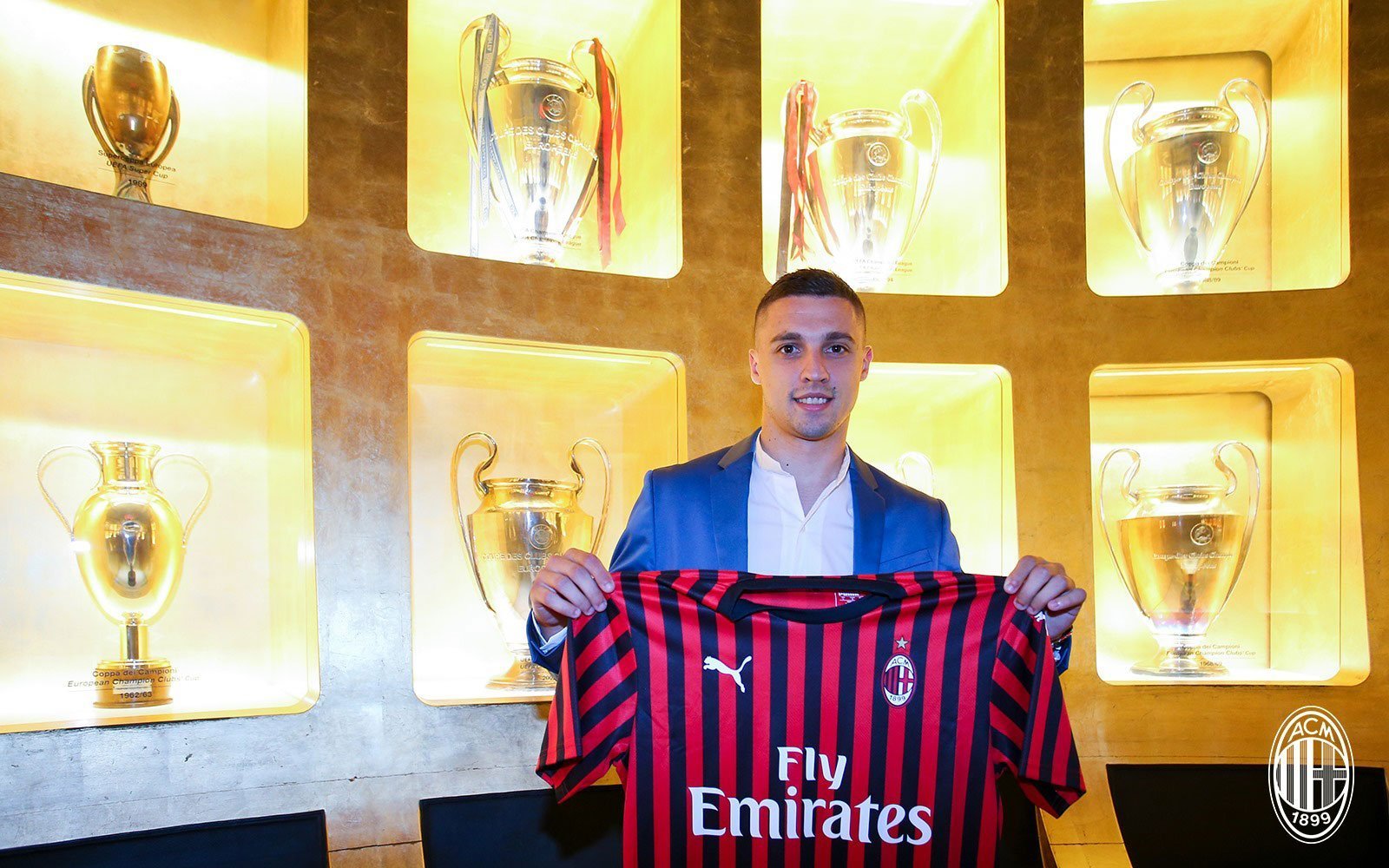 Rade Krunić has spoken his first words as a player of Milan, saying that it's a dream for him and that Giampaolo 'deserves to coach such an important club'.
Yesterday was a very busy day for Milan as after presenting coach Marco Giampaolo to the press, the club also announced the signing of Krunić from Empoli.
The midfielder signed a contract for five years, and today he was at Milanello for the first day of training ahead of the 2019/20 season. Rade didn't take part in the session with the rest of the squad as he's following a personalized program for now due to finishing last season with a physical problem; but the Bosnian still felt for the first time what it means to be a Rossoneri player.
"My first thoughts after signing for Milan? It's a dream come true and I'm the happiest man alive right now," he told MilanTV on his first interview. "I've been dreaming of playing for this club for a long time, to wear this jersey, these colors… and I'm really happy I've made it here.
"My rapport with coach Giampaolo? He was my first coach in Italy, he made me improve a lot, he gave me longs of playing time, I made almost 20 appearances and I think it was a positive season for me, being a newly-signed foreign player and so young. His idea of football? He's a quality coach because he has his own style of play, his teams play possession football and that's good for us midfielders.
"He can do well here at Milan, he deserves to coach such an important club, and I hope we can do great together. My role on the pitch [Krunić will most likely play as a mezz'ala in a three-man midfield]? I consider myself a complete player, my best traits are ball control and dribbling.
"Meeting [Milan directors] Zvonimir Boban and Paolo Maldini? I was really excited, having the chance to speak with such legends, who are true heroes to me and idols of many, many players. It was really great, I was so thrilled to be at Casa Milan. I think I can do well here.
San Siro? I've played against many teams in Italy, but that feeling when you set foot inside San Siro to play against Milan is one of a kind. I was really feeling the pressure, as opposed to playing against other teams. And now I'll play here with my favorite colors, it's going to be great!
"Who was my idol as a kid? Kaka, he was my idol, watching Milan play. And we have similar traits, of course he's a much better player and he's more an offensive player than I am. He was my idol and I always enjoyed the way he played because he was a key player to the team.
"The fans? I've received a lot of messages from fans who welcomed me to the city and the team. I can't wait to repay them."
Krunić also posted a message to the fans of Empoli on his Instagram account today: "This moment has arrived too. A difficult moment in which I need to greet and thank everyone at the squad that gave me everything. I came as a boy and you made me grow and now I'll leave you as a man. I had gone through the best moments of my football career but also the worst ones.
"Now I'm going to play in my favorite team, to realize my dreams, but the merit is only yours. A big thank you to my former teammates, staff, club, all the people who work for Empoli. Especially, thank you to the fans who supported me and my teammates until the end, regardless of the results or play, you were always by our side. I can say thank you 100 times but it will never be enough to compare to how much you gave me. Thanks for everything, Empoli."