Lucas Biglia believes Milan did some good things against Inter, says VAR maybe should've intervened in his incident with Nainggolan, and wants to bounce back immediately.
Milan fans were hoping to win three points on Sunday night's Derby della Madonnina but instead the Rossoneri came out playing for a draw, and in the end returned home empty handed due to a fatal mistake in the 92′ minute which allowed Mauro Icardi to score the winner.
"It certainly hurts," Biglia told Sky Italia after the game. "I don't know if Inter deserved to win. They had more possession, but didn't create many chances. I think it was a match for a draw, we made a mistake at the end and it cost us dearly.
"We had a strong team in front of us. They wanted to force the play and when we start making mistakes we lose confidence. We have to keep working, and we're now thinking about the Europa League. We have a clear objective and we have to get to it, we have to keep working.
"The incident with Nainggolan? I have nothing against him, it's a game, it can happen. I just went to close down the pass. I showed them afterwards that my ankle and knee weren't in good shape either. It's not up to me to judge, it's for the referee. Perhaps the VAR should've paid closer attention and I expected them to look at it. I went to speak to Radja afterwards, it was not a nasty tackle at all.
"Nainggolan told me his ankle was swollen and I said it wasn't easy for me to play with 70 minutes like that either, especially with a yellow card."
In the mixed-zone, Biglia said: "There is a bit of regret. We had to be calmer in ball possession and not to be frenzy and immediately look for a forced play. It hurts a lot, especially for how it came. Nainggolan? I took a hit. The referee acted for what he saw, I don't judge it. Maybe VAR could've done something more but it has nothing to do with the game. It's a defeat that hurts, but we have no time to complain because from Monday we're thinking of Betis."
Speaking to MilanTV, the regista added: "We are disappointed, it hurts, we have to get up right away and we have to start over on Thursday. We faced a physically strong team, we knew it would be a game of blows and duels. We didn't manage to do what sets us apart: the possession and the rapid release of the ball. It happens, sometimes it happens when you face the big teams. We have to start over, get up and keep in mind the objective we have to reach, already from Thursday.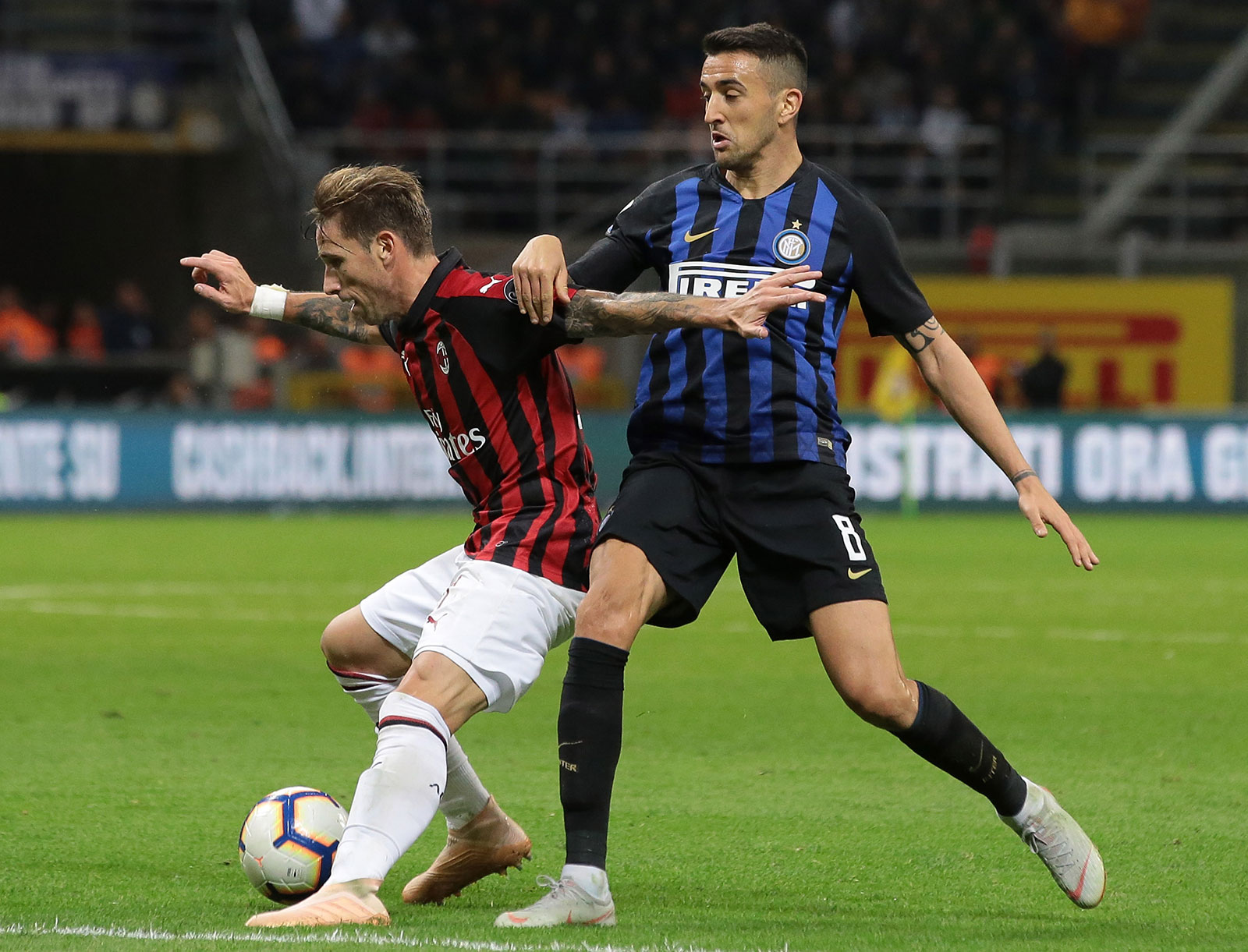 "The defensive line? Sometimes we can't do high pressure, so we have to lower ourselves to avoid holes. But it's a shame because getting the ball back up the pitch is one of our strengths. We were lacking it on Sunday but we did other things well and we shouldn't throw everything away.
"It must hurt, because it's right, but let's start over on Thursday. The goal conceded [the 11th of the season in Serie A]? We have to be smarter, Inter's cross should not have reached the box like that: we got it wrong and we are aware of it. We need more compactness and we paid for it."