Alessio Romagnoli knows that without his crucial mistake the game against Empoli could've ended differently: 'I am disappointed and angry'.
Milan's awful start to the season continued last night as they only got a 1-1 draw against Empoli away from home.
It's the third in a row Milan draw and after 5 games, they only have 6 points, a single win (which arrived in the last second of the game) and zero clean sheets.
"I'm disappointed and angry at myself," center back Romagnoli, who made the decisive mistake at the back in the 71′ minute to give Empoli a penalty (scored by Francesco Caputo), told Sky Italia at the end of the game. "I take responsibility, it shouldn't happen and without my error it would've ended differently. I apologize to the Milan fans and to everyone. We'll bounce back.
"We could've finished off the game earlier because in Serie A you pay for mistakes. Without my mistake it would've been a different game. Now we have to think about winning against Sassuolo. We're lacking a bit of malice up front and in defense. It was important not to concede and we didn't succeed. However, the road is the right one, we must continue to work and the results will come."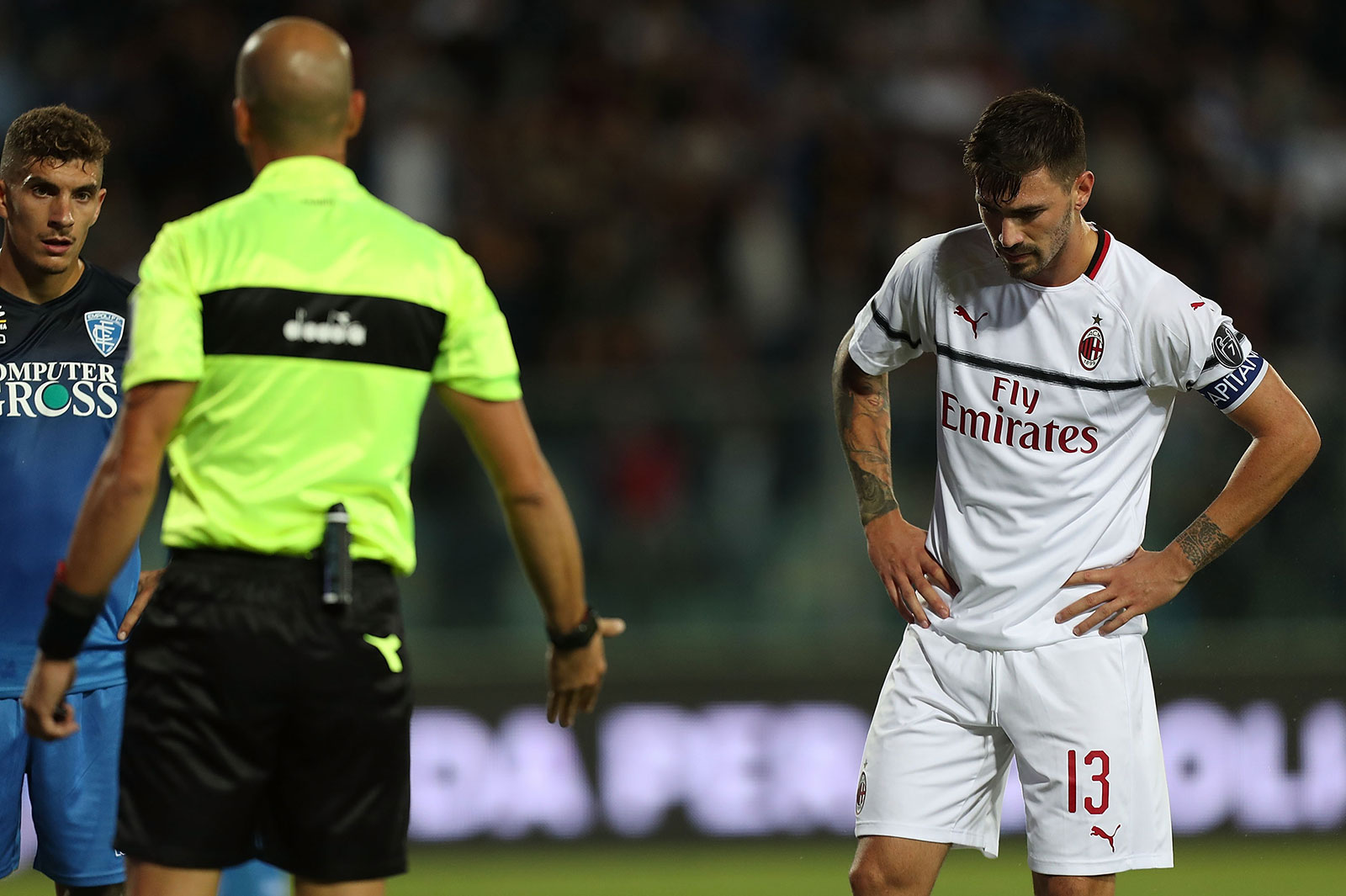 Speaking to MilanTV, Alessio said: "We played a good game creating lots of chances. If I hadn't made that mistake we probably would have won the game. It was my mistake that gave them the opportunity to equalize, I take full responsibility for this. If it's fear that leads to mistakes? I don't think the team is afraid. We had lots of chances to win the game.
"What we said in the dressing room? We already all know that we must win. What do we must do against Sassuolo? We must continue to play our game and continue to create scoring opportunities but we need to work hard to prevent these mistakes from happening again. We've to stick together."
In the mixed-zone, he stated: "I received the ball badly, I cleared it badly and I hit Levan Mchedlidze, then the penalty came. Gattuso didn't say anything to me, I know that I was wrong. We had to close the game sooner, we need to continue working and think about immediately winning vs. Sassuolo.
"If we're Higuain-dependent? We are dependent on everyone, on those who attack and those who defend. We must remain compact and work together. You get out of this period by working and imposing our game, trying to make as little mistakes as possible.
"We were very much in the game and then my mistake came. It remains a good game but the result is what counts unfortunately. We must learn from our mistakes and continue, the team is with Gattuso."