Gonzalo Higuain is on the verge of becoming a Milan player, as an agreement is in place with Juventus while it's very close with the player.
Milan will soon get their striker and all signs are that it will be Gonzalo Higuain. An agreement was found with Juventus over the last few days (although the final figures are still not 100% clear), and last night there was a decisive meeting between Higuain's brother, Nicolas, and Milan's Technical Director Leonardo.
It was a very long meeting as Leonardo and Nicolas met in central Milano and then at around 22:55 CEST, the two arrived together in Casa Milan, along with the lawyer of the Higuain family. After about four hours, the parties left the Milan HQ.
According to Milannews.it and Sky's Gianluca Di Marzio, Leonardo managed to get what he wanted from the meeting as Higuain, 30, is very close to moving to Milan. Di Marzio claims that the former Napoli and Real Madrid man is 'one step' from becoming the new striker of Gennaro Gattuso.
The formula of the deal will be a very expensive loan (Di Marzio writes it'll be €20m while Milannews.it claim it'll be €18m), with a buy-out option set at €35m-36m. Milannews.it are also reporting that Higuain's salary will most likely be €7.5m (same as Leonardo Bonucci now) and the contract duration would be 4 years. Today the lawyers will be at work to finalize the agreement.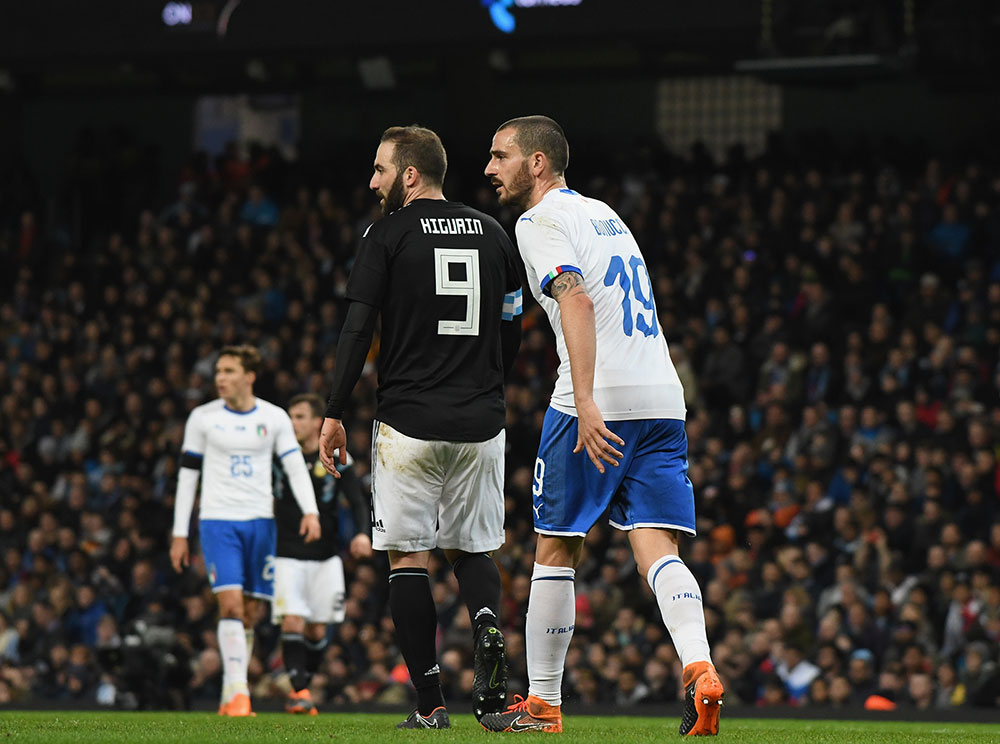 The buy-out option benefits Milan in terms of the Financial Fair Play regulation, but it has been made clear that this is an obligation disguised as an option. In fact, at first Higuain was not convinced about going on loan, but Leonardo seems to have convinced the agent of the player that Pipita will be playing a key role for the Diavolo in the seasons to come and that there is no reason to worry.
With Higuain to Milan reaching its positive conclusion (perhaps today), the Leonardo Bonucci-Mattia Caldara swap will also take place. Milan and Juventus are in full agreement over the swap, as both players are valued at €40 million. Milannews.it claims Caldara will be earning €2.4m a year.
Unless there will be very big surprises, Bonucci will be wearing the shirt of Juventus next season, while Higuain and Caldara will be playing for the Rossoneri. More updates expected later today.