Marco Fassone spoke at length today, responding to questions of fans, but had no actually real and informative answers about things concerning the ownership.
These are very interesting days for the future of Milan as Yonghong Li has until the end of the week to reimburse Elliott for the €32m they paid in his place, or else the American fund will take over the club. Meanwhile, negotiations between Li and Rocco Commisso appear to be stagnant and many Rossoneri fans are worried.
In an attempt to calm the fans down, CEO Marco Fassone went live on MilanTV today (Monday) to speak directly to the fans and answer their questions. Fassone discussed a lot of things, including the transfer market, the Women's team and PUMA but had no answers about the ownership situation.
"The need from the supporters to hear the club speak? The sense of my presence here today is precisely this. I realize when I'm on the street and I meet Milan fans that there is a desire to understand what is happening, also because sometimes it happens that the media emphasizes things not in the right way. I'm here for this, to answer and clarify.
"The beginning the season? It starts again today; the routine starts again… it's beautiful to restart the year together with the fans.
"What's going on with the club? I'll use this question to make a premise: I'm the CEO of Milan, I take care of it and I take care of it almost 24 hours a day. But then, there are some things that go over my head and concern the ownership and the shareholders. I don't want to appear evasive on that, but I don't even know many of the things.
"If Bonucci will leave? Leo's our captain, he's not one of the players we are discussing or negotiating for. He's one of the team's strengths and he'll stay with us for a long time.
"If Yonghong Li will reimburse the Elliott fund for the €32m capital increase? This is another question regarding the ownership. It's important for the fans to know that the €32 million were received last week. What counts is that it's in the bank, it's very rich in cash, to me it doesn't matter if it was paid by one or the other. I have to be careful with that, it's money for Milan to be managed well – to pay salaries, to play the suppliers, to assure us doing a bit of a buying campaign. I've got that. After that, who puts the money there? We'll have to wait and see.
"Clarity on the corporate level? Again, we return to the corporate theme. What we read daily gets the interest of the fans on the topic of the ownership. This is part of our culture, in which we are accustomed to a sort of stability over time, to ownerships that are centuries old in some cases. Then, imagining that there may also be more short-lived ownerships causes turmoil and confusion. Now, we are not fortune-tellers and we cannot guess whether in Mr. Li's head there's will to sell a piece of the club or keep the club in the future, we don't know. What is important, in my opinion, for us who run the club and for the fans, is that the club is solid and has plans to bring forward and the club hasn't changed its mind with respect to what has been said in recent years. Thereafter, I hope that the owner, whoever that is, is an owner who always supports us and makes economic resources that are useful to us, available. And in this respect, I have to say that Mr. Li has always done it, the Elliott fund has also declared it to me in writing, as evidenced by the written documents brought to UEFA. And if there is a new shareholder to arrive, I imagine he'll do it with the passion that alone justifies an investment in a club like ours.
"When Milanisti will be able to talk about football again? I hope soon… I assure you that in our offices, beyond what happens in the newspapers or on TV, we talk about football, we talk about the management of the club, we do the project, the mercato activities and friendlies are planned, we are focused on the ball.
"The possibility of reversing the UEFA verdict at CAS? I don't know. UEFA's verdict on Milan appears unfair, so we decided to appeal. We've shown in the last 12 months that we intend to comply strictly with the rules of FFP. We've presented plans that show that in the next three years the losses will be more contained than in the past. We tried to bring all legal and directorial arguments to make sure of that, but it wasn't enough. At CAS they could read the history of Milan's last 12 months in a different way, but I don't know what the percentages are. I can assure you though that we'll fight to the 90th minute.
"If the 3-4 purchases mentioned by Mirabelli and Gattuso include Pepe Reina, Ivan Strinić and Alen Halilović? No. In the sense that those three are still excellent players that Massimiliano had put on his sights and completed in recent months. Beyond the many names, the requests of the coach and the director of sport is to try to complete the squad with three insertions of quality that they believe are important. It is very important to say once again that this will be a mercato of entries and sales, which will come together.
"If Milan will participate in next year's Serie A? Yes, of course [smiles]. If the question refers to compliance with the parameters of the FIGC that need to be met, then we meet them. The injection of the €32m guaranteed compliance with the parameters. We received confirmation of Serie A on Friday and there is no doubt about Serie A.
"The big striker and what budget we intend to use on it? It's very important. I have also read that one of the great desires is to dream that with a possible new owner, there would be a great economic availability in the club's coffers and that this money could be used on the mercato. In reality it's not like so. In fact, we already today have enough money in the bank to be able to invest in the market, if this were possible. In this regard, President Li didn't miss anything, and we have an important investment plan this year as well, but unfortunately or to our bad luck, there are the rules of the FFP, which last year – which was the first year of the alleged Voluntary Agreement, allowed us to make an important transfer campaign. This year the rules are brought back on us. The rules are those, but the balance between income and expenses should be more or less zero. Then there are fantasies and creativity, the director of sport knows how to operate, but this is roughly what we can expect.
"If the important players will leave the team because of the club situation? No, no player has come, I believe neither to me nor Mirabelli, to say that he has other plans and he wants to leave. If it happened, we'd evaluate it carefully, because whoever stays must do so with conviction. I hope that it doesn't happen, because our projects do not change by an inch. Last year we were convinced that we'd get Champions League qualification and then the vicissitudes of football in the first round meant that we finished 6th, but this does not change our goal. We've composed a very good team, in our opinion, on which if we go to make 2-3 additions, according to us, we can be competitive.
"The objective for the season? The team will be a little stronger than last year. Mirabelli and Gattuso, who are fully in tune, have already brought me a list of exiting players and new arrivals and how the puzzle can be completed. Massimiliano is working on it and is well-ahead on a few negotiations and further back on others. There are 45 days left until the end of the mercato, we will complete the puzzle in this time. We are working with the same intensity, trying not to listen to some Cassandra's [prophets] who would like this year's Milan to go back rather than progress, and we want to progress.
"The measures taken against the media against Milan? I often speak with Fabio Guadagnini who is our Head of Communications. Clarity on the point of the owner, I'm convinced, would remove 70-80% of the problems and therefore when I talk about it with Yonghong Li or with David Han Li, I ask them for help in this aspect. I was Mr. Li's advisor also before the 'closing' and even then, there was a climate and a media atmosphere of a certain kind. I hope it doesn't last long and the fans' interests will be on the ball. And we'll try to manage, for what we can do, the media context around us.
"The renewals of Romagnoli and Cutrone? The signal of Alessio goes exactly in the opposite direction to the kind of talk we had before. He could have left since he was sought by clubs of the highest level, but he wanted to marry to us and win with the Rossoneri shirt. The same goes for Cutrone, there is much more than a handshake, we will have the usual Live Facebook soon to confirm that he is going to stay with us for a long time. Fortunately, there aren't other renewals to do because the work has already been done.
"The Women's team? We wish to have a team that is good, we didn't acquire the spirting rights of the team that arrived last but of a very-competitive team. Our colleagues, who are dealing with the Women's team are building a competitive team and for what I understand in Women's football, I think they are succeeding in that. I think it's a strong signal that we've taken Carolina Morace, an icon of this world.
"Milan's B team? This is a project that Mirabelli holds dear. We would like our youngsters, who come out of the Primavera, to continue the experience with the Milan shirt and to give the possibility, in another couple of years, to compete in Lega Pro, giving us the chance to evaluate who is 'da Milan' and who isn't. If Lega Calcio gives us the go-ahead, we will participate in the season already from the season 2018-19.
"The possible consequences of a new owner with regards to Milan China, the stadium ownership and new players? Neutral I would say… Unless the owners who arrives tells us to change what we are doing. In the logic of an enlightened owner, I think it's difficult to imagine that he'd block the hypothesis that Milan will own a stadium or reconstruct San Siro. I believe that the projects we are bringing forward are smart. Any ownership that will arrive, I'm convinced that they'll carry them forward.
"Halilović? If you take me to the technical field, I risk slipping… here too we have something more than a handshake, and there will be the official. It's an opportunity for a very talented player, who will complement the Milan squad.
"If Milan have a chance to play the Europa League? It's something that's almost more of a principle than anything else. Clearly, we'll have a bit less money and that would force us to make a few extra savings this year, but the project doesn't change. Having said that, we want to fight to the end to get Milan in the Europa League, because even if there has been a violation the sanction has to be proportionate. I don't think a club like Milan deserved this.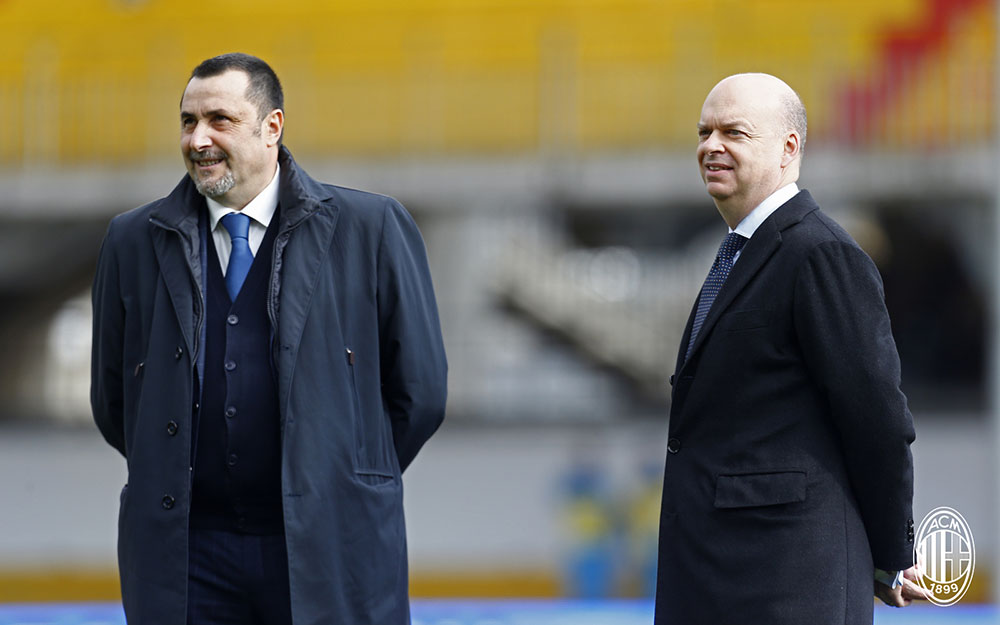 "PUMA? It's something that is a bit strange, we used to have another sponsor that had positively marked the history of Milan for so many years and that we just have to thank. I think PUMA can accompany our rebirth and lead us back to success.
"UEFA's ruling from the point of view of the ownership? I think these are two disjoined things. UEFA's decision to punish us in this way refers to violations in the past three financial years, that's not surprising and we knew it would be the case. What is surprising is Milan being excluded from Europe, which is different with regard to the others. I don't want to irritate anyone, so I won't dwell on that. The connection between the ownership and this sentence seems tenuous, even if within the UEFA reason there are references to the future of Milan, which may appear hazy and which we'll try to make transparent. That way we can make sure Milan are judged and not the shareholders of Milan, whoever they may be.
"The greater transparency requested by the fans about the possible new shareholder and the mercato? I'll take any criticism, including transparency, even though I've tried to make Milan a glass house. If we don't give information, it's because it doesn't concern Milan. We [who run the club] don't know anything about ownership negotiations. As for the transfer market, I think that's a bit of a naive question. We can't tell you who [sporting director Massimiliano] Mirabelli is meeting, which agents, which players we're following. For how little you can do it in football, the more privacy the better. Mirabelli is trying to complete negotiations for players 'da Milan'.
"If the 2017-18 budget is included in the UEFA violation and if we have to wait for other sanctions next year? That's a delicate issue, and one I don't understand. UEFA's investigation doesn't include last year, and not for a lack of transparency, yet it's part of UEFA's analysis. I'll return to it after July 20 [when the CAS verdict is expected to come].
"Where will Milan end? Milan started a project, you can criticize everything and it's ready to do so in football terms, but it aims to bring the club back to the Top 10 clubs in the world, so that it can compete with them, it's a long and tiring journey. The distances have to be recovered over time: Juventus spent 7 years to have a turnover that is twice our size, we have improved by €20 million within a year and we will continue this project to go back there. Milan and this city have extra-ordinary potential, if we work well, if we have the support of the environment and the shareholders, I think it will be a fun story.
"The summer of Gattuso? He has his fire, his nervousness, his restlessness… Rino will become a great coach, he has Milan imprinted on the skin. He gives 120% every day, even on holiday. We can all be serene that we've entrusted the team in his hands.
"Final greetings? Thank you for this opportunity. I felt the need to talk with you [the fans], just because I felt all this negativity and then every time I stop on the street I almost feel like it comes out again. I don't want to tell you fairy tales, we have our difficulties, we are a club that is going up, but we have the tools to face this climb. A more smiling and serene atmosphere can help. We managers can assure you that we will do everything because it can be a nice season for you."