Vincenzo Montella was pleased with what he saw from his team, despite suffering a 2-0 defeat as he believes 'we should not be misled by the result.'
Milan's perfect record at San Siro came to an end last night as they suffered a 2-0 defeat to Roma and Eusebio Di Francesco.
Montella played 3-5-2 with André Silva and Nikola Kalinić up front, and Mateo Musacchio alongside Leonardo Bonucci and Alessio Romagnoli in defense, using Fabio Borini as a right wingback, alongside Franck Kessié, Lucas Biglia, Hakan Çalhanoğlu and Ricardo Rodriguez.
After an uneventful first half, Milan emerged as the stronger side in the second half as they were more organized and dangerous than Roma. However, one moment of brilliance from Dzeko (assisted by Lady Luck) was enough to sink Milan as Edin beat Gianluigi Donnarumma in the 72′ minute.
This goal showed just how mentally fragile this Rossoneri side is, as they dropped their heads after conceding, and suffered another goal five minutes later – this time scored by Alessandro Florenzi. If that wasn't enough, then in the 80′ minute, Hakan Çalhanoğlu suffered a second yellow and got sent off. Milan lost their 2nd straight Serie A match and are heading into the Derby in a poor condition.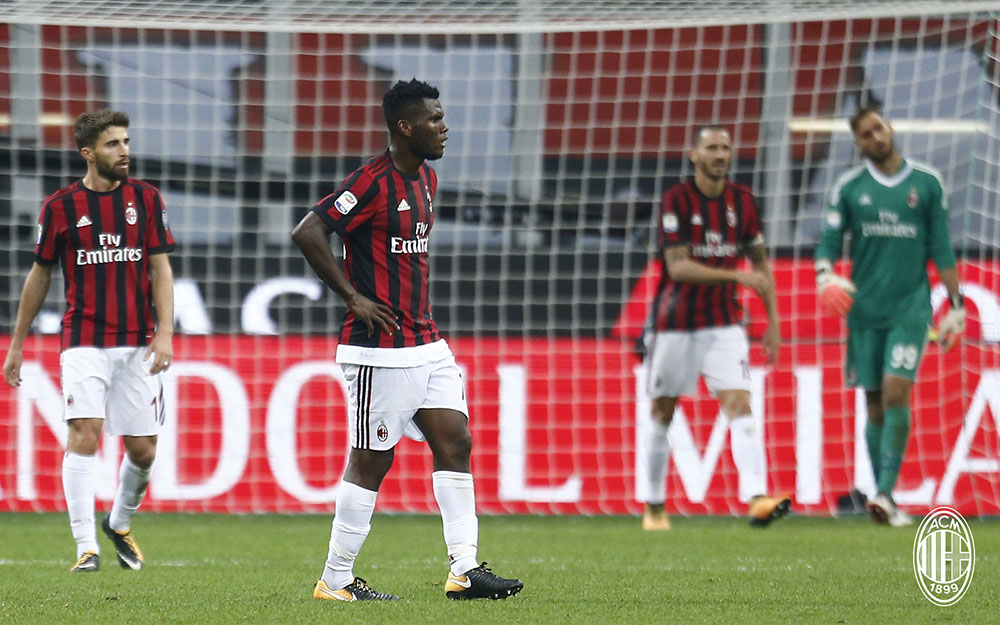 "Tactically, this was our best game," Montella told MilanTV. "We are disappointed with the result, it could have been a turning point. We weren't lucky, it could have ended in a different way. I have nothing to reproach the boys for and I want to thank the fans at San Siro for the big applause.
"Milan were destined to lose after the goal? It was a cold shower, but we tried to bounce back. With the red card shown to Çalhanoğlu, the match was over and we lost cohesion. Borini [who was one of the best]? He always makes himself available, he played a good game, showing great spirit.
"We're four points behind 4th place [potentially 6 points since Roma have another match in hand]? I can say that there's not much difference in our style of football compared to the teams above us. And after this performance, I'm not worried and this match has given me many convictions and a lot of desire to recover. Two years ago, Juve were at the bottom of the standings and then won the Scudetto.
"We must be united and balanced. We missed the goal? We lacked a bit of 'madness' in front of goal. We lacked those moves that could have broken their defense. The derby? With these matches, the level of attention is always higher. I don't know how much the international break can be of help, I want to bounce back immediately after this defeat. I saw lots of positive things we can work on.
"The trust of the club [it was announced shortly after the match that Montella's position is safe]? I want to thank the club, I have always felt they believe in me, although I know the risks of this job. I am pleased they have spoken highly of me, they can see the work we are doing despite the results.
"We played with a precise idea in everything. The flaws are there but it's normal and I'm happy with that. I've seen many positive things to refine and improve. We'll try to sharpen our skills."
Speaking to Sky Italia, the coach said: "I'm reasonably satisfied with the performance. On the field we showed that it's becoming a direct conformation, we played on par with them. It was our best match in terms of aggression, and then there was the incident where Dzeko was a bit lucky.
"I'm satisfied with what was seen on the field. I'm sorry and I won't sleep because we lost, and I'm even more sorry for our fans who applauded us in the end. The gap with Roma? We are getting closer, we can play it to the end with Roma, I'm very confident. The post-Sampdoria situation [Milan lost 2-0 in Genova]? Some lessons are of service and it can be of service if there's a group wanting to improve.
"In addition to the ideas and game harmony, I saw a new spirit, of a Milan level, a spirit of a team. We wanted to win, we did not succeed. The club's confidence? I feel it on a daily basis, the club is very well-balanced in evaluating and judging what the team is doing.
"Critics and exaggerations must be accepted, as it's part of the risks of the craft. My situation? I know the risks of the job, we've had highs and lows that were also foreseeable. I'm not worried. Roma two years ago were far from the top [Roma finished in third place two seasons ago]."
Montella also had an interview with Premium Sport: "I was much more worried after the Sampdoria game, where I couldn't figure out what had happened. The boys have to be satisfied with the spirit, we played on level terms with Roma. Even down to 10 men, we didn't fall apart.
"I think this is the right track, the players had the correct attitude. I am satisfied with both the spirit and the quality of the football. This defeat was the essence of football, as little incidents and luck can make a huge difference. Milan played consistently, we played the way I like and we created numerous chances. If one had gone in, we'd be here talking about a different result.
"I see the path as no longer an uphill struggle, but more of a clear way ahead. The defensive phase? In possession we had beautiful harmony. I am satisfied. There are many small errors during a game, but that's true of all teams. Dzeko's goal went in with that deflection and bit of luck since the shot would've probably gone out, so there's not much you can do about that.
"Borini? I struggle to find someone who didn't play at a Milan level. Fabio's spirit was important. Roma are a great team, last year we were behind them by more than 20 points and they had practically the same side as last season. On Sunday we played on a par with them.
"The many signings in the summer [Milan signed 11 new players, started 9 of them yesterday]? The club made a clear choice, we wanted to create a competitive squad and brought in a lot of quality all over the pitch. Our hope is that these players can improve and represent the future of Milan.
"The future? It's only the start, I am not worried. I think if we play with this consistency, then we can have our say and get back into it. After all, this time two years ago Juventus weren't even in the Europa League places and they ended up winning the Scudetto."
In the post-match press conference, the 43-year-old ex-Roma man said: "We played on par with Roma, the spirit was right as was the consistency. I think we could've won in the second half. We should not be misled by the result, which disturbs me and will make me not sleep. I remain optimistic.
"The goals conceded? I think the team did well until the 70′ minute, when there was the great Dzeko goal, which was also lucky. If there was a deflection in other side of the pitch we'd be commenting on another game. The fans [there were over 60k]? They are the added value and I thank them for their sensitivity as they applauded us despite the defeat, appreciating our commitment and performance.
"I felt the warmth of the fans even after the end of the match and I believe that despite the defeat, the players have to thank for the support. The team is young, I think sometimes there may be a need for more caresses. We go home sorry for the result, but not for the performance.
"The club's confidence? I'm pleased, I know the risks of this profession. Obviously, everything us related to the results [Milan's record this season is 10 wins, 3 defeats]. How to solve the problems? We must not abandon our certainties and our desire to improve every day. I'm confident.
"André Silva? He went very close to scoring, he played a great game. Roma gives more spaces than other Italian midfields. Suso and Bonaventura were on the bench [Jack was brought on as a sub after Çalhanoğlu's red card]? Last year we finished 24 points below Roma. They are two resources and they've shown their value. They are a part of the team and they will give us a hand.
"The 4-3-3 has been put aside? Last year we got 23 points less than the third place. We have another team, other players and there is something different we have to do. For such a formation, it takes wingers who can score 12-15 goals each… [Napoli's Lorenzo] Insigne scores 15 goals and [Jose Maria] Callejon scores 12-15 goals per season [the Partenopei are top of the table with 7 wins out of 7]."
Milan currently have 12 points, one less than they had last year after the same number of matches. Montella has plenty of work cut out for him and a win in the derby after the break is essential.