Vincenzo Montella has explained why he parted ways with Emanuele Marra and claimed: 'I do not believe that we should throw everything away' despite the heavy criticism after the Samp defeat.
The last few days have not been easy for Montella as after the 2-0 loss against Sampdoria on Sunday, many turned against him and some of the newspapers already wrote that he could be on the way out if he does not win against Roma and Inter in the next two Serie A matches.
Montella has already reacted, separating with his long-term athletic trainer Emanuele Marra. But the only answer the coach can give to satisfy the fans is on the pitch; tomorrow Milan face HNK Rijeka at San Siro (21:05 CET kickoff) and anything but a win will put a lot of pressure on Montella.
"Everything is part of the game," he said in today's presser. "I'm calm and balanced and these have been very challenging hours. I know that I train a glorious team and I have the desire and the energy to train it. I have identified some things that need intervening and I know the track is the right one.
"I want to prove my value, my passion and determination. I am comfortable at the club and I would like to thank the management for all the support. Mirabelli and Fassone allow me to work with full autonomy, they respect my decisions. I am proud to work with them and to be the coach of Milan.
"This is a tough period and it's in difficult times when I do best. As a player, I had 13 serious injuries and I always fought back to continue playing. When coaching Catania and Fiorentina I also went through tough times and I responded on the pitch. I am sure I will be able to do the same here.
"The decision to replace athletic coach Emanuele Marra? He wasn't the problem, but disagreements can happen. He is like a brother to me. It was a very difficult decision for me, and I have made it also to protect the rest of my brothers of the staff. He knows how much I respect him, it's just that we were not on the same page anymore. He's not a scapegoat, these things can happen.
"I wish him good luck. We grew up together, but if there isn't the same conviction or vision, separation becomes inevitable. I love Marra, I took risks with him and for him. In these moments, we don't share the same vision and that wasn't the right energy to transmit to the boys.
"The decision to publicly post the separation with Marra [Montella made the announcement through his Twitter account]? I've learned that news cannot be hidden and I preferred to give it directly from me. The club totally supports me in the choices of my staff. They give me carte blanche. The choice was totally mine and the future [choice for a new athletic trainer] will be mine. I thank the club.
"A new athletic trainer? I am waiting for my candidate to reply. Let's see if he agrees to come. The need for a new physical preparation plan? I feel prepared regarding it, I've studied more than one [plan]. Something must change if there is a rush to get results. When you want to start something new, you need to make important changes, from a mental standpoint, we need something else.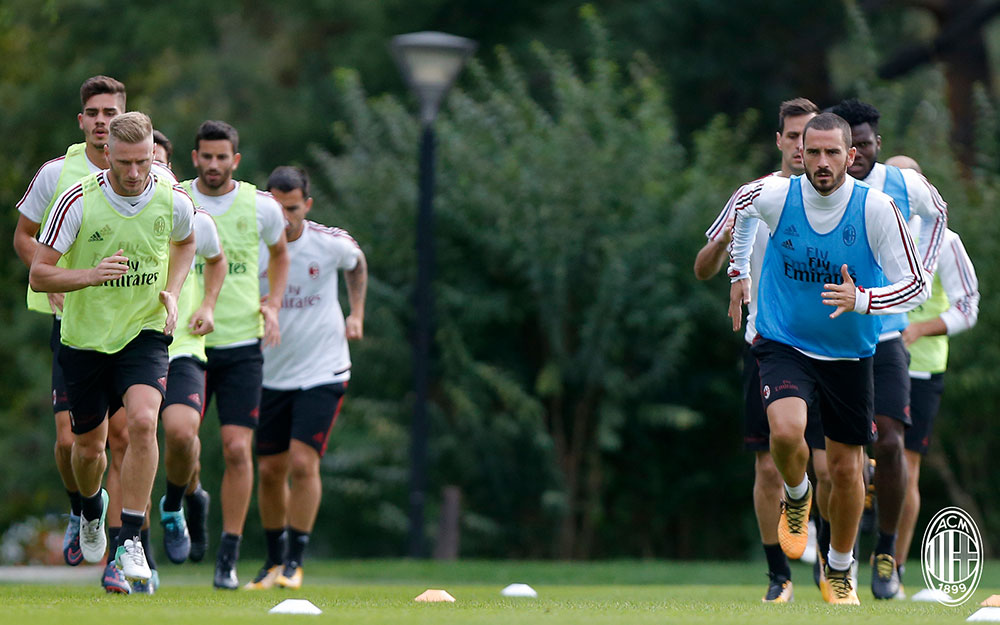 "The disappointment of the fans [some are calling for his immediate sack]? The Rossoneri fans have shown us attachment and confidence. Maybe there's a bit of disappointment. We want to change the trend and mentality is created with time and you often stumble. We are in the Champions League zone, we are fully in the race, there are things to improve but they were all predictable.
"Mistakes we should not repeat? Certainly, we did something wrong in the preparation on the mental level. You need to recover quickly to tackle the matches. You should not have an alibi but look for wins with hunger and sacrifice. There are some guys who need to be accompanied more than others but we all go in the same direction to write an important page of this history.
"Creating a mentality when there are so many new players is more difficult, we are coming from an environment that has not won for so many years. I'm sure that we will get there soon. The criticisms? I think I'm very balanced in these things. I have been further stimulated in a positive manner and the track is the right one. I do not feel in difficulty because I'm motivated and combative. There can be two incidents [the two defeats] in this new project. I have given my interpretation and we go forward.
"Criticisms regarding our transfers? It was a very important campaign. Winners, ready players and potential players were signed. They are functional players but there is a need for an adaption. It's a team that can grow, maybe even without me, in the next five years. It's a team that is worth a lot and will be worth much. When I do the starting XI I don't wonder how much the players cost.
"The difficulties of a new group? I see great predisposition. If we erased the last game and replaced it with a 0-0 then we probably wouldn't be talking about this difficulty. I know it's hard to amalgamate, the task is arduous but I want to run and get there as soon as possible. I don't believe that we should throw everything away, I believe a hint of identity has already been seen and is already there.
"Rijeka? There have been some bumps, but we're eager to play the game tomorrow. They are a practical and physical team, so you need to be compact against them. The upcoming chain of games [Rijeka, Roma and Inter]? These are very demanding games, difficult ones against direct opponents.
"Nonetheless, it will also be tough for them. These matches, however, give us extra motivation, I hope they will serve us to continue our improvement. Paletta can possibly start tomorrow? Gabriel has behaved exemplarily since the first day and I thank him again. I still have to do some assessments, there must be a competitive team on the pitch tomorrow and I have to make some evaluations.
"Differences between the Europa League and Serie A? I have to go beyond the numbers. Our first games of the season were in the Europa League and we didn't come off other games. The match against Samp was the fifth in a series in which we played every three days and we showed ourselves to be mentally flushed against Sampdoria. How many players are used to playing every three days? It requires preparation and habit, and we don't have a lot of players that are used to it.
"As such, there's been a mental decline. I have to work on their mental toughness so they can adapt to this new rhythm in football. The club? I have felt a profound esteem on the part of this club, professionally and humanely. The fate of a coach is related to the results but not always. It's part of my job to know how to manage also moments in which I can be questioned."
After the presser, Montella also had an interview with Sky Italia: "A turning point? I think so, this is a moment of growth and turn. I'm motivated, willing and even a little anxious to get back on the pitch. Sampdoria? I thought a lot and I did a careful and non-humorous analysis. The performance was sluggish, it wasn't up to the standards Milan want to set. We have to change this trend on the pitch.
"Critics and difficulties? There is no time to read everything but my career has always been made up of traumatic situations which helped me grow. As a player I had 13 operations, and as a coach there are turning points. You can understand the values of a coach by the reactions to difficulties.
"Marra's exit [they worked together since Fiorentina]? It's a person I thank, he's a brother and my staff is like a family. There have been divergences and in a staff, it is important we all carry the same idea. I've noticed this small different, I wish him the best, I thank him so much and I don't regret anything.
"Hakan Çalhanoğlu? He's a very talented player, but we're playing every three days. It's normal that there's rotation, he's coming off months where he didn't play because he was banned [by FIFA]. He's come to a new league and he needs to grow, sometimes also resting. For those reasons, he can't play every three days, but he has our confidence, he's a talented player.
"Conti's injury [he will be out for 6 months]? He's a young, enthusiastic and quality player. We will miss him and we hope he will come back as soon as possible. We have alternatives, one of them is Borini on which I'm working, as well as Abate and Calabria. We have internal solutions.
"André Silva [who will start tomorrow]? He's a boy of is 21-year-old, he comes from a different league. What has been paid for him is not my job, he needs to grow and adapt to the Italian defenses that leave you half a second less. He will demonstrate his potential, as we have already seen."
Montella is going to rest some players on Thursday and while the immediate task is Croatian champs Rijeka, the thoughts of Vincenzo are also on Roma. He will hope his team reacts, starting tomorrow.