Suso and Lucas Biglia were unused substitutions in the second round of International football, while Andrea Conti had to leave the pitch after 48 minutes due to an injury to his ankle.
The international break is finally now over, but unfortunately for Milan and Vincenzo Montella, they didn't manage to finish it without an injury to one of their players.
Andrea Conti sustained an injury in Italy's unconvincing 1-0 win over Israel last night at the Mappei Stadium (Ciro Immobile scored a goal in the 53′ minute).
It was the 23-year-old's debut for the Azzurri but sadly he had to be replaced in the 48′ minute. "It was wonderful, I am very happy with the opportunity given to me by the coach," the right back, who arrived at Milan from Atalanta this summer, told RAI Sport at the end of the match. "It was only half-way happy, though, as my ankle turned after about 20 minutes and it has swollen up."
Riccardo Montolivo played 4 minutes in last night's match, coming on as a sub for Marco Verratti in the 89′ minute, while Gianluigi Donnarumma was on the bench for the whole match. Leonardo Bonucci of course didn't take part as he was suspended and he's already back in Milanello.
While Conti got his debut, it was not the case for Suso. The Spaniard was once again on the bench for the whole match and watched as his friends beat Liechtenstein 8-0 away from home: Sergio Ramos (3′), Alvaro Morata (15′, 54′), Isco (16′), David Silva (39′), Iago Aspas (51′, 63′) and Maximilian Göppel (89′, own goal) scored the goals for La Roja who are 3 points ahead of Italy in Group G.
There was an encounter between two Milan players last night as Nikola Kalinić and Hakan Çalhanoğlu were both picked as starters for Croatia and Turkey respectively. Kalinić played 62 minutes and got a yellow card while Hakan played the full match and was yellow-carded himself. Cenk Tosun (75′) scored the only goal of the match and this Turkey win, along with Shevchenko's Ukraine 2-0 loss to Iceland, makes Group I the most interesting and close group at the moment.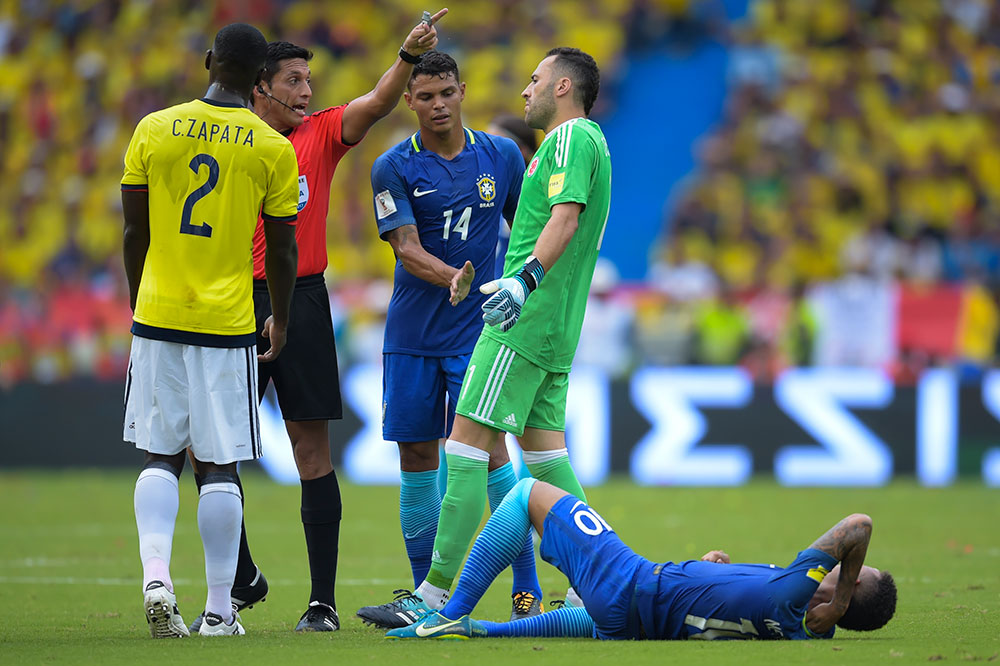 The South Americans were also in action last night: Cristian Zapata played the full match as his Colombia tied Brazil 1-1 (Willian, 45+2′, and Falcao, 56′ with the goals), while Lucas Biglia did not take part in Argentina's 1-1 draw with Venezuela (Jhon Murillo, 51′, and Rolf Feltscher, 54′ og).
Gustavo Gomez got on the scoresheet, but for the wrong side: the center back started for Paraguay against Uruguay. Federico Valverde scored in the 76′ minute and then in the 80′ minute, Luis Suarez got past the Paraguay goalkeeper and fired a shot – the ball found the crossbar but proceeded to hit Gomez and got past the line, unlucky for the Milan man. Ángel Romero (88′) scored for Paraguay.
Franck Kessié played 90 more minutes in Ivory's Coast 2-1 home defeat to Gabon. They had beaten Gabon three days earlier, but this time the Aubameyang-less side surprised Ivory Coast: Axel Méyé (19′) and ex-Juve man Mario Lemina (29′) scored for Gabon, Maxwel Cornet (58′) for Cote d'Ivoire.
Italy U19 and Matteo Gabbia beat Russia 2-1 in a friendly yesterday and a on Monday night, Patrick Cutrone, Manuel Locatelli and Davide Calabria all started for Italy U21 in a friendly against Slovenia. Cutrone scored the first of the night thanks to a lovely Locatelli assist in the 22′ minute. Andrea Favilli scored the Azzurrini's second in the 27′ minute, and then it was the turn of Calabria to get an assist, as he sent a great ball to Federico Chiesa to make it 3-0 on half time.
Calabria was subbed-off on half time (not due to injury), Cutrone joined him on the bench in the 54′ minute (replaced by ex-Milan man Luca Vido), and Locatelli in the 81′ minute. Italy U21 beat Slovenia 4-1 as Martin Kramarič (52′) and Juventus' Riccardo Orsolini (89′) scored the other goals.
André Silva and Ricardo Rodriguez completed their international commitments already on Sunday (read here) and trained normally in Milanello yesterday, as did Bonucci, and the Italy U21 men.