Mino Raiola spoke to a number of media outlets, and explained his side of the whole Gianluigi Donnarumma story, accusing Milan of not defending the player enough and not giving him the needed time to think his decision.
Last week it was confirmed that Gigio Donnarumma will not extend his contract with the club, refusing a five-year contract worth over €5m net per season.
Milan fans took the news rather hard, so much so that yesterday during Italy's match against Denmark in the 2017 Under 21 European Championship (Italy won 2-0 with Locatelli and Calabria on the bench), Milan Club Poland made a banner with the writing 'Dollarumma', hang it behind the goalkeeper, and then proceeded to throw fake money into the pitch, causing the match to be suspended for a few minutes.
Mino Raiola, the agent of Donnarumma, who in the eyes of many is the main reason for the non-renewal, spoke to a large number of media outlets yesterday, making public his stand and side of the story. And while taking blame, the man who also represents Ignazio Abate, Rodrigo Ely and Giacomo Bonaventura, points the finger at Milan, insisting the management handled things poorly.
"I take all the blame, but leave Gigio alone. Even death threats have come to his family, incredible," Raiola said to La Gazzetta dello Sport. "I was wrong not to stop this infernal machine right away. Why all this hurry? This pressure? A decision by June 13? With that hammering we could not say yes.
"There was an offer of €50m gross for 5 years on the table [Milan confirmed the figure]? There were no conditions for an agreement. We had asked for time and discretion in order to keep Gigio serene. [But] Milan informed the press about every move. The results are there to be seen.
"The Rossoneri fans have something against Raiola? I'm used to it. Unfortunately, however, something else happened: some of the fans came up against Donnarumma and the club did not protect him. The banner under Casa Milan had not been removed and solidarity had never been expressed. And now Gigio is sad. He's currently playing with the national team? I hope the FIGC will protect him at least. We are setting up a security service. It is up to us to set it in this general disinterest. It's absurd.
"Few can manage to understand Donnarumma's 'no'? Gigio was initially convinced to stay at Milan. I remember that at the age of 14 he chose this color after having contacts with Inter, despite the fact that his family advised him against it following the disappointment regarding the sale of his brother.
"The last few days, however, have been terrible. In particular, [director of sport Massimiliano] Mirabelli's phrase struck: 'if you do not sign, you go to the stands'. Let's see what happens now, but there's a string of mobbing. It's better to die on your feet than to live on your knees.
"The belief is that we already have an agreement with Real Madrid? Absolutely not. In fact, so you know: to go to Madrid I don't need Adriano Galliani [there were rumours that the former Milan CEO Galliani is working for his friend Florentino Perez to get Donnarumma to Real]. The truth is that many teams are interested in Donnarumma, just like when he was 16 and he preferred Milan.
"Why we didn't renew when Galliani was here [they could've signed a three-year contract before Gigio turned 18]? Milan were negotiating a sale for two years with three different buyers. So already a year ago I had refused the dialogue with Galliani, and he respected me. It was my duty to take time because there was little clarity about the club's fate. And I had to protect my client's technical future.
"Many still suspect that Galliani and I are in agreement? I'm his friend outside of football, but in business we often clashed because he's too much of a fan. The other day he called me after the break-up, he offered to help bring serenity back, but I abruptly told him 'no'.
"I never trusted the new owners? I don't trust them now either. Like they don't trust me. Is this Milan of Yonghong Li or of Elliott? Let's say that I have a good relationship with Fassone, I've known in for a long time and he knows he can count on me, even though I don't need to explain why.
"What didn't work in these past few weeks? There were four games left to the end of the season and yet, Mirabelli started to stress Gigio. There was a time when the boy avoided him at Milanello. They treated him like an asset, not like a 'bandiera' [club symbol]. They didn't leave him serene. In big clubs this doesn't happen anymore, I remember these cases years ago, in small clubs in the south.
"I never hit it off with Mirabelli? I don't discuss the person, but his methods. For example, no one notices that Andrea Conti has threatened to not show-up to Atalanta's training retreat just to say 'yes' to the Rossoneri. Gigio, on the other hand, has always been in his place.
"Donnarumma never had economic demands. And then if you have a top player in your club like Gigio, why do you go and offer double or triple for Morata or Aubameyang? It makes no sense. Gigio is only 18-year-old? What does it even mean? Real Madrid are buying a 16-year-old Brazilian for €45m [Vinícius Júnior from Flamengo]… do you know what he's earning? Quality is not of age.
"If Juventus are also in the running for Donnarumma? I didn't talk to Gianluigi about this opportunity. Also, because I don't open the door to anybody. Marotta has the duty given from his shareholders to look for the best, but I think Gigio, out of respect for Milan, does not have Juventus in his mind.
"How much is Donnarumma worth? He has no price, but I don't set it anyways, it's up to Milan. I know he's the only goalkeeper that can win multiple Ballon d'Or. Looking ahead, I think he's stronger than Buffon. In 30 years, no one will be stronger than him, it's the evolution of the role.
"If it's true that I had asked for a €10m release clause? We never really discussed it seriously. Milan provoked us with a €200m demand, I responded with €10m and €5m in case they fail making it to the Champions League. But it was 'pourparler' [an informal discussion].
"If it would be damaging to Italian calcio if Gigio goes abroad? Why? Verratti never played in Serie A and yet he shines at PSG. Ronaldo left Portugal immediately in his career but he gave his count a lot. And what about Van Basten, Gullit and Rijkaard and Netherlands? Emigration often helps to grow…
"I would earn more if that's the case? Since I don't sign contacts with my clients, everything is based on trust with them. Sure, I'm not a romantic anymore, but the more they earn, the more I gain… but I don't calculate it. They said I earned €27m from Pogba's transfer to Manchester United [transferred from Juventus]? I just say that it's not the exact figure… maybe it was less, but maybe more.
"For sure, however, FIFA did not open any inquiry regarding Paul's transfer to Man United. And in his case, however, Juventus were able to use the right manners: when Marotta asked us to stay in 2015, he did so in the right ways. It's true that then the year after Pogba left, with everyone satisfaction. They said I earned €8m in commission from the transfer of Rodrigo Ely to Milan? I don't think it's true.
"I take players where I find useful? Yes, where it's useful to them. For example, we will soon renew Moise Kean's contract with Juventus, it's not been easy. Even in this case, his mother is involved and I'm confident that we will find together the best solution for the player. Lorenzo Pellegrini of Roma is also wanted by many teams but we don't want to move. In the past 25 years, I've brought many important players to Italy: I quarreled with Barcelona to get Ibrahimović dressed in Red and Black. And let it be known that in so many great clubs I have more than one player because I have good relations with the executives. In the case of Milan… they have bought the brand but not the style.
"If the rapport is closed? I don't make war with Milan. They've asked me for Blaise Matuidi, like Inter and Juventus did. Let's see… the transfer to the Bianconeri last year skipped for political problems, maybe this time. Kenny Tete to Inter? It's an opportunity we'll talk about.
"Where will Ibrahimović go? He's fine, he's received so many offers, from the United States and beyond. Italy? He's certainly not going to Napoli. Milan haven't asked me about him. With Galliani, he'd already be here… The future of Balotelli? Tomorrow I have a meeting with Nice. It'd be right to stay with [Coach] Lucien Favre. If he scores 20 goals then he deserves to go to the World Cup, but I don't know what's going on inside Ventura's head. For now, I don't think he has great strikers.
"[Coach Vincenzo] Montella and Gigio? I think he has a good relationship with Donnarumma. It would have been better if they spoke in private. I understand, however, that with the change of ownership Montella had to adapt, like a flag to the wind. Arrigo Sacchi said he was astonished by Donnarumma's decision and it makes him question the player's human integrity and future? I don't understand certain moralisms. Did he talk to the boy? Ibrahimović was right, Arrigo talks too much.
"How does the story of Gigio end? The ball is in the court of Milan. If they call me, I have a duty to listen. [But] there are no conditions to continue [together], the 'no' remains. And what if someone asked Gigio for forgiveness? To forgive is divine… we are earthly," concluded Raiola.
Raiola also gave a long interview to today's edition of il Corriere della Sera:
"I didn't want to get to this point. It was not a problem of money. I asked Fassone, with whom I have a great relationship, for two things: time and serenity. It was never thought of giving him away on a free transfer, we just wished for time to understand what was best to do.
"I'm not a taxi-driver and I don't take people away. The contract expires in a year and there was not much time at all? If we signed it in October or December? What was the rush? No real negotiation ever took place. Mirabelli immediately created hostility, there was a strong confrontation with him, a war. He threatened us with an unacceptable ultimatum. He has shown that he has no experience. But in these 25 years of my career, I've never kneeled. If I die, I do so on my feet.
"Milan offered him €50m gross in five years which is a lot considering he's 18? What does it mean to be of that age? If one is 22 then would he make more? And what if he was 40? Gigio will become stronger than Buffon and will be the first goalkeeper to win multiple Ballon d'Or's. But then, you say that you want Donnarumma as your symbol and then threaten to send him to the stands?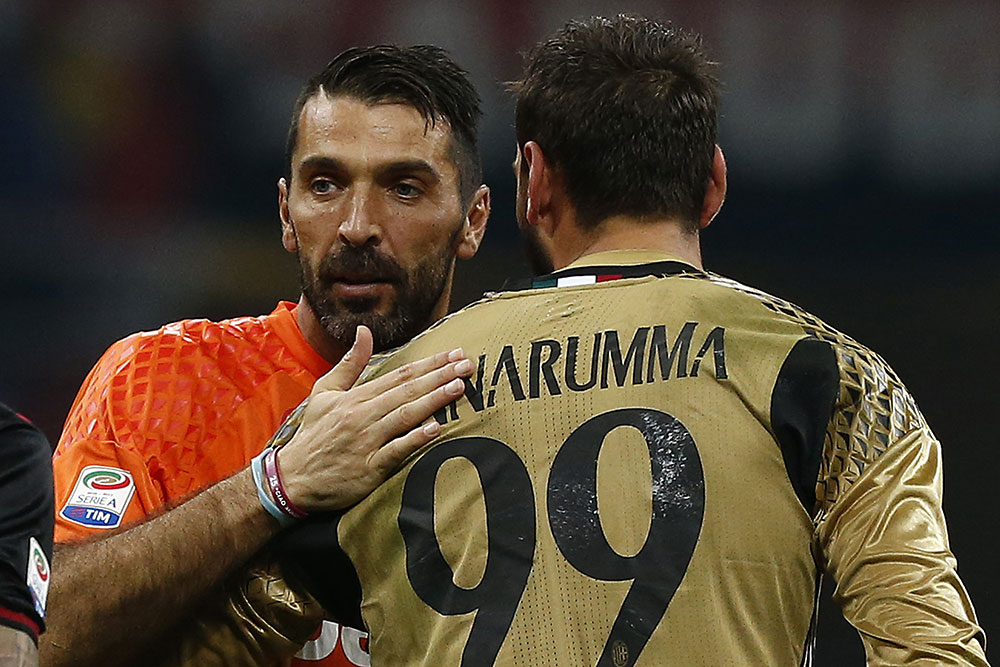 "When did the final break arrived? 15 days ago, after the meeting here in Monte Carlo. They had already acted badly by calling Donnarumma's family, talking to the newspapers… unacceptable things. Then they give us the ultimatum. It was over when Gigio, who believe me – up until then truly wanted to stay at Milan – told me: 'Mino, I sincerely do not know if I can take it anymore'.
"I'm accused of 'plagiarizing' the boy? What do you mean by 'plagiarizing'? Ah, brainwashing… I know what people say and I don't care. If I made any mistakes? Yes, not having closed things right away. My instinct told me I should say things right away. If it would have been different with Galliani? He's a friend, Galliani. But only outside of football, not on the field. At one point he also tried to mediate between the sides. I answered him in my own way… he was bitter, he's a fan.
"Unfortunately, from the old Milan there remains the badge, but not the style. What I mean by that? There were enough little things with Gigio… for example the banner below Casa Milan. How did no one go to take it down? And no one defended him from criticism. How the boy is now? I fear that there are crazy people around, he has received death threats. And he's sad, very sad.
"Donnarumma is the real victim in this affair. He has not betrayed anyone. What's next? Milan lost him. I didn't take him away. However, he stays a Milan player until June 30, 2018. We respect the contract and they should too. He's off the market? Well, for sure I will be very attentive, I can already feel the small of mobbing. If he will be in the stands? Montella will decide it.
"If he's ready for Real Madrid? I haven't spoken to anyone, but he was born ready. Juventus? I think it would be difficult, due to respect. If it's over with Milan? If they call me, I always answer. Only death is irreversible. But I think it's better if Donnarumma leaves."
In addition to the interviews with the newspapers, Raiola spoke to the TV stations Sky Italia, RAI Italia and Premium Sport. SportItalia were also invited to get an interview, but they declined Mino.
"The situation had become too violent and hostile, so there was no way out," he said. "He was threatened, the family was threatened… there were threats that he won't play, death threats, banners that were never removed by the club and a passive attitude towards him. It has never been an economic matter: if the parties want to find a [financial] solution then the solution will be found. Since they had a budget for a top player and a top player was already in house, I would've definitely found a way to please both parties, but we never got into those talks.
If the management did wrong with a top player like Donnarumma? In my opinion, yes, they were wrong. They were too exuberant; the tones were wrong and the relations were not right. If I wanted to know Milan's project more gradually? Yes, but in any case, I had already guaranteed to the club that he would not leave on a free transfer. I always said it and I thought that it was enough to calm things down, but it was not understood. It was not a matter of stealing the player. But maybe I was wrong, maybe I wasn't very convincing, I don't know. For me, I think things were managed badly.
"We never even got to talk about money or release clauses, because we were not allowed to get that far, nor to think of what was best for Gigio. You talk about that when negotiations are 95 per cent there. He was ready to sign a new contract, there were no doubts in his mind. They forced us to abandon the negotiations because of the environment created around him.
"I take the responsibility. They forced us. It was Milan that lost Donnarumma. He said to me, honestly Mino, I don't feel it is right to carry on negotiations when these people are insulting and threatening me and my family. For example, there was a banner in front of the club headquarters. A club should protect its players and remove the banner. A club should support a player and encourage his career, not threaten him with having to be left in the stands.
"I have not spoken to any big club. We do not have any agreement with any other team. He already had offers from Juventus, Real Madrid and big clubs when he was 14 years old or at 16 before he was the starter at Milan, so if he wanted to go, he would've done earlier. I can assure you there will be no rapid transfer. The problem is not economical, we could no longer accept certain threats, certain tensions, psychological stress and the company's passivity toward Donnarumma.
"The relationship with Mirabelli? I'm talking about Milan and then Mirabelli was the representative that conducted things, and so he will take up his responsibilities. If Mirabelli should've used other tones? I don't want to reopen these speeches because it would reopen the circuit again and I don't want to do it. I do not get along with Mirabelli at all. We are two completely different wavelengths. What he does is close to mobbing, if it isn't already. I won't put up with that behavior.

"I don't have anything against Milan, the relations with Fassone are good and if we have to talk then we'll talk, but now they've made their choice. I do not intend to wage war with Milan, but in these circumstances, I don't see how the situation can be resolved. We had to decide until June 13; we did.
"If Donnarumma is at risk of being in the stands for a year? Yes, it's a real risk. His quality makes that improbable but if there are other situations that force the coach to make certain decisions then maybe he will lose a year. For me, it's mobbing if you threaten a player to stay a year in the stands.
"A new goalkeeper for Milan? They have the right to look for even seven more goalkeepers… it's not a problem for us." The Rossoneri are interested in Mattia Perin, Neto and Bernd Leno to replace Gigio.