Marco Fassone has given a long and extensive interview to il Corriere dello Sport, discussing the defeat to Lazio, the debt to Elliot, and the commercial plans of Milan: 'we want to reach €60-100m in Chinese revenue the coming years.'
It was a summer full of hope and euphoria for Milan fans as the new ownership spent over €230m to change the face of the Rossoneri and at least on paper, create a squad that can challenge for top spots.
But after Sunday's bad 4-1 defeat to Lazio, some people once again started to doubt everything, calling for the head of Vincenzo Montella who last season brought Milan back to Europe.
CEO Marco Fassone decided to give a long interview to il Corriere dello Sport, saying this defeat – while important – does not change at all the objectives of Milan, who will continue to fight for a Champions League return. Fassone also discussed the commercial aspect and the Elliott debt.
"If I've absorbed the disappointment of the defeat against Lazio? This is the first 'down' day since the start of the season, but playing right away will help us – we will not have time to shout and make too many speeches," the 53-year-old told the newspaper as he sat in their office yesterday.
"I think Mirabelli and Montella gave the right explanations. We're aware that this is a team under construction, we were surprised by the proportion and size of the reaction to this defeat. Our objectives don't change, this year we think we have the cards to play and compete for a top-four place, which gives access to the Champions League. That's our stated goal, we've always said that.
"Stumbles like the one against Lazio are important to get rid of excuses and to start, from Thursday, with a different spirit. The defeat on Sunday undermined our certainties? Some doubt arrived, but Montella was good in the post-match to emphasize that defeats are part of a project of growth.
"[Although] maybe not [defeats] of this size… this is why when they showed me in the stands after the 4-0 I had a terrible expression on my face [smiles]. Against Cagliari, we did not play well but the three points had come. Against Lazio however… [Milan went into blackout after the first Lazio goal].
"Who will we face in the race for the top 4 spots? Juventus and Napoli have something more than others because they are solid and tested. The race has to with Inter, Roma and Lazio, those seem to me more in our reach. If we grow as a team, however, we can trouble everyone.
"An alternative to reach the Champions League would be to win the Europa League? For us it's an important competition, a priority, that will help us familiarize ourselves with this kind of event. We will not be fielding our reserves because we want to get as far as possible and improve our rankings. We know it's difficult and we can't be fooled by the fact that the group appears to be doable. Let's take things step-by-step. And if from February we'll have a bit of luck with the draws…
"If Inter are stronger than us [they are currently with 9/9 points]? Last year they finished behind us in the standings but Milan changed a lot. We will play without fear, against them and against others. In the derby and before, in the clash with Roma, we'll get more ferocious than we are now.
"It's a derby for me? I have good memories from the years at Inter. The biggest regret is that of the final year with Mancini: we were first in the table, we were flying high and then something broke [between him and then Inter CEO Michael Bolingbroke]. It's a pity because we could've won the Scudetto. Roberto [Mancini] is a champion and I wish him every success because he deserves it. We won the summer mercato derby? Inter were subject to Fair Play and we're going to be next year as well. But I don't want to get into their affairs. Between our ownership and theirs, there's great respect.
"Doubts about the future with Montella? We never questioned him and he would've remained even without qualification to the Europa League. I really liked how he worked last season, which was characterized by the difficulties in changing ownership. He has great talent in managing the group.
"When was the Bonucci affair born? We were going to build a team of a certain type and in our base idea, Leo was not there. At the start of July, Montella and Mirabelli proposed purchasing Bonucci, explaining to me that he was the player who would complete our squad. We went straight for him even though it seemed impossible for me to sign him. And instead, in the first meeting with Marotta we found an agreement in half an hour. Leo is a leader, but he also has to settle in.
"I was a little disappointed when I saw that the criticism focused on him more than others. It was a negative performance from the team in general [against Lazio at Stadio Olimpico]. Bonucci is the captain, the leader. He's not just a signing we really wanted, but a player who decided to put himself out there and talk on television after the match. He has all our appreciation. Sunday's game doesn't damage the confidence and esteem we have for him by even 0 per cent.
"A regret that we couldn't get a big buy like Morata or Aubameyang [Milan also chased Belotti but 'settled' for Kalinić]? We are happy with Kalinić. Montella wanted him from the get go and we were keen on him. We kept other tracks open because we didn't know what Fiorentina would do.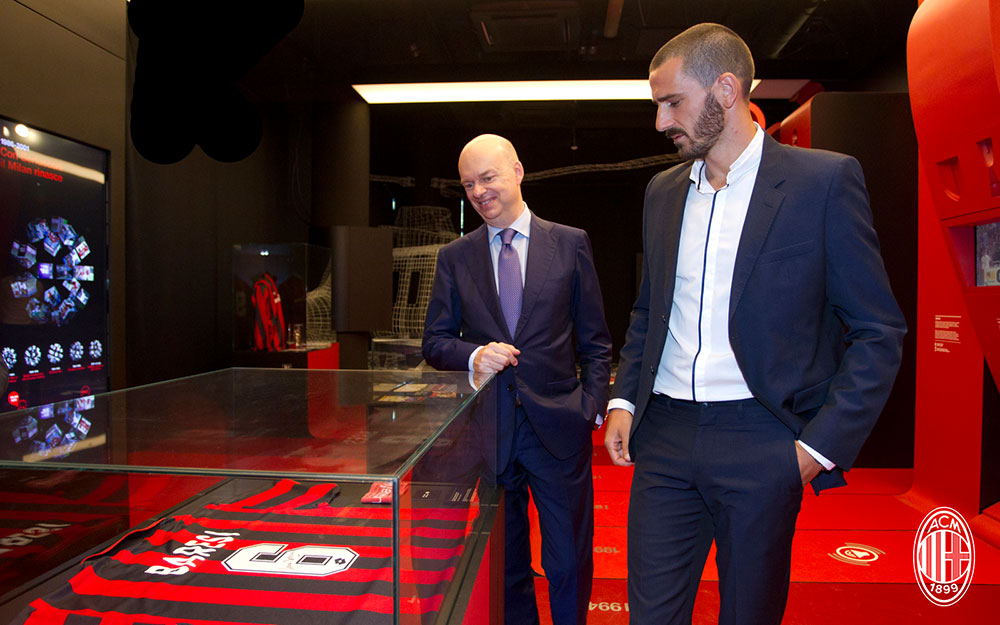 "Raiola said we promised the captain's armband to Donnarumma? I don't want to create controversy. I only say that since Donnarumma 'married' to our project, we imagine that Gigio will become the captain of Milan. Giving him the armband now would have been premature, but if he remains for a long time like we hope… [Gigio signed a four-year contract worth €6m per season with Milan]
"Raiola said again that he does not believe in the Milan project? I was sorry to hear him say certain things. Raiola is the agent of Donnarumma, but also of Bonaventura, Abate and some other young players. I'll admit, however, that Mino is consistent and his mistrust has been expressed since April, because he sees a dark and ominous future for the club. I've told him that our project will develop over four or five years. From his latest declarations, I deduce that despite of the investments, he still has doubts. But I'm happy that Gigio has chosen to stay – it means that he believes in us.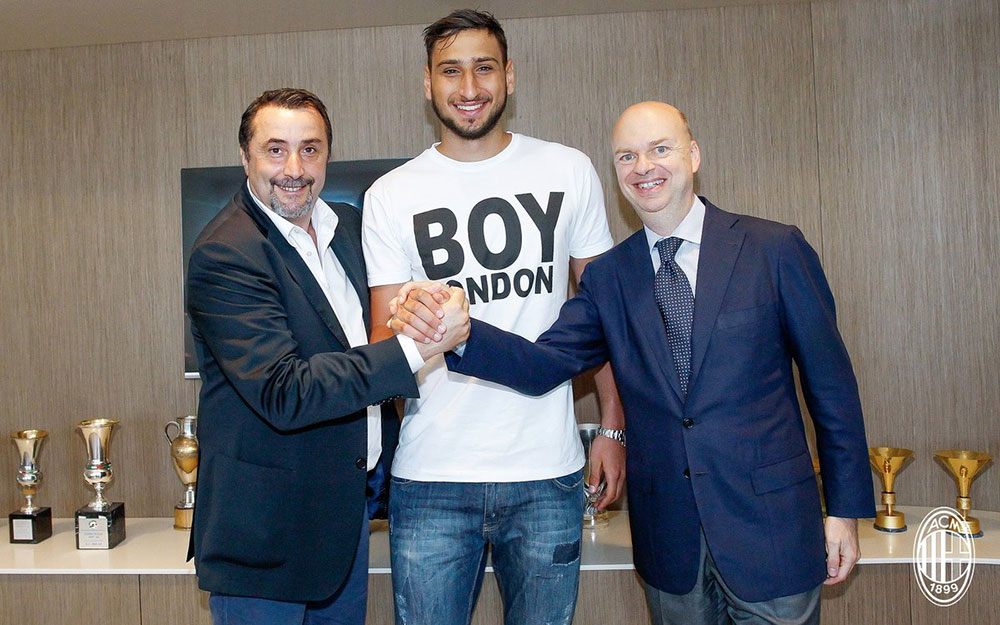 "Galliani said in March Milan is not an orphan and if the Chinese don't complete the buy then Silvio will stay? I thought that this skepticism was even heavier because Berlusconi was at Milan for 31 years, 27 of which were of great success. We're in contact with Galliani and the relationship between us is good. It's normal to be in the viewfinder of people in such a situation and this is also why we adopted a type of communication which is very direct: we explain everything to the fans with great transparency on social media, and I have noticed that people appreciate it. The number of season tickets compared to last year has almost doubled and we feel the warmth around Milan also away.
"I told the Guardian that regarding the debt to Elliot, there's a 99% chance the club will remain with the current ownership, leaving a minimal doubt [you can read Fassone's interview with them here]? I could even go to 99.9% but, as a manager in the face of a refinancing which isn't yet certain, there's still a minimum margin of doubt. I hope I can say that we will be at 100% in the sprint of 2018, or maybe even February-March, which is 6 months before the due date of Elliott. My words were designed to reassure the Milan fans, to let them know that Milan will never have to take the books to court and will continue to have solid ownership, even in the most distant and remote hypothesis.
"If I'm getting tired of certain insinuations considering the fact that Milan's economic plan and Mr. Li's solvency seem to be on the rise every day? Sometimes yes. In the world of football, oriental ownerships are often seen as unobtrusive and uncommunicative.
"We, where we can, have decided to answer with facts and numbers. The revenues we expect to get from China? Top clubs bring in from there a few tens of millions of euros, €20-25m, even Manchester United who are the absolute leaders in that market. Our bet is to reach €60-70-100m in the coming years. How? We have a local company in China, not a simple office, and we have Chinese managers who can help us develop our business knowing the culture there and how to move.
"The minimum sporting goal we've set? There is an economic plan that goes hand in hand with the sporting one. The goal is the Champions League zone: we want to get there, then keep growing and win it. Failure to do so, however, would not result in drama. I also presented to UEFA plans that do not involve us participating in the Champions League and therefore €40m less in revenue.
"If we arrive 'only' to the EL, we'll not close shop. But we will not hide the fact that our shareholders have asked us to immediately return to the more prestigious competition. The meeting with UEFA? In May we got an extension to sign the Voluntary Agreement, we were called at a time when our plans were still superficial. We'll meet again in November and hopefully everything will be in place.
"If the fans can dream of future summers with big buys? Finding a deal for the Voluntary Agreement with UEFA can give us some advantages but we will still have UEFA constraints. This year the ownership accepted big losses that will be covered by capital increases in the next budget, and we've added 11 new players to the squad. In 2018, we will not be rebuilding things, the idea is to add 2-3 elements and improve where we need. We will have important markets even without major sales."
Milan should leave the match against Lazio behind and without panic move forward. The elements were put in place by the ownership in the summer, and now it's Montella's turn to create a team.