Vincenzo Montella was thrilled after the 97-minute goal which gave Milan a point in the Derby della Madonnina, and said that Gerard Deulofeu 'is potentially a top player but must be more clinical.'
In front of the new red and black Chinese owner Yonghong Li and a packed San Siro stadium in the early noon of Easter Saturday, Milan earned a point in the Debry after a very, very dramatic finish.
The Rossoneri had great chances early on but were naive in defense. And so Inter punished them and in the 36′ minute, De Sciglio failed to stop Candreva and the Italian winger, who also scored in the first round against Milan, beat Donnarumma to make it 1-0. Just before half time, Perisic beat his man and delivered a ball to Icardi, giving the infamous Argentine his first ever career goal against il Diavolo.
In the second half Inter were still in control for most of the time but Vincenzo Montella decided to go for everything and brought on the forwards Lapadula and Ocampos for Jose Sosa (could not continue) and Calabria. His bet turned out to be very successful. In the 83′ minute, Suso's cross found Romagnoli's leg and the center back netted his first ever Serie A goal in the shirt of Milan for the 2-1.
Referee Daniele Orsato added 5 minutes of stoppage time but Inter wasted a significant portion of the time and Orsato let the match be played past the five minute mark and so in the 96′ minute Milan earned a corner. Suso took it, his cross found Carlos Bacca's head and somehow got to Cristian Zapata who in the very last kick of the game beat Handanovic, giving the Rossoneri a vital point.
Milan basically did to Inter what the Nerazzurri did to them in the first-round match as then it was Perisic who scored the equalizer in injury time. This time Milan rejoice, and stay above Inter in the table, two points behind Atalanta and three behind 4th place Lazio, as both drew their matches too.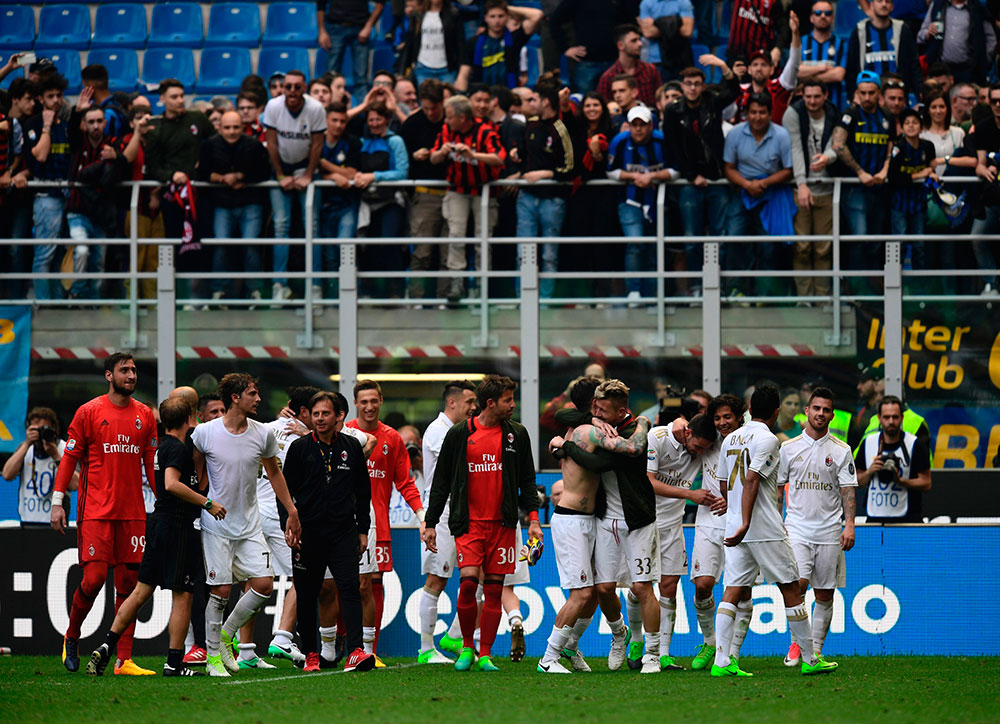 "The celebrations? I didn't even notice that someone scratched my face… (smiles)," Montella told MilanTV after the match earlier. "It's really exciting. We managed to comeback from two goals down and we did it in the second half. We did something almost unbelievable: it was really a great emotion, I think it was a great game to watch for our Oriental fans. I'm happy with this result.
"We played really well in the first 30′ although we should have been more patient and clinical. We conceded an easy goal. Being 2-0 down at the break was almost surreal. Games are all different from one another, today I had the chance to field five players up front and I did so.
"The goals from the defenders? Before the game we all told Zapata it was time to score a goal… I wasn't expecting him to score, or Romagnoli. Deulofeu? Deulofeu potentially is a top-class player, but he has to be more clinical. He performed really well but when you play in that role you have to score.
"Fassone's words [the Milan CEO said that they see a Montella in the Milan future]? Meeting them yesterday gave me a great boost, I was happy with Fassone's words. We'll discuss the future in the next days, but I am focused on present days to make it into the Europa League this season."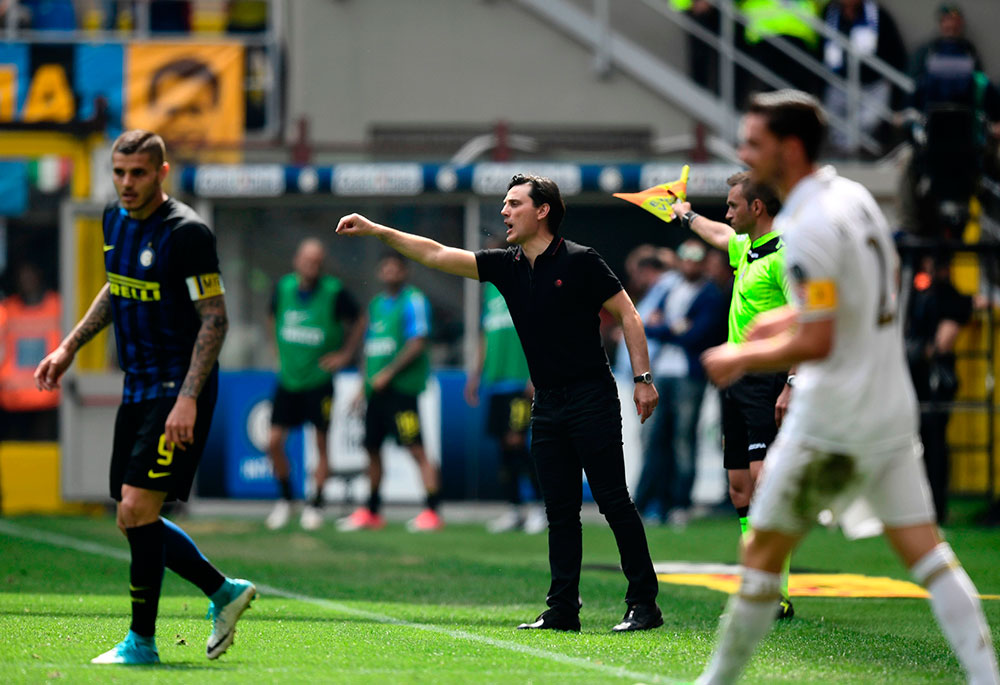 In the post-match press conference, Montella said: "We played a good half hour, superior to Inter in terms of the play. We could have done better though and at this level you have to be more clinical. After the first goal we lost our balance and the second goal came. Being down by two goals at half time was strange. After the break we didn't start well, we created a bit , and then we got a draw.
"Now I understand the celebrations of Inter from the first-round match [after the goal of Perisic back in November]. Today I celebrated. I've never celebrated like that. I have to say that scoring in the 97th minute makes you experience a strong emotion. I didn't restrain myself.
"It was a commercial for the East. It was a tight game that gave the fans emotions, both positive and negative ones. This point is worth a lot for Europe, we are not at a disadvantage with our competitors for Europe. It's a very important point but the struggle will continue.
"The defense? In the first goal there was a misunderstanding with De Sciglio while in the second it was good work from Perisic. Deulofeu? Potentially, he's a top player but to play at a certain level you have to score more and be more clinical. At times he's devastating, but he still needs to improve.
"The new owners? I think a draw that comes in this way is a good start. A renewal? I have a contract. In the coming days I'll meet the management. I'm focused on the season finale. I know where we can improve the team but the choices must be made by those who know the mercato more than me."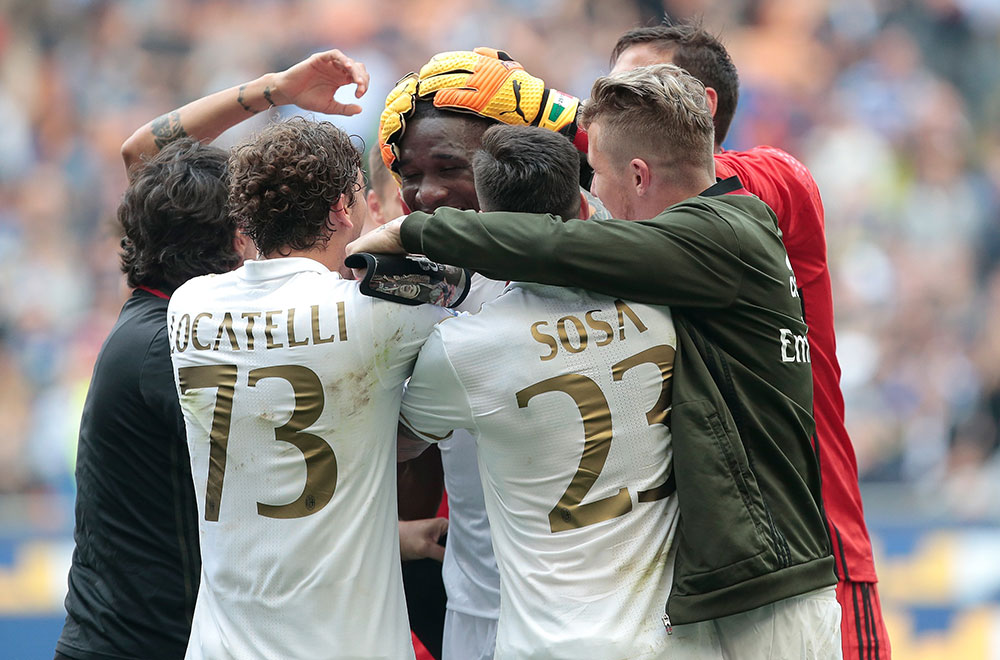 "The finish of the match]? I thought the protests were about whether or not it was a goal," he told Mediaset Premium. "Inter wasted time for the last 25 minutes, the referee noticed and gave adequate stoppage time. The fourth official told us that instead of five minutes of injury time there would be six. There was a lot of time wasting [referee Daniele] Orsato did really well.
"The match? I saw 30 minutes of the first half where the team played an excellent game, we could have been more clinical and moved the ball more quickly. In the final 15 minutes [of the half] we got a double-whammy of goals. It was improbable for us to lose the match like that. In the second half there was a great reaction, a feat. Coming back from two goals down in the derby is exceptional.
"In the first game I saw them cheer, this time I celebrated more than I usually do, I now understand the joy the Inter players felt in the first game. This draw is worth something extra in comparison, because there are fewer games left [there are six more games until the end of the season].
Montella was also interview by Sky Italia: "The final moments? It was a very strong emotion, I fully understand the joy of Inter form the first leg. We played a good match, we could have taken our chances more and it would have been a different game; Inter were very clinical. The draw has given us a great joy and a defeat would have been hard to digest. It's important because we ahead of Inter and now our race is to the positions that directly lead into the Europa League.
"Candreva's goal? I wanted a very high defense, it was a difficult situation but also readable and easily correctable. Deulofeu? He played a great game today. A player of his level must score more, he has to work on that and focus. He has a chance to improve himself and be a more complete player. Locatelli [replaced Kucka during the game]? He gave us something more, he had a great impact.
"The new ownership? I have been transmitted the idea that there is the will to continue together. In the coming days we'll sit to make our ideas clear. The transfer market? I have a very clear idea of what this team needs. I don't presume to know more players than those who follow more games than me. It takes [players with] characteristics that I think can help my method of play."
With the new owners the next season is already in mind but the Diavolo will have to be very focused in order to reach their objective of the Europa League. Next match is Empoli at San Siro next Sunday.