Vincenzo Montella spoke at length to La Gazzetta dello Sport, insisting that tomorrow's match against Juventus is crucial, and claiming that 'if you gave me €150m I would still back my players, to whom I owe everything', while also discussing many other topics.
Milan face the Bianconeri at the Juventus Stadium on Friday evening (20:45 CET kickoff) and it's an extremely difficult clash, even though the Diavolo have already beaten Massimiliano Allegri's side twice this season, as the Italian champs are unbeaten at home this term.
The Rossoneri boss Vincenzo Montella gave a long interview to this morning's La Gazzetta dello Sport; he discussed various topics regarding his time at Milan, from his differences with Berlusconi, to comparisons with his old Fiorentina side and also talked about what the future holds for him.
"We are facing Juventus for the fourth time this season after two wins and a defeat? Of course, we're not undervalued anymore. But they're almost unbeatable, as the league shows," Montella said. "It will be a key game, decided on approach, interpretation and competitive spirit which, in our case, will have to be above average. We've had our two best moments of the season against Juve, in Doha and in the first game of the season. This time the result will be even more crucial for the table.
"The fact that Cuadrado is suspended [due to yellow cards] and Juve 'only' have Dybala, Higuain, Mandzukic and Pjanic up front? When you have attacking players who also sacrifice themselves in defense it's even more complicated for the opponent. They've put in more attackers and maintained the same balance. Allegri has surprised me with his bravery and courage: if you consider that there aren't many replacements – aside from Pjaca – their new system might seem like a stretch. Without Cuadrado maybe we could expect one less attacker and doubling-up on one side.
"If I see myself in the future as the coach of Juve? A professional doesn't rule out anything at the start of their career, so why not? Maybe Coaching Lazio would be more complicated, since in Roma I have a house in the other part of the city… When I was 17 there was talk of interest from Juventus, I was young and promising. Then I got injured and the interest was never firmed-up.
"A long cycle with Milan? I'd like to. The important thing is to have the opportunity to grow together, I want to help the team improve and keep winning, everything depends on sharing objectives and being able to renew. It's not a question of staying for a year, three, ten or even of opening or closing a cycle. That's all theory, if you have a common purpose you can start from the same place. At Fiorentina, I had a contract, my family and I were happy, but I felt it was time to stop.
"If Milan finish in Europe, then it would be a successful season and otherwise we'd have to start over? No, no… that's too simplistic. A lot comes down to the result, but not everything. I think it's more about an overall evaluation, which can be made regardless of coming sixth or seventh. My judgement is already positive, I'm happy with the growth and the attitude of the team. If the Champions League is no longer a target? Making up the places is difficult, but we must always have ambition.
"My contract renewal? It depends on the club, each has his own work. I'm yet to have been asked this question [if he wants to renew] and in the case that it happens, I would answer trying to understand the objectives [of the Chinese], the assessment given on the squad and what they expect and want.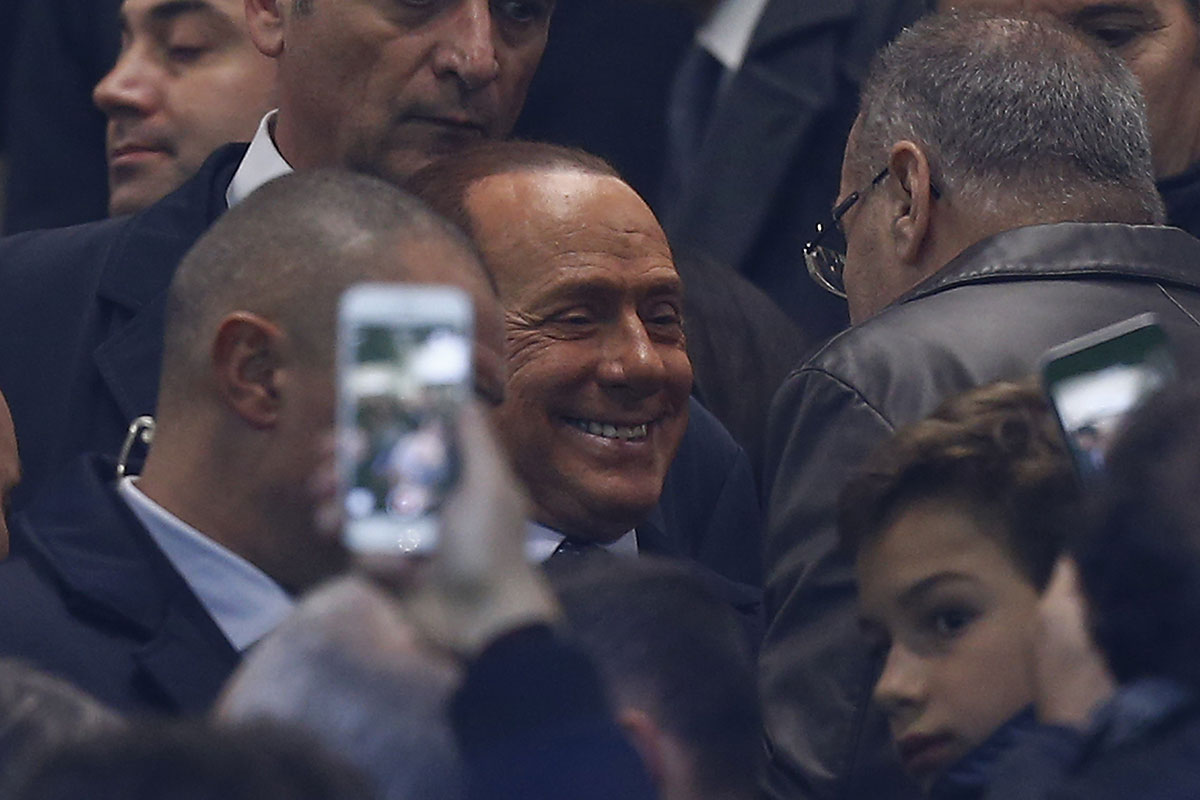 "If I feel challenged, seeing as Berlusconi remains intransigent in his position regarding certain ideas? I sincerely believe that the President has esteem for me. And I've told him that I will always thank him for allowing me to coach the team I support. He knows football, talking to him is pleasant.
"I listen to his suggestions, even if sometimes they don't match up with my own. He might want Suso as a second striker or Mattia De Sciglio in the center of the defense, but in general our thinking is close. I know my place, and I'm not going to try to seek out Berlusconi. I talk daily with Galliani, a great director who no coach has ever complained about, which can't be a coincidence.
"The last phone call with Silvio? Before he'd call me often, now less. But my respect for him is the same, even if we haven't spoken in recent weeks.
"If I dream of Fabregas as a signing with the Chinese in charge [the Chelsea man has been linked with Milan since the summer]? He's technically very strong. But if you gave me €150m I'd still back my players, to whom I owe everything. Everyone has been so helpful and that satisfies me. Sometimes, because of injury, we've had to play without five Italian internationals and everyone who has come in has done well. For me, we've the best in the world and then… we've to finish the season.
"Berlusconi would have gone ahead with the project of Italian youth? The important thing is to understand the expectations and then, together, see what the transfer market has to offer. You can do good things even without big budgets, taking appropriate and functional players.
"A title for the delays in the 'closing' [it's unclear when the acquisition will finally be completed]? I'd call it an 'opening'. But in all seriousness, everything works here, so no excuses. Every facet works with seriousness for the team: the management, the secretaries, the Press office, the shop workers, the gardeners, the kitchen. There's nothing I don't like or which doesn't work.
"If this is how I expected it? There's the great organization which I've always imagined, it transmits the mentality of having a great history and always thinking big, beyond the more recent results. I've found a family with many souls ready to support you, I tried to take a step back to understand the structure and everyone's thoughts. The greatest difficulty was in rebuilding the players' belief, even if Mihajlovic did a great job. If he'd stayed, maybe he'd have coached the team in Europe.
"Inter? Finishing even one point above them, given they've made big investments, would be great [the Nerazzurri are current one point above Milan in 6th place]. But I don't judge against others, I just look at what I do with my team. I rather hope that the derby would be played for the higher spots in the standings. There are other competitors for Europe, Atalanta will also fight to the end.
"Who surprised me more between Donnarumma and Locatelli? Gigio is the more mature. Locatelli has so far performed really well, especially when you consider the relationship between his role and the age he is. A slight decline is normal [he's expected to start from the bench tomorrow], the important thing is not to undermine his inner certainty, in certain phases it's better if you're exalted for everything you do. He's great balance, he could possibly play in the middle of a 3-man defense.
"Calabria will also make his contribution. All winning teams have relied on a group of players from the youth system. Maybe that's a reason the fans have always been behind us. Among the other youngsters, I see Romagnoli who has grown on the job, Pasalic is the prototype modern midfielder. Deulofeu impressed me with the speed with which he's integrated, without forgetting Suso.
"I forgot Niang [on loan at Watford]? Like Balotelli he has enormous potential, with his characteristics he's perhaps more suited to English football. He's worked a lot, though sometimes not in the right way. Maybe he'll come back stronger. If I would field Montella up front in attack if I could? I don't know if I would've always played… I wish I could choose a #9… it would be Van Basten.
"My training system includes things like yoga and diet? I no longer believe in the methods with which I was coached. To clarity, no 'gradoni' [going up and down steps]. I didn't invent anything when it comes to technique and tactics, and then there are different aspects to take care of, such as the physical and psychological recoveries. Yoga, nutrition and sleep are fundamental aspects.
"I spend 7-8 hours at Milanello, I discovered the importance of disconnect and not living with a football obsession and maybe I now work less than I used to before. At Fiorentina I was the coach of a side that played beautiful football while at Milan it's a side that knows how to win with heart? I'd like to think that in some way, I evolved and adapted to the characteristics of the group.
"If there is no urgency for results, then my desire is to play the ball more. At Fiorentina, the objective was to bring people to the stadiums and we could only do that playing entertaining football; we also managed to achieve great results. My most difficult year? It was at Sampdoria, we almost always lost.
"Taking my methods abroad? I'd have no difficulty doing that, I think it enriches you. Certain leagues and certain cities I like more than others: London for example… The best coach I had? Spalletti, he could have played me more but he opened my mind. Totti? If I were his confidant, I'd have 'forced' him to quit last year. It'd have been perfect. But I understand his desire to keep giving emotions.
"What are my emotions? My children. I'm first and foremost a proud father. My son Alessio has just turned 18, he quit football in order to study; he just passed the exam at Bocconi University."